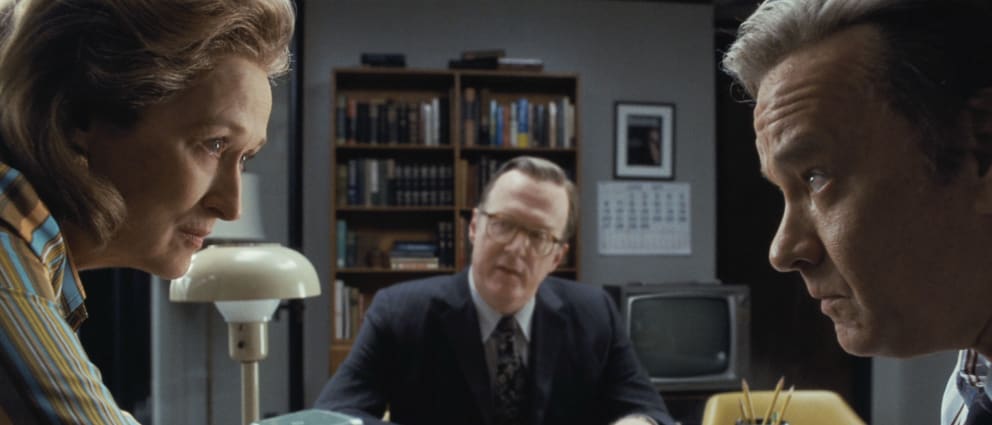 by Coop Cooper
In the early 1970's, with the Vietnam War still in progress, the official world from the U.S. Government was that the situation was improving. Military analyst Daniel Ellsberg, working for the Rand Corporation, knew the government was lying about the Vietnam situation and unilaterally decided to copy top secret documents proving the contrary. The documents make their way to the New York Times which reports the leak but stops short of publishing the documents due to threats of legal action by the Justice Department. The Washington Post headed by executive editor Ben Bradlee (Tom Hanks), which struggled to even get pictures and a story on Nixon's daughter's wedding, wants the papers, but is given no help by publisher Katherine Graham (Meryl Streep) who questions Bradlee's impartiality due to his cozy relationship with the Kennedy family. When an anonymous source delivers the top secret documents to The Washington Post, Bradlee immediately wants to publish them, but he, his staff and Graham all know this could potentially put the paper, their careers and possibly their freedom at stake.
This ensemble film features some of the best working actors in cinema. Tom Hanks, Meryl Streep, Bob Odenkirk, Bradley Whitford, Bruce Greenwood, Carrie Coon, Jesse Plemons, etc… all performed brilliantly. Director Steven Spielberg has the talent, clout and experience to bring a production like this together. Unfortunately, that is the only positive thing I have to say about "The Post".
Perhaps the current state of American politics and the 24-7 media coverage is what makes this film feel irrelevant in 2018 where scandals of this magnitude are so common, they are not even remotely shocking anymore. It harkens back to a less cynical day in which only a handful of entities had control over the news and they were held to the highest standards by the public. In the modern world, the story of "The Post" almost seems quaint. Many others have tread this ground since with varying degrees of success and scandal, but I suppose they have this incident to thank for being able to publish similar documents with somewhat less worry about government reprisal. However, one could argue that government scandals and media distrust have become significantly worse since 1971, so what was the victory in "The Post" a Pyrrhic one?
Regardless, the subject matter of "The Post" presents a marketing problem, namely the fact that there is a significantly large portion of the American population who would disagree with the point it was trying to make. Many citizens think that subverting U.S. intelligence is always wrong. Therefore a large part of your potential audience is immediately alienated. How can you expect big box office numbers from that? The fact is you can't. All you have to do is look at the dismal box office numbers for other films that had a political agenda like "Lions for Lambs" (2007). Neither Spielberg, nor the studio could have expected "The Post" to be a blockbuster. They were going for awards and the admiration of their peers and it will be interesting come the Oscars to see if their gamble pays off because it sure didn't at the Golden Globes. It won zero awards. Even the mighty Meryl Streep walked away empty-handed.
The film's biggest sin is how boring it is. I had more fun looking up articles on the history behind it than I did actually viewing it. Speaking of articles, Time Magazine has an interesting one disputing a few of the facts presented in the film, like that President Nixon did not ban the Washington Post or is reporters/photographers after the incident, even going so far to claim that Nixon was feuding with the paper beforehand, claiming he wouldn't let them cover his daughter's wedding, which turned out to be false. The film spends a lot of time roasting Nixon, and I lost count of how many disparaging jokes about the former President were made by characters in the film; therefore, the film wore its agenda/biases on its sleeve. You have to hold historical films that champion 'truth and justice' like this one to an extremely high standard. It must have its facts straight, it must not exaggerate and it must not hold back critical information. "The Post" fails this benchmark and therefore doesn't hold up to the moral code it champions.
Who is this film's audience? Perhaps those who like powerhouse acting ensembles or those with nostalgia for ye old muckraking journalism films. I know I've seen similar journalism/political films in the past thirty years but for the life of me, I can't immediately recall any of them. They obviously made no impact on me and I am predicting this one will suffer the same fate, Spielberg be damned. Luckily, his (arguably) more culturally significant film "Ready Player One" will release on March 30th and I'm predicting that will be the 2018 Spielberg movie that people will still remember in next thirty years. If someone brings up "The Post", I suspect the only response they will get will be a blank stare, even if it does happen to win an Oscar or two.
Rating: 2 out of 5 stars.