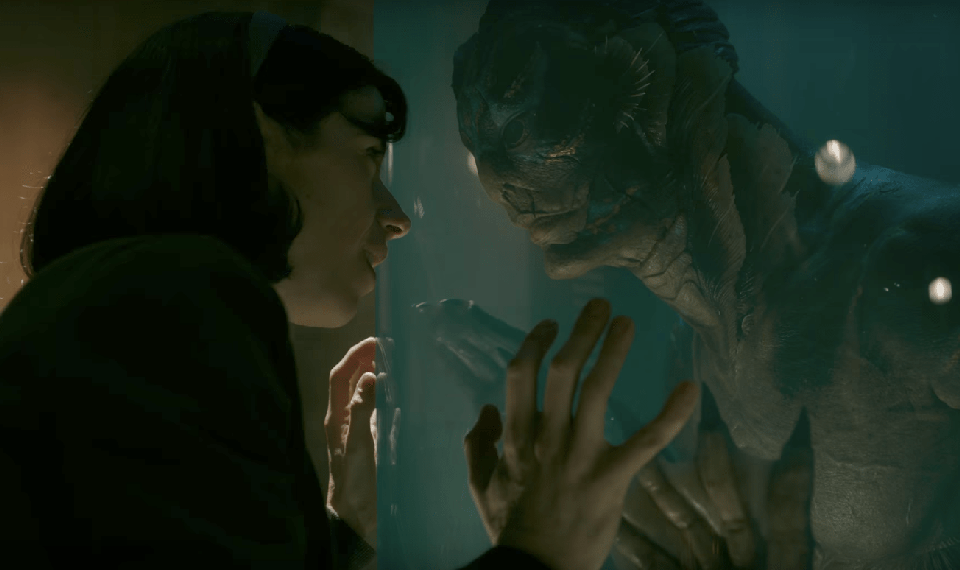 by Coop Cooper
"The Shape of Water" – In early 1960's Baltimore, a mute cleaning lady named Elisa (Sally Hawkins) works at a top secret government facility that soon acquires a new asset, a half-man/half-fish (Doug Jones) captured from the Amazon River. While the government scientists, lead by the cruel and sadistic G-Man Richard Strickland (Michael Shannon), experiments on the the fish man, Elisa forms an immediate romantic bond with it and learns she can communicate with it. When she discovers Strickland's plan to kill and dissect the creature, she recruits her gay artist neighbor (Richard Jenkins), her co-worker (Octavia Spencer) and a Russian spy to help free him.
I dislike "The Shape of Water" for the exact same reason I disliked "Edward Scissorhands" (1990) which is essentially the same movie. It takes place in the past, yet the setting has a fantasy vibe to it. The good guys are pure, the bad guys are pure evil and Michael Shannon is in severe danger of being typecast as the most evil character who ever existed in all of his films. The romance between the lead actress and the monster doesn't make any sense and it's really kinda icky and wrong. The story goes in dumb directions due to poor logic and bad character decisions. It's preachy to an annoying degree and can't nail down its tone which jumps from child-like wonder, to extremely mature sexual situations, then from outright horror to sappy, corny melodrama.
This could have been a PG fantasy kids film like "E.T."or "Iron Giant". It could have been a horror film like an adaptation of H.P. Lovecraft's of "The Shadow Over Innsmouth" or "Dagon". Instead it's something in-between that doesn't work. For every cutesy scene, there is something equally mean, gross, ugly and explicit that feels like it belongs in a different film.
Despite all of this, I did love the performances by most of the lead actors. Sally Hawkins, Richard Jenkins, Octavia Spencer and Michael Stuhlbarg give award-winning performances, not to mention the production design was near perfect. Perhaps I just can't stand this type of story, which director Guillermo Del Toro seems to do quite often where sappy, child-like wonder intersects with heavy, R-rated Lovecraftian horror. It's a mash of genres that just doesn't mesh. If I could give Del Toro a piece of advice, it would be this: Consistent tone… It matters. Plus I probably could have done without all of the off-putting merman sex scenes.
Rating: 2 stars out of 5
"Darkest Hour" – In 1940, the British Parliament ejects Prime Minister Neville Chamberlain for failing to deal with the Nazi threat before the situation becomes dire. They choose Winston Churchill (Gary Oldman) as his successor whose eccentricities and brash demeanor earn him some early enemies amongst his peers, despite the imminent collapse of Western Europe and the threat to their own borders. Facing an invasion of England after a grim defeat/retreat at Dunkirk, Churchill must make a difficult decision to fight or surrender. When a traffic jam has him taking the underground train for the first time, he learns what his fellow Englishmen and women really feel about the situation. This cements his resolve and thus helps him make his historic decision in the country's darkest hour.
Director Joe Wright keeps the film moving at a blistering pace when most films of its type are usually slow and dull. I dare say it has more excitement within its cinematography, editing and performances than Christopher Nolan's "Dunkirk", although it makes for good companion piece to "Dunkirk" as the two events happen simultaneously.
Gary Oldman has been a reliably fantastic actor for decades but this film certainly marks his greatest performance. He disappears into Churchill so completely, you can no longer see the actor, only the Prime Minister. He recently won the Golden Globe for Best Actor for this role and I have little doubt he will win the Oscar. Lily James ("Downton Abby") also performs admirably as Churchill's new secretary as does Ben Mendelsohn ("Rogue One") as King George IV.
"Darkest Hour" easily ranks among 2017's best films. Considering that it contains mostly dialogue, yet is more exciting than many of the year's action movies, I can't imagine Academy voters will ignore it or Oldman's performance. I would have liked to see more about Churchill's life and time in office, but I suppose that is for another movie.
Rating: 4 and ½ out of 5 stars.