by Coop Cooper
The Netflix sci-fi anthology series "Black Mirror", which focuses on how future technology could damage humankind, has arguably become the most culturally important show of its type since the original "Twilight Zone" series. Now in its fourth season, "Black Mirror" is continuously evolving to create stories that are relevant to the direction our current technological advancements are heading in, but it also is becoming more consistently great throughout each episode.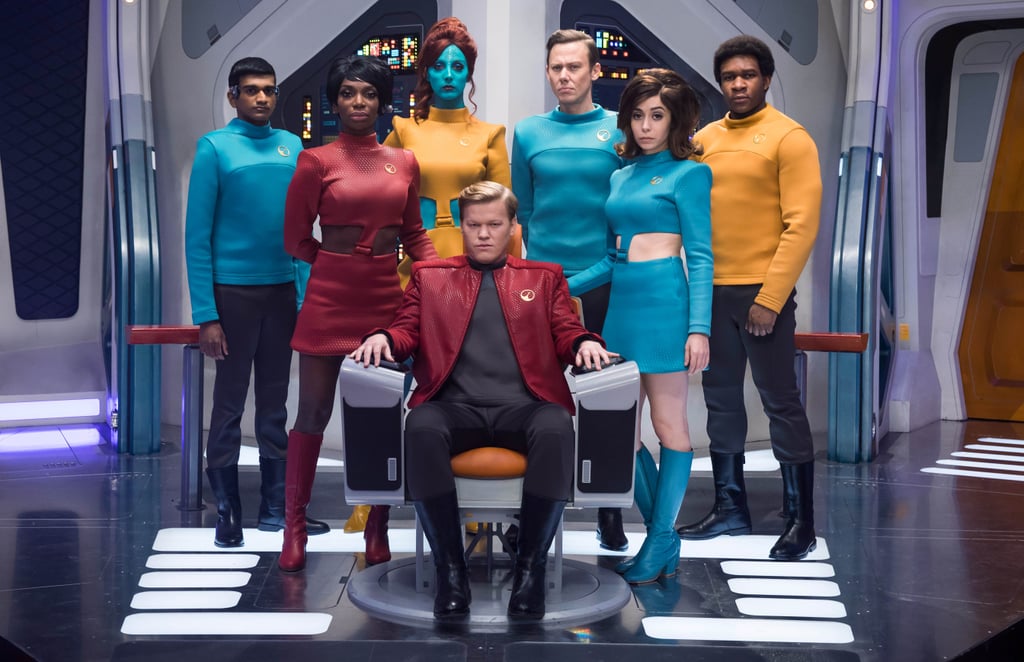 "USS Callister" – Jessie Plemons plays Robert Daly, a painfully shy but brilliant video game designer who creates a new kind of immersive virtual reality world. While his co-workers walk all over him at the office, he secretly collects their DNA and clones their independently-thinking consciousnesses to participate in his own personal game based off of a campy "Star Trek" knockoff in which he is the captain and they are the crew. However, in this virtual world, Daly is a god who lives out his sick fantasies in the game and cruelly punishes any crew member who doesn't play along. When an attractive programmer (Cristin Milioti) catches his eye and her personality is cloned into the game, her virtual clone hatches a plan to free herself and her co-workers from Daly's virtual hell.
Easily the best episode of the season, the story manages to squeeze a very disturbing concept on top of its fun and adventurous facade. The end wrapped up a little too neatly and could have gone a bit darker and more realistic but the entirety of it is satisfying and ranks among the best of all "Black Mirror" episodes.
"Arkangel" – When Marie, a single mother (Rosemarie DeWitt), gets a scare after her young daughter wanders away, she has a controversial high-tech tracking device installed into her daughter's brain that tracks her every move, records everything she sees and even blurs out images of violence and pornography. After realizing that the device is stunting her daughter's emotional growth, Marie puts the monitoring device in storage and vows to never use it again. But when her daughter becomes a teenager and begins to experiment with drugs, alcohol and sex, Marie breaks her vow, spies on her child and begins to meddle in her life with tragic results.
This episode directed by Jodie Foster is probably the saddest of the lot. There is no villain in the story which is meant to point out how good intentions can go horribly wrong when you have access to information that you shouldn't take advantage of. A very moving episode.
"Crocodile" – As a young woman, Mia (Andrea Riseborough) helps cover up a deadly hit and run committed by her inebriated boyfriend. Years later and now a successful architect, Mia is visited by her former boyfriend who is now sober and plans to finally confess the crime to authorities. Fearful of losing her family and career, Mia kills him in a fit of panic but successfully disposes of the body. Unbeknownst to Mia, her perfect crime is on a collision course with an insurance investigator (Kiran Sonia Sawar) who employs a high-tech machine that can read minds and play back memories, and she tracks down Mia who coincidentally witnessed an auto accident at the same time as the murder.
This story has two disturbing components to it… 1. The horrific lengths that Mia has to go to cover her tracks due to the mind-reading technology, and 2. The irony of how this seemingly benign technology resulted in such a shocking bloodbath. A very grim episode.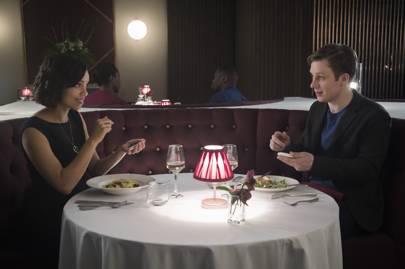 "Hang the DJ" – Frank (Joe Cole) and Amy (Georgina Campbell) live in a futuristic society where all dating and coupling are dictated by a powerful artificial intelligence who forces all citizens into a series of short and long term relationships before pairing them with their perfect match. When the two are matched, they find that they have an immediate chemistry but are dismayed to discover they are only allowed twelve hours of time together before they are paired with their next match. Afterwards, Amy is plunged into a series of short, meaningless relationships while Frank is stuck in a miserable long-term one, yet the two continue to cross paths. When the A.I. gives Frank and Amy a second chance with each other, they revel in it, but the A.I. seems determined to sabotage their happiness.
While this comes across as the lightest of the other episodes, the inventive twist ending does have a very dark implication that is never addressed. This episode is also the most sexually explicit of the season, but if you don't happen to notice the darkness in the twist, it is quite romantic.
"Metalhead" – Shot in black and white, this simple yet effective tale follows a scavenger (Maxine Peake) in a post-apocalyptic world as she is relentlessly stalked by a murderous dog-like military robot across a deserted wilderness.
Definitely the most dark and harrowing segment of the season, "Metalhead" gives no backstory to the characters or the situation, focusing entirely on the terror of the chase. One could easily dismiss this episode as a "Terminator" rip-off on paper, but in execution, it is a brilliantly simple and intense story. Plus the dog-robot's utilitarian design and brutally cold tactics are what make the segment so scary. Even scarier, it is also the story that is closest to becoming a reality.
"Black Museum" – A tourist (Letitia Wright) enters a museum located in the middle of nowhere that specializes in technological inventions which were involved in disturbing crimes against humanity. As the amiable curator (Douglas Hodge) proudly shows off his collection to the tourist, it becomes evident that all is not what it seems.
Easily the weakest story of the season, "Black Museum" follows a weird format that is like an anthology story within an anthology series. It comes across as lazy and exposition-heavy, even if the mini-stories within the episode are extremely chilling. The lead actors were weak and I didn't like how the curator was presented almost like a Rod Serling or Crypt Keeper-style host, which gave the episode a campy vibe. Not the best episode to end an overall terrific season.