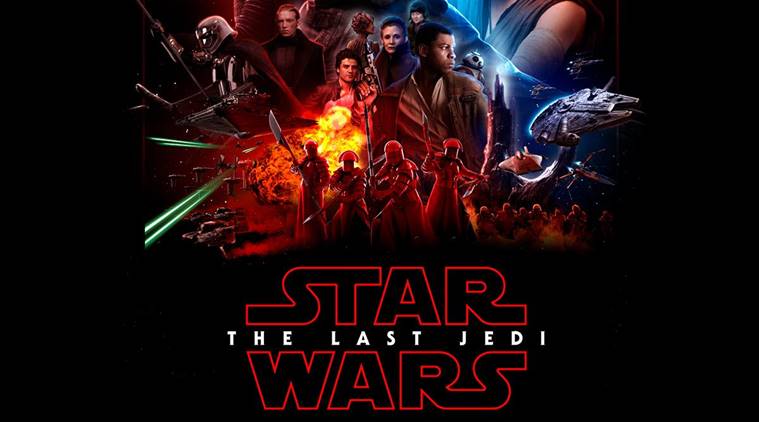 by Coop Cooper
As far as Star Wars fandom goes, "The Force Awakens" had tough shoes to fill. It introduced new characters, re-introduced classic characters and had the unenviable job of resurrecting a storyline that has been in carbon freeze hibernation for thirty-four years. It was highly unlikely it would please all of the fans and predictably, the verdict was mixed among both fans and critics, but the film scored high with general audiences. As a lifelong and unapologetic "Star Wars" fan, I was one of the critics who was hard on it and my assessment became harsher with each repeated viewing. For me, the story felt ill-conceived, the writing poor and I didn't feel endeared to the new characters. Imagine my surprise when "The Last Jedi" comes along and changes my mind about the unpredictable direction this new trilogy has taken.
Taking place moments after "The Force Awakens" ends, Rey (Daisy Ridley) meets an embittered Luke Skywalker (Mark Hamill) for the first time and he wants absolutely nothing to do with her or the Resistance. Meanwhile, the Resistance base has been compromised and the last remnants of the fleet make a run for it. With their fuel running out and certain doom on their tail, Poe Dameron (Oscar Isaac) to hatch a risky plan with Finn (John Boyega) and a mechanic, Rose (Kelly Marie Tran) to trick the New Order fleet while General Leia Organa (Carrie Fisher) and Vice Admiral Holdo (Laura Dern) attempt to keep the pursuing fleet of Star Destroyers at a safe distance. Meanwhile, Kylo Ren (Adam Driver) makes a supernatural connection to Rey which threatens shift alliances.
Director Rian Johnson is a genius filmmaker. It feels like he took the disappointment that many – like myself – had for "The Force Awakens" and decided to tear it down, only to rebuild it into something he could really work with. Many fans won't be satisfied with it, but he definitely took some inspiration from "Empire Strikes Back" to craft the desperation of the heroes, their sacrifice/lack of total victory and a solid mixture of space battles, lightsaber fights and land battles. He did "Empire" some justice while cleaning the slate to help make it his own in order to pave the way for the end of the trilogy.
Of course I still have problems with it… Finn's skillset and value as a main character is still dubious at best. He is brave, but mostly just lucky and the outcome of his mission did little to prove his worth. Why have R2-D2 at all if you aren't going to use him? Laura Dern was terribly miscast and did not look comfortable at all in her role. Poe Dameron's story arc seemed to largely prove that he's all skill and no brains. Characters waste a lot of time when they should be moving quickly due to the ticking clock that could mean imminent genocide. Conversely, other characters seem to rely on magical happenstance (not the force) to reconnect or teleportation to reach impossible distances by foot in a ridiculously short amount of time. Benicio Del Toro's 'D.J.' character seemed poorly conceived and Captain Phasma (Gwendoline Christie) still hasn't proven she's anywhere near as intimidating as Boba Fett. And Porgs. The Porgs are stupid, but at least they didn't do anything to ruin the story.
What I liked… The space battle at the beginning of the film was extremely satisfying and ranks among the best of any Star Wars film. Leia's story arc was likewise satisfying and Carrie Fisher will certainly be missed in "Episode 9". The lightsaber battle about halfway through the film may be my favorite of all time, mainly due to how unexpectedly it occurs and unfolds. I like how many of the characters' actions do not reveal their true motivations at first and the twists that arise because of these choices. The effortless comedy that Rian Johnson slips into the story harkens back to some of the funniest moments of the original trilogy. I wasn't excited about how Luke Skywalker was introduced nor his motivations but the result of it all somehow felt right. Finally, I love how expectations for the characters and the story were totally erased in favor of something new and far better than what was set up in "The Force Awakens".
However, the way this story ended, I can't imagine what direction it could possibly go in. I can only assume a couple of years will pass within the story to allow characters and factions to regroup and re-engage. That would be the only logical choice, but even so, how can it play out past this point? While we ponder that, we have the Han Solo origin story to look forward to next year. Word around the campfire is that movie is having serious problems, so hopefully the franchise won't lose steam after the surprising victory that is "The Last Jedi".
Rating: 4 out of 5