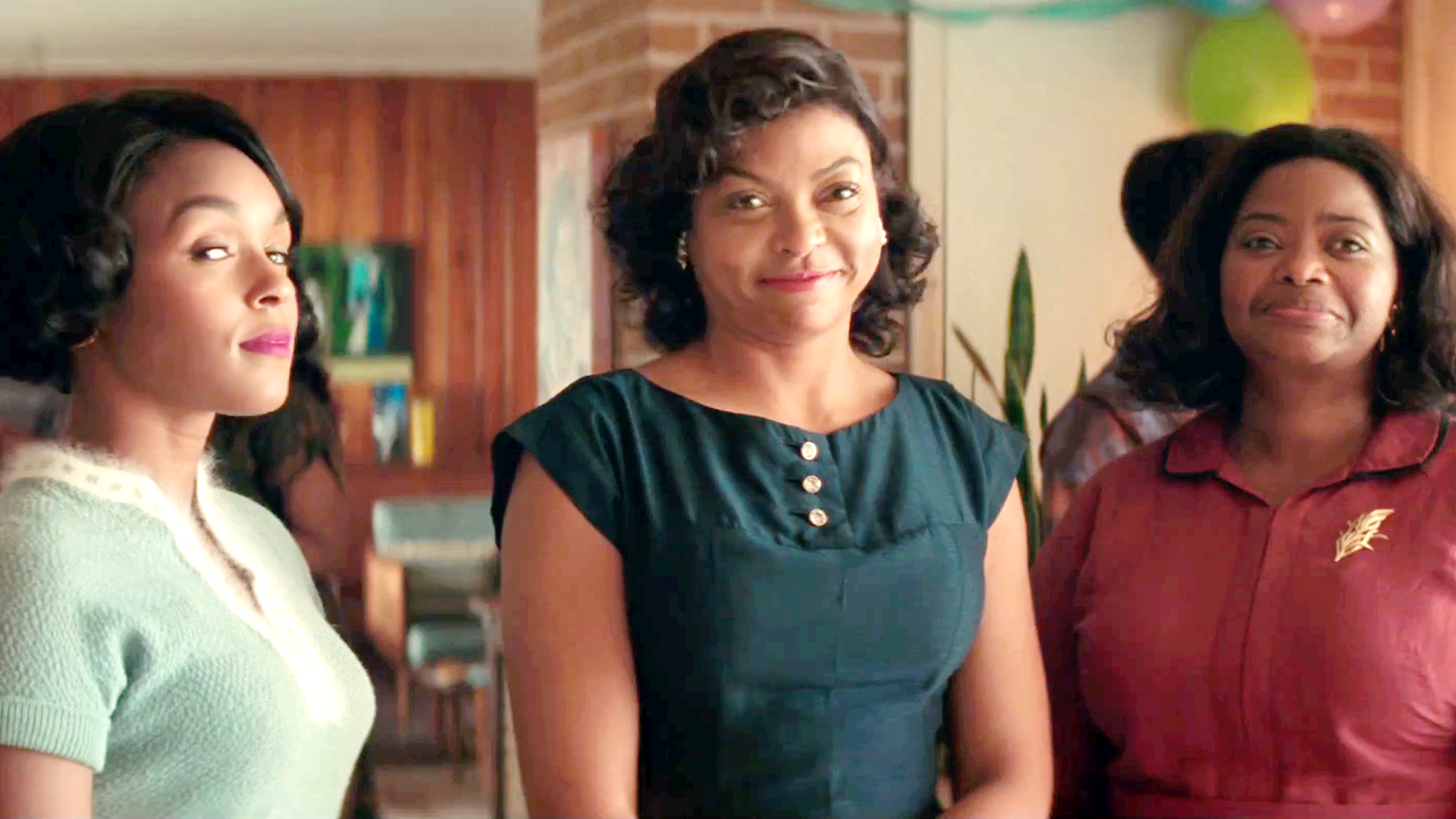 by Coop Cooper
Here are two films, based on true stories, that could win big at the 2017 Academy Awards…
"Hidden Figures" – During NASA's Mercury program, a group of African-American women work complex math calculations in order to get the first American into space. Katherine (Tariji P. Henson), a prodigy with numbers, corrects the advanced physics figures to get Alan Shepherd into orbit, then pioneers the figures for the Atlas rocket missions, and later, Apollo 11. Mary (Janelle Monae) aspires to become the first African-American, female NASA engineer. Dorothy (Octavia Spencer) unofficially supervises all of the African-American women employed within the program but studies to head up the new computer systems. All encounter the trials and tribulations of African-Americans and women at that time in history.
"Figures" plays like a space-race version of "The Help" which is a well-deserved compliment. It is as frustrating, not only to the characters, but to the audience that these women must struggle so hard to just to be recognized for their value at low levels, even more so when they exceed their superiors. It is rewarding to see their white peers slowly come around to realize how exceptional these women are and how they eventually come to depend on and admire them. All of their story arcs are as satisfying as they are inspiring.
While I was well aware of the superb acting talents of Octavia Spencer and Taraji P. Henson, I was pleasantly surprised by the acting talents of recording artist Janelle Monae. She held her own with the veterans around her and I look forward to seeing her in meaty roles such as this one. All of the direction, acting, story, etc. is as exceptional as a film can be.
"Hidden Figures" is nominated for "Best Picture", "Best Adapted Screenplay" and "Best Supporting Actress" for Octavia Spencer. I think it has all of the ingredients to challenge "La La Land" for "Best Picture".
Rating: 4 and ½ out of 5 stars
"Hacksaw Ridge" – Andrew Garfield plays Desmond Doss, a Virginia native whose religious convictions and experience with violence at a young age compels him to make an oath never to take up arms. His upcoming marriage to Dorothy (Teresa Palmer) is delayed when World War II breaks out and Doss feels compelled to volunteer for the army as a medic. Under the false understanding that he could serve without firing a weapon, Doss becomes the subject of scorn and hazing by his fellow soldiers, his sergeant (Vince Vaughn) and his captain (Sam Worthington). Nearly courtmartialed, Doss is spared and allowed to go into battle unarmed. His company lands in Okinawa and ordered to capture Hacksaw Ridge from the Japanese. As the operation becomes dire, Doss performs an act of heroism so seemingly impossible, he receives the Congressional Medal of Honor for it.
I was skeptical about this film due only to my own worry that soldier without a gun, being put in the wrong situation, could be a hinderance rather than a hazard. I was as baffled as his fellow soldiers and commanders as to why he would insist on continuing if they didn't want him there to the point he could go to prison. Admiration for someone's conviction can only go so far if their beliefs needlessly ruin their life. Doss eventually wins his compatriots over with his bravery, but the film becomes transcendent later in the second half when Doss performs his infamous act of heroism. What he pulls off is nothing short of a miracle and director Mel Gibson presents those moments perfectly.
I have a few problems with the corny acting and Mel's favoring of over-the-top action as opposed to measured realism. I counted way too many slow-motion acrobatic flying twists during explosions – even Garfield gets to have one – and many moments during the hell of war that could have been construed as gratuitous or worse… unintentionally funny. But none of this matters at all as soon as Doss asks God for strength and runs headfirst into friendly fire artillery to save his wounded company. What happens past that point is one of the finest moments in any war film ever made. "Hacksaw Ridge" is nominated for Academy awards in "Best Picture", "Best Director" (Mel Gibson), "Best Actor" (Andrew Garfield), "Best Editing", "Best Adapted Screenplay" and "Sound Editing" & "Sound Mixing".
Rating: 4 out of 5 stars