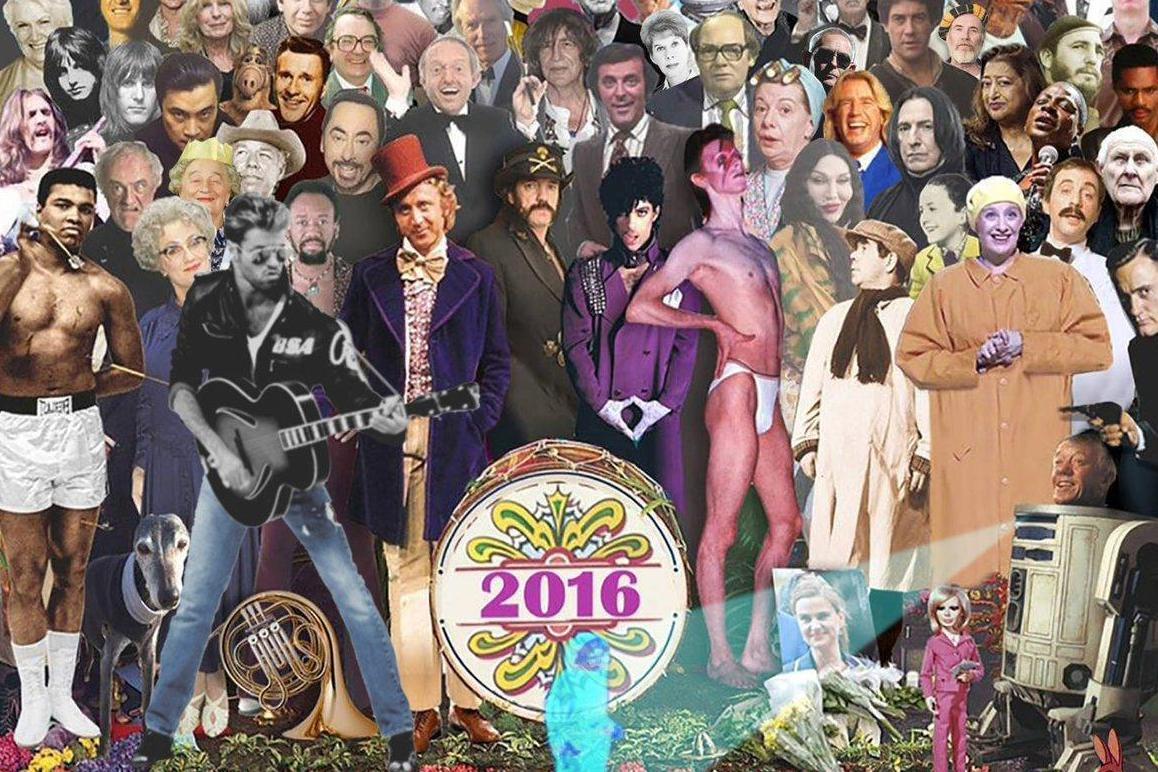 by Coop Cooper
Every year during the Oscars telecast, the Academy of Motion Picture Arts and Sciences honors the important actors and filmmakers who have passed on in the previous year in a segment titled 'In Memoriam". The segment usually only lasts about five minutes, but it would seem that this year, they could dedicate an entire show to it.
2016 has been an unusually painful year for celebrity deaths in all aspects of entertainment, culminating in the one-two punch of losing "Star Wars" royalty Carrie Fisher and her Oscar-winning mother Debbie Reynolds just days apart during the final five days of the calendar year. Along with them, 2016 has claimed famous sports figures like Muhammed Ali and Arnold Palmer, as well as music legends such as David Bowie, Prince and George Michael. As a result, the internet has been ablaze about how horrible 2016 has been due to all of these deaths with the public holding its collective breath until 2017 when the slate will be wiped clean – metaphorically, at least.
There are a few outside factors which might be responsible for the increased weight of these deaths on the public: Having the always-accessible internet on hand to keep us constantly updated might make it seem like there were a lopsided amount of deaths this year, simply because we were made aware of every single one of them as they happened. Additionally, with more programming and types of entertainment, there are a growing number of new celebrities. The news now has the burden of announcing the deaths of reality TV stars, 'internet famous' celebrities and every recognizable face in between.
Despite this, 2016 will be remembered as the year we lost a disproportionate number of pop culture icons. While this is purely a coincidence, many will see it in a superstitious way, claiming that 2016 was a 'bad' year. Some blame the November presidential election as a contributing harbinger of doom, while others externalize their own problems and disappointments as the reason for such a lousy annual cycle and these famous deaths only added fuel to that fire.
While it is apparent that people seem to be getting depressed about all of this, let's not forget the incredible legacies these artists left behind, which is the reason we all know about them in the first place. I don't usually eulogize celebrities on Facebook – or otherwise – but Carrie Fisher's death reminded me of the time I got to meet her in Los Angles. I regularly mention that my very first memory was seeing "Star Wars" in 1977 and Fisher's face is one of the first I can remember. Here is the memory I shared on my Facebook feed (keep in mind, this was before the death of Debbie Reynolds):
"Carrie Fisher was one of the first celebrities I met when I moved to Hollywood for film school back in 97. My strange but very sweet landlord bought tickets to the AFI tribute to Debbie Reynolds and invited his favorite film student tenants. I got to sit next to Candice Bergen and Janet Leigh. Carrie's brother Todd came to our table and shook all of our hands. Her mother Debbie was a hoot and accepted her award with such energy, she seemed like the youngest person in the room. When it was over and we were outside waiting for our car, Carrie came out and thanked all of us in line, individually, for coming. I'll never forget the small and sweaty horde of Star Wars fans who were stalking her at the velvet rope screaming 'CARRIE!!!' and waving their Star Wars merchandise for her to sign. She was angry that they had tracked her down and told them impatiently that she had to go pick up her daughter (who I assume was a very young Billie Lourd). She left and I was thinking, 'Wow, just a few months here and I've already met Princess Leia.' She will be missed."
In closing here is a quick reality check… The Academy, being an inherently political organization, will neglect to mention many of these deaths during their 'In Memoriam'. There will be many more celebrity deaths in 2017, some of which will be big pop culture icons. Due to the current state of our media, you will hear about every single one of them. Since this will be occurring monthly, weekly or even daily, falling into despair over it is counterproductive. Don't forget to focus on their accomplishments and how they inspired and helped others. This is the only recourse as the internet and social media slowly inches towards becoming a gigantic celeb obituary page.