by Coop Cooper
Netflix continues its domination of media by declaring it will now focus primarily on producing original material. Its selection of originals is already impressively large, but two new films have set the bar even higher with their attention to quality and entertainment value. These two films alone may be signaling the platform's transition to fully competing with Hollywood. If you still don't have Netflix, "The Siege of Jadotville" and "Spectral" are two compelling reasons to consider it.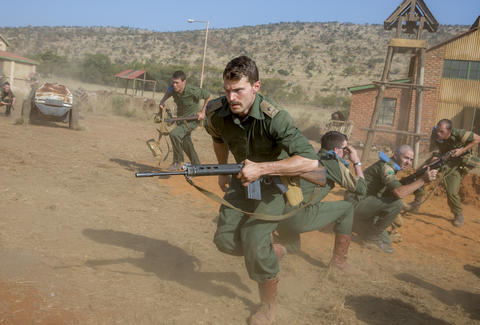 "The Siege of Jadotville" – Set in 1961 and based on a true event, Jamie Dornan ("Fifty Shades of Grey") plays Pat Quinlan, an Irish army officer assigned by the U.N. to protect an outpost in the Congo from the newly installed dictator and his French mercenaries. When Quinlan and his men arrive at the outpost they find it poorly fortified and themselves without adequate weaponry. With zero experience and eager to prove himself as a capable commander, Quinlan and his small platoon prepare as best they can, but suddenly find themselves surrounded by thousands of enemy combatants. U.N. Advisor Conor Cruise O'Brien (Mark Strong), refuses to provide reinforcements to avoid a political scandal, leaving the platoon to fend for themselves. Quinlan and his men must fight to the very last bullet to survive.
The fascinating thing about the movie is the history that surrounds it. Despite the outcome, Quinlan and his men were used as scapegoats by the U.N. and the Irish Army. They were disgraced and portrayed as deserters. Only in 2004 were their records cleared and they were finally recognized as heroes.
The film itself is one of the best action films of the year. I didn't have much of an opinion of Dornan in "Fifty Shades of Grey", but "Siege" makes me confident he should be an actor to watch. Mark Strong proves that he's one of the most versatile actors coming out of Britain and director Ritchie Smyth, better known for directing music videos for U2, seems to also have a talent for directing feature films.
If you do have Netflix, "The Siege of Jadotville" is a can't-miss film. See it immediately.
Rating: 4 and ½ out of 5 stars
"Spectral" – In this sci-fi/action film, Mark Clyne (James Badge Dale) is a hotshot DARPA scientist whose recent technological innovations have pushed the U.S. military into a new level of defensive combat weaponry. Clyne is dispatched to a war zone in Moldova to help identify a new threat that is killing U.S. troops. Invisible spectral beings, visible only by using Clyne's new optic technology, are killing everyone in the city and spreading beyond control. After heavy losses, Clyne eventually discovers what the beings are made of and quickly designs and builds an arsenal to combat them. However, if he doesn't discover and destroy the source of the specters, all humanity may be lost.
Despite the ridiculously far-fetched concept, "Spectral" surprises with some unique twists on some familiar sci-fi ideas. I've heard this film compared to everything from "Ghostbusters" to "Black Hawk Down" and while it may draw from those films and everything in between, it borrows the most from James Cameron's "Aliens". It even has a sort of Ripley character in the form of Fran (Emily Mortimer), a CIA agent embedded with the team who has an incorrect theory as to what the specters are, then must become a soldier when her spy-craft usefulness expires. It's a poor substitute and she isn't the main character by a long shot, but I understood where the inspiration for her character was coming from.
One could accuse "Spectral" of being shallow and a pale imitation of its predecessors, but it's too much fun to ignore. It's tough gritty and grim until the soldiers get their hands on the new weapons and go on the offensive. Then "Spectral" becomes the sci-fi shoot-em-up it was intended to be. Never mind that Clyne conveniently built futuristic energy weapons out of scraps in just a few hours, the production value is impressive for a straight-to-Netflix film. That alone is exciting and mainstream Hollywood should take note.
Rating: 3 out of 5 stars