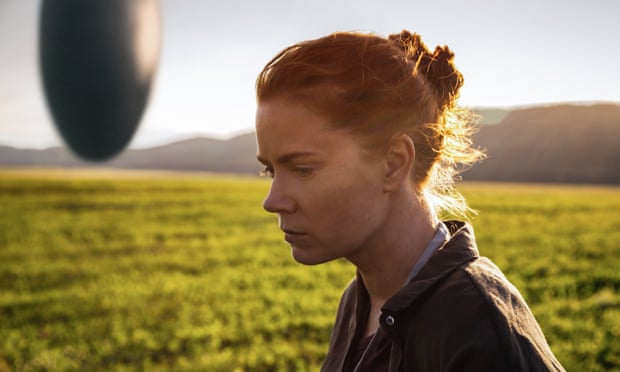 by Coop Cooper
I've seen so many alien invasion movies, I often feel like there are few original storylines to explore. I can often anticipate the twists based on the limited amount of alien invasion scenarios that already exist in fiction and theoretical science. If aliens do visit Earth, there are only a few possibilities as to their intent… 1. Conquest/destruction 2. Aid 3. Passive exploration. Some of the best scientists and science fiction authors agree that if aliens actually make 'first contact' with humans, there would be no positive long-term outcome for us, even if they offer to help us. While "Arrival" offers A-list acting, outstanding special effects, and brings some interesting new ideas to the table, it completely fails to address the full consequence of this contact.
When twelve alien motherships land around different parts of the world, the U.S. military recruits Linguistics professor Dr. Louise Banks (Amy Adams) to aid in communicating with the aliens. Along with scientist Ian Donnelly (Jeremy Renner), Adams races to decipher the aliens' complex language while the world teeters on the brink of war. As Banks develops a rapport with the horrifying, squid-like aliens, she begins to realize that her dreams about her dead daughter may hold the key to unlocking the language and understanding the true intent of the aliens.
In the "Star Trek" franchise, the Federation of Planets expressly forbids contact with alien species that have not yet developed faster-than-light space travel. These worlds may be studied from afar, but the Federation understands that exposing a less-advanced species to advanced beings and their superior technologies could induce paranoia, disrupt their belief systems and harm or destroy their global society. It's an ethical concept that Earth doesn't currently qualify for and whether the aliens in "Arrival" are truly benevolent or not, they seem to ignore this concept completely.
Amy Adams is gunning for an Oscar here. She gets to display all ranges of emotion here, but fear is the one she has to tap into the most. The strain of knowing that her failure could mean destruction often gives her fainting spells and panic attacks, but it's the softer moments that give her character the most weight. Some people might consider her a serious Academy contender, but without knowing her competition, I'm not convinced yet. Renner plays a likable supporting character as usual and Forest Whitaker plays the stiffest role he has ever attempted as a skeptical military commander. We will see if his similar role in "Rogue One" next month is any less rigid.
The aliens and their ships are of a cool design, but the real star of the film is their complex language and the science behind how it is deciphered. I never thought I would say this about an alien visitation/invasion film, but discovering and translating their language is the most fascinating part of this story. The interactions with the aliens are dripping with suspense and the fear amongst the humans when in their presence is palpable. Their design is reminiscent of H.P. Lovecraft's evil deity Cthulhu and the vile alien hoards that serve him. This is definitely meant to telegraph the fear that these things might see humans as potential food (or worse), but once their true intentions are revealed, the tension revolves around the world's militaries who take nearly every bit of communication as a potential threat.
There is a neat twist involving the dreams of Adams' character, but since the far-reaching consequences of her interactions with them are never revealed, we have to rely solely on her emotional resolution as a panacea for that lack of information. This is frustrating, considering Arthur C. Clarke's grim 1953 novel about alien visitation, "Childhood's End", at least satisfied this need, despite the potential for "Arrival" to have a similar ending. However, we will never get full closure to what the aliens' visit will mean for humanity. It's a shame because the rest of the story was very solid… Except for the fact that the global conflict in the film could have been easily resolved if they had simply clarified the meaning of the word 'language' with their unearthly visitors. It is a major plot hole in the film that I am surprised that no one has talked about yet. Too bad, since besides those two problems, "Arrival" could have been a near-perfect sci-fi film.
Rating: 3 out of 5 stars