by Coop Cooper
Here are two brand new cable TV series, both taking place in the South, but with very different philosophies when it comes to dealing with stereotypes.
"Quarry" – Coming back from his second tour of Vietnam to his hometown of Memphis, Quarry (Logan Marshall-Green) is having trouble transitioning to a civilian lifestyle which is alienating him from his already lonely wife (Jodi Balfour) and making it difficult to hold a job. When a local organized crime boss (Peter Mullan) offers Quarry work as a hitman, Quarry is roped back into the cycle of violence that he barely survived during wartime.
While critics are heaping praise upon this Cinemax series, I would argue that it's nothing I haven't seen before in many of the other dark, gritty, made-for-cable dramas. There are plenty of nods to the era and it all looks authentic enough, but there isn't a single character to like here except for a sleazy, murderous weirdo in a motel room named Buddy (Damon Herriman) who gives cryptic advice while hammering nails into a wooden baseball bat. When asked what the bat is for, he smiles and says, "Oh, wouldn't YOU like to know." While Buddy is a memorable character, the others seem stock as if taken from a pulpy noir thriller from an author who thinks sweaty guys in mustaches are menacing and that's all the character development needed here.
However, the show suffers from a more serious problem in that it perpetuates many Southern stereotypes and wallows in them. It portrays nearly every male character as dirty, uneducated, sociopathic, violent, desperate and untrustworthy. The men mumble their lines – almost like they have marbles in their mouths – through exaggerated drawls. Only a couple of them actually get it close to right.
There are a few good scenes here, one of which includes a sudden and shocking death by falling car in a garage and a couple of shootouts that unfold in clever, unexpected ways. Perhaps it has the potential to win an audience over if the writers ever figure out a way to make anyone care about the characters. It may be considered good stuff in Hollywood but exploiting Southern culture and people as some sort cathartic 'glad-we-aren't-savages-like-that' entertainment for the rest of America is old and insulting. The more savvy critics use a term called 'misery porn' to describe dramas about poor cultures which are designed to invoke outrage or moral superiority in an audience. I'd say "Quarry" qualifies as that.
Rating: 2 and ½ out of 5 stars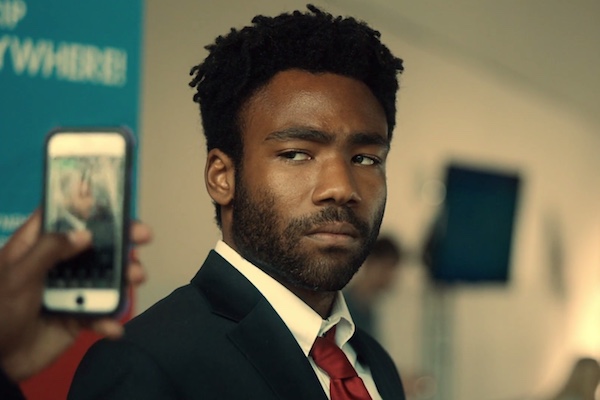 "Atlanta" – Writer/Executive Producer Donald Glover stars as Earn Marks, a struggling but loving single father who has an uncommitted relationship with his baby's mother (Zazie Beetz). His parents and relatives see Earn as a mooch who squandered a Princeton education. When Earn learns that his cousin Alfred 'Paper Boi' Miles (Brian Tyree Henry) has broken into the rap scene with a catchy new song, Earn sees his opportunity. Alfred refuses Earn's initial offer to be his manager, but when Alfred gets street cred from shooting a local gangster and Earn successfully negotiates to get the single some radio time, the two suddenly find themselves in a mutually beneficial situation.
"Atlanta" is the exact opposite of "Quarry" in every way. While "Quarry" reinforces stereotypes, "Atlanta" shatters them. As a thirty-minute dramedy, it addresses heavy issues with smart satire, perfectly-written dialogue and humanized characters. Earn isn't the only likable character here. Alfred may be living like a criminal, but he is smart, talented and conflicted about his future. Even the supporting characters are three-dimensional, especially Alfred's spaced-out, drug-dealing roommate, Darius (Keith Stanfield), who is one of the best comedy relief characters I've seen in awhile. There's also a jail scene where Earn is caught in the middle of an uncomfortable courtship between a suspect and the man's part-time girlfriend. When another suspect points out the obvious, that the girlfriend is actually a transvestite, the would-be boyfriend goes from disbelief to shame, anger and acceptance in a matter of seconds, and yet the scene is funny because Earn is seated between the two of them during the whole exchange and is too mortified to move while everyone in the jail is making light of the situation.
"Atlanta" is the best show of the new season so far. It has the weight of a well-crafted drama and the humor is clever and cerebral as opposed to a more zany alternative like 1995 comedy "Friday" – which is also good, just very different.
"Atlanta" also has the interesting distinction of being the first non-premium channel cable show I've ever seen to use uncensored 'F-bombs' on the air. It's used very sparingly and usually in a non-sexual way, but it's there.
Rating: 5 out of 5 stars