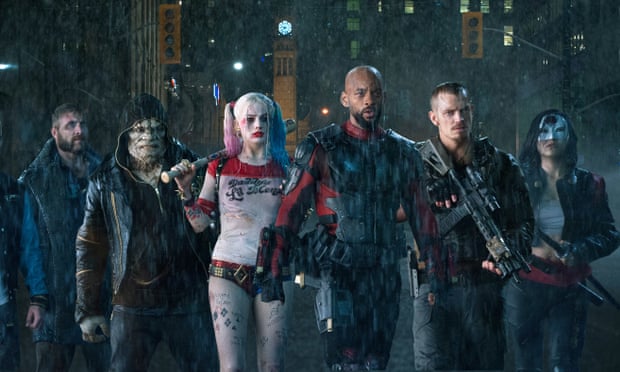 by Coop Cooper
I thought too much time had passed for me to review "Suicide Squad" but since the film is still #1 at the box office despite abysmal reviews, the projected bomb has become something of an anomaly.
With Superman temporarily dead, a shadowy government agency lead by the uncompromising Amanda Waller (Viola Davis) decides that the villainous rogues and 'meta-humans' they already have in custody might make an effective offensive team against a super-powered threat. When Waller's most powerful convert, the omnipotent witch known as Enchantress (Cara Delevingne), turns against her and threatens to destroy the world, Waller must activate 'Task Force X' and bend the captive supervillains to her whim. Implanting explosives in their bodies that can be detonated via cell phone, Waller enlists Deadshot (Will Smith), Harley Quinn (Margot Robbie), Captain Boomerang (Jai Courtney), Diablo (Jay Hernandez), Killer Croc (Adewale Akinnuoye-Agbaje), Katana (Karen Fukuhara) and Slipknot (Adam Beach). Lead by Special Forces Commando Rick Flag (Joel Kinnaman), this suicide squad must stop Enchantress and find a way to survive and make a break for freedom in the process.
The Bad: The Joker's handful of screen appearances in the film don't amount to a hill of beans considering Jared Leto's portrayal is so terrible. Fans who may be upset at his lack of screen time should be thankful he didn't stink the film up more with his limited presence. Cara Delevingne might be eligible for a dishonorable Razzie Award this year. Although it's mostly because she was miscast and the character wasn't used properly, her weird bellydancing, spell-casting and taunting seemed ridiculous towards the end of the film. It didn't help that her alter-ego was supposed to be a famous archeologist despite the fact that the actress looks about fourteen years old. Rick Flag was lame, clichéd soldier and Kinnaman doesn't have the chops. The whole story was poorly paced and plotted, especially considering the street-level team had to go up against such an overpowered adversary.
The Good: The characters of Harley Quinn, Deadshot and Amanda Waller were outstanding and superbly acted. The Diablo character received a very satisfying story arc. The others would have been fantastic if they had gotten more backstory and development. When the team actually has an 'honor among thieves' moment, their interactions become highly satisfying. Pretty soon, the story doesn't matter. It's all about how these crazy bad guys get along and square off against each other. This above all makes "Suicide Squad" enjoyable as long as expectations (especially regarding the Joker) are tempered.
What this means for D.C. Comics: The Marvel films have been giving D.C. films what for since "The Dark Knight Rises" (2012). Even the lesser Marvel films and TV series have done surprisingly well minus some of the properties not run by them (e.g. "Fantastic Four", the last Spider-Man movie). It would appear that D.C., in a rush to compete, is trying too hard. The announcements of hasty "Suicide Squad" reshoots of signaled something was wrong and although I'm giving this film a slightly positive review, it's obvious that many mistakes were made.
What is next for D.C. movies: "Wonder Woman" (June 2017) has caused a lot of buzz with a slickly-done trailer, hinting at a better-than-expected adaptation of one of the most difficult D.C. properties to generate hype for. After that, "Justice League" (November 2017) will formally introduce The Flash, Aquaman and Cyborg to the franchise. D.C. is moving very fast considering Marvel started much earlier to link all their properties and keep the continuity and momentum moving. Since D.C. had the misfortune of having the motion picture rights to their major superheroes scattered to the wind, only now can they begin that unification process on the silver screen.
Maybe Warner Brothers is finally learning from their own mistakes and from Marvel to deliver something that will satisfy both audiences and die hard fans. We will know for sure by next November, but until then, D.C. can claim "Suicide Squad" as a commercial, if not critical success. Will their be another "Suicide Squad" movie? I hope they give it another chance. I also think Harley Quinn and Deadshot deserve their own spinoffs. They'd better figure out a drastic way to improve The Joker though. A continuation of Leto's annoying antics isn't going to cut it next time.
Rating: 3 out of 5 stars