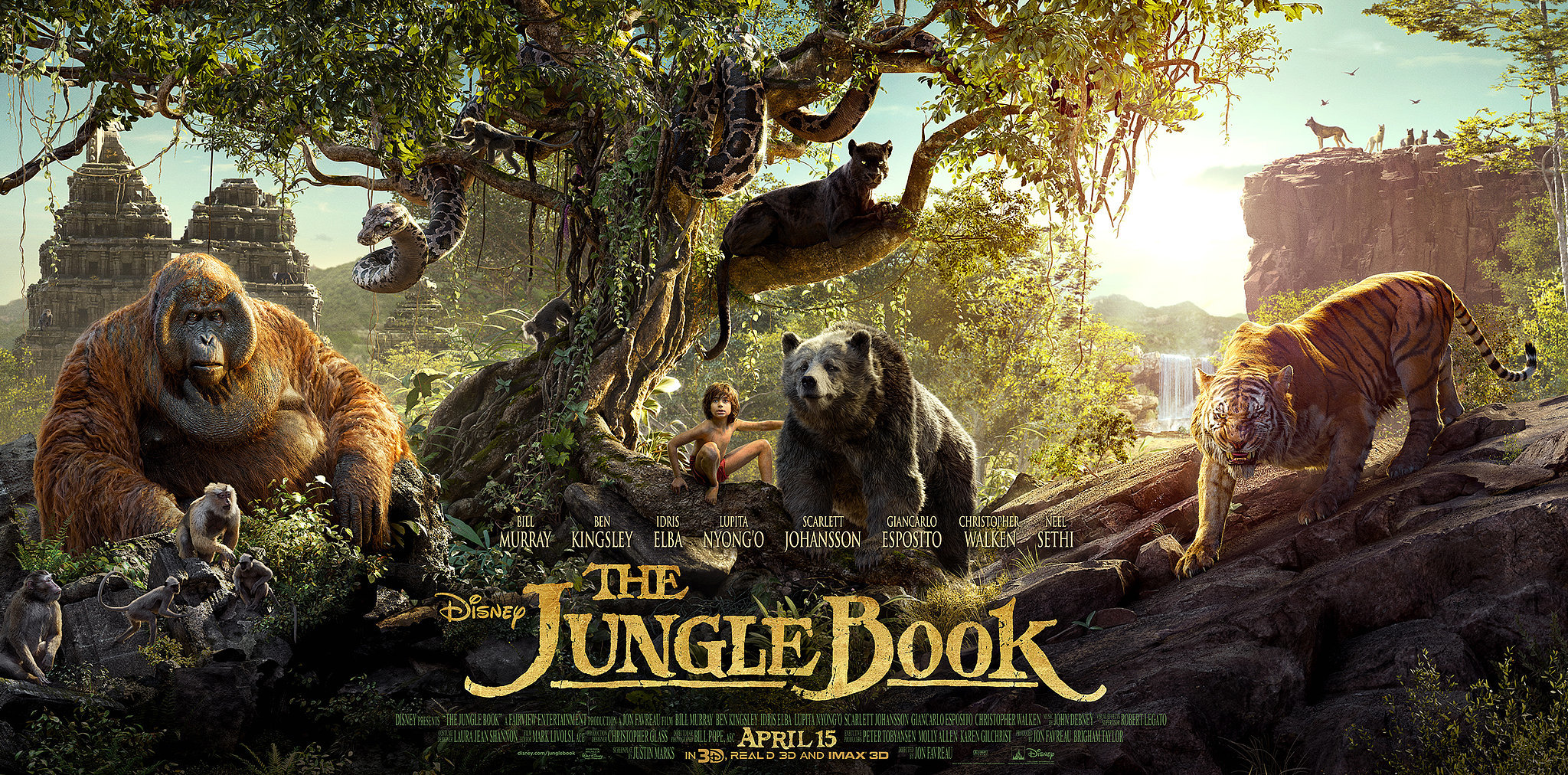 by Coop Cooper
One of my first memories as a child is going to Disney World and seeing a special screening for children of the animated 1967 version of "The Jungle Book" at the hotel where we were staying. It was my first introduction to Rudyard Kipling's classic story and I recalled loving every minute of it. Now Disney has released a live-action (mostly CGI to be accurate) update of "The Jungle Book" directed by John Favreau and I'm thrilled to report not only does this adaptation pay homage to Kipling's story, but it also utilizes the songs and the adventurous tone of the classic Disney cartoon.
Sometime during the colonial occupation of India, an orphaned boy (Neel Sethi) is discovered by a kindly black puma named Bagheera (Ben Kinglsey) who becomes his protector. Bagheera hands the boy over to a wolf pack who names him Mowgli and raises him as one of their own. When a drought causes an uneasy truce between all the animals of the jungle, a vengeful, human-hating tiger named Shere Khan (Idris Elba) warns that when the truce ends, he will come to kill Mowgli and will destroy the wolf pack if they interfere. Bagheera offers to return Mowgli to the human population, but along the way, an ambush by Shere Khan separates the two and Mowgli is forced to survive on his own. Along the way he meets many dangers as well as a new friend/protector, Baloo the bear (Bill Murray).
This version takes an interesting dynamic to the wilderness politics that exists in Kipling's story. For instance when Mowgli uses a special tool he made to gather water from a stream, the action catches unwanted attention from the other animals. Mowgli's wolf father warns him against using his human 'tricks', explaining to him that it isn't the way of the wolves. Of course those tricks come in handy later on when he meets Baloo and they form a honey-harvesting partnership. His skills even help him curry a favor with a pack of Elephants who are revered by all of the other jungle creatures as the creators of the jungle. But what the animals fear most is the 'red flower' which is actually fire they believe the humans create and use for destruction. Mowgli is forced to confront his human ability to wield fire in a couple of occasions during the film and it adds an element of environmental responsibility to the story.
The fine vocal talent from recognizable actors plays a large part in the joy of this film. Besides the jovial voice of Murray and the stern, yet caring voice of Kingsley, we also get Scarlett Johansson playing a snake, Lupita Nyong'o playing Mowgli's wolf mother, Christopher Walken playing 'King Louie' the orangutan and the late Gary Shandling voicing a nervous porcupine. Newcomer Neel Sethi does a fine job carrying the film as the only live-action character with a speaking part in the entire film. The computer generated effects are so convincing, it's hard to remember that none of the animals are real until they open their mouths to speak.
As there is with everything today, some controversy exists with this adaptation of "The Jungle Book". Some are saying it is an appropriation of culture with a big American studio whitewashing an Eastern Indian setting. I have also seen articles proclaiming Rudyard Kipling to be racist and "The Jungle Book" itself is accused of being imperialist propaganda. Such talk is old news and irrelevant in this case, especially due to "The Jungle Book's" good intentions which presents admirable themes and messages about friendship, nature and the folly of revenge.
While the original cartoon had some finality to its ending with Mowgli going off to live with the humans, this version favors a more open ending that allows for many more adventures to be had with his animal family. I am sure the imminent success of this film already has Disney working towards the next one. "The Jungle Book" is fun for the whole family. Don't miss a chance to see it in theaters.
Rating: 4 out of 5 stars