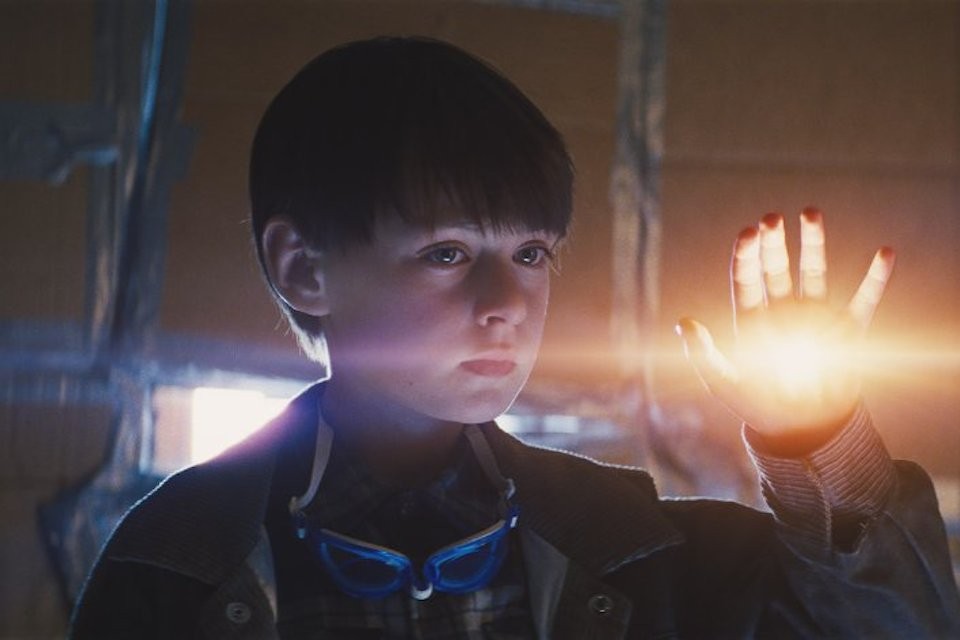 by Coop Cooper
On the run from a religious cult and the authorities, Roy (Michael Shannon) and his son Alton (Jaeden Lieberher) travel across the country in an attempt to reach a set of coordinates. Accompanying them is Roy's childhood friend, Lucas (Joel Edgerton), an ex state trooper determined to protect Roy and Alton at all costs. The cause of their flight is Alton's strange and dangerous powers which randomly manifest themselves in alarming ways, most commonly when Alton is exposed to sunlight. Roy has resigned himself to the fact that Alton is not meant for this Earth and the coordinates Alton conjured should return him to where he belongs. Unfortunately, Alton also picks up radio waves, including classified ones the government isn't happy about him exposing. The cult also wants him back to further their misguided ideology and send henchmen to return him to the fold.
Rarely does a movie with such potential anger me so much when it completely fails to live up to its hype. This is a very simple story with many plot holes and conflicting tones. It's not a superhero origin story, nor is it a dark revisionist film that plays with genre conventions. This is just another 'get the alien back home' film. That's it. And it strangely rips off the movie "Tomorrowland" (which I also gave poor marks to) at the very end for some reason.
The only movie that ever did this type of story right – or at least did it first – is "E.T.: The Extra-Terrestrial". To a much lesser degree, John Carpenter's "Starman" and (to a far, FAR lesser degree) Victor Salva's "Powder" tried and failed to make the 'messianic spaceman' idea work. The worst part about these types of stories is there is no ambiguity in the intentions of the supernatural character. They are 100% good, Jesus-like figures and those who hold any concern for the dangers they represent are painted as villains. In fact, the messianic spaceman is way too good for us. So much so that we must help him escape the evil humans and leave this horrible planet known as Earth! All to push a simplistic theme that we shouldn't treat those who are different from us so harshly. This is an overdone, one-dimensional concept which insults the intelligence of adult viewers.
Michael Shannon always plays scary nutcases, so his casting as a loving dad seems to confuse the tone a bit, especially due to his innate intensity. Why is his best friend, Lucas (Joel Edgerton) risking his life for Roy and this kid? The reason isn't satisfying. Also Kirsten Dunst appears as the kid's mother and Adam "Kylo Ren" Driver shows up as a benevolent scientist who just wants to understand the secret behind Alton's powers, much like Peter Coyote in "E.T.". Neither do much or add anything to the film. Then there is Alton himself. There is no endearing quality to him other than his love for comic books. Besides that, he is high-maintenance, creepy and his powers are scary and extremely destructive. When he reveals to his father what he truly is, it's pretty obvious that puny humans and their problems are beneath him, even his father who pretty much sacrifices everything for him. By far the coolest scene in the movie is when he knocks a spy satellite out of orbit. As satellite debris rains down on the surrounding area, destroying buildings and nearly crushing people, I immediately thought the kid might be better off locked away in a government bunker.
I mostly regard "Midnight Special" as a missed opportunity to play with the expectations of the audience. Throughout the first thirty minutes, all I could think was "Man, this would be a tense buildup to a horror film if they had simply substituted scary music for the sappy soundtrack." All the elements were there: The destructive powers, the creepy religious cult, the possibly dangerous father, the potentially sinister agenda of the child… All that tension wasted on another clichéd allegorical notion that Jesus is a benevolent alien and we are too stupid to deserve him.
It's a shame this film has been hyped so much in favor of Jeff Nicols' much better "Take Shelter" where the supernatural ambiguity was far more interesting and appropriately frightening. His film "Mud" nailed this aspect as well, so I know he has the writing talent to transcend this kind of material. I'm confident in his abilities so I'm going to chalk this one up as a rare misstep.
Why is the film called "Midnight Special"? I can only assume it comes from the song made famous by Creedence Clearwater Revival, even though the actual song is absent in the film. The lyrics are more-or-less about a yearning for freedom, so I guess it could fit, but any meaningful connection between the song and the film is probably lost on the audience. But then again Alton is 'special' and can only come out at night, so there's that.
Rating: 1 out of 5 stars