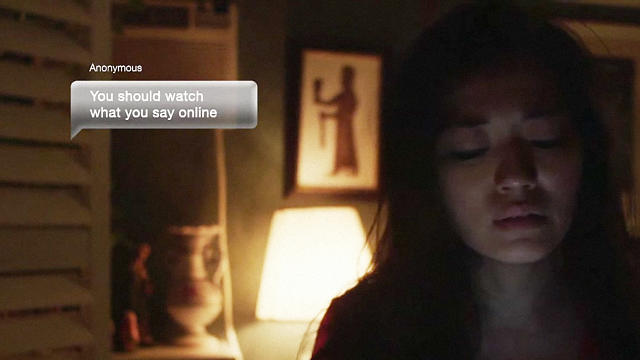 by Coop Cooper
We have all heard horror stories about people whose lives were negatively impacted or outright destroyed by the internet. A new show on the SyFy Channel aims to put a spotlight on those who gained unwanted infamy through social media, how it impacted their lives and how they were able to solve the problem or at least move on from it. While these cautionary tales could definitely serve as a warning to even the most cautious social media user, it doesn't shy away from the graphic realities of these situations, nor does it separate what can be proven and what is hearsay, or if some of the subjects were truly 'victims' at all.
The most alarming of these stories focus on women being victimized by peers or vengeful men. The most recent episode told the story of Maryland University professor Annmarie Chiarini who broke off a relationship with an abusive boyfriend, who in turn spread nude pictures of her to her students, colleagues, friends and family and also sold them to pornography sites. Chiarini felt powerless and suicidal as the police were likewise powerless to help her since there were no laws at the time in Maryland to protect her from this act or prosecute the perpetrator. As a result, Chiarini became an activist who helped get laws in Maryland changed in order to protect women from these online revenge crimes.
Other stories include cyberbullying cases of young girls that spread far beyond their peer groups. These cases may involve nude pictures as well, or something as innocuous as a before/after picture of a girl with and without makeup. The pictures spread and the victim becomes the target of teasing, harassment and threats on a large scale, especially if the picture goes viral and people who don't even know the victim join in on the harassment. For these victims, it seems that time is not enough to let the embarrassment fade away. The ones who persevere are the ones who turn the incident into something positive by becoming an advocate against such terrible online behavior and by helping others deal with similar situations.
There are also stories of attention-seekers getting more attention than they bargained for. One story featured a British man seeking fame on the internet who chronicles his life online for viewers to follow. Before a trip to America, he 'tweeted' a very obvious joke about "destroying America" (a euphemism for partying) which was taken very seriously by Homeland Security. He and his traveling companion were detained by security upon arrival to the States and interrogated heavily by Federal agents and deported. Another featured a self-styled comedian/daredevil posting a video of himself urinating on food and presenting it as if he had done this while working at his job at a fast food restaurant. It is difficult to call these people 'victims' for their foolish behavior, even if unfortunate things happened to them as a result of their actions. As for the food urinator, the cyber-vigilante collective known as Anonymous decided to make him an example by 'doxxing' him. This is a frightening tactic where your personal information (address, phone number, etc…) are publicly posted to encourage further harassment and threats by mean-spirited individuals shielded by the anonymity of the internet.
While that is a scary idea, it's hard to compare his story to those who were victimized simply for trusting the wrong person or through no fault of their own. Even worse, these people who were looking for fame get more of it through telling their sob story on "The Internet Ruined My Life", where they can embellish and exaggerate their story and present it as fact. We have seen cases of people attempting to stir up trouble online so they can gain fame as a victim – and getting caught in the process – so how can we trust the intentions of the subjects of some of these more questionable stories if it actually furthered their agenda?
Perhaps the show needs to dial in on its intentions so it doesn't lapse into exploitation or a platform for attention-seeking, wannabe public figures. There are truly tragic stories out there that can make people think twice before clicking send or to be more cautious with personal photographs or information. The show could be presented more like a serious "20/20" documentary show instead of a reality show that serves up the graphic details of someone's misery.
I would like to say it is a show that the family could watch so the kids could learn a thing or two about internet safety, but that is not the case. The show revels in showing barely blurred-out nude photographs and displays the obscene, hateful words that these people receive, mostly unedited. It's a very adult show which could have been presented a different way and would have been much more helpful as a result. Still, when it is on the mark, the show is very effective at showing the extreme pitfalls of life in social media. Likewise, it could be an effective deterrent to those who are quick to judge and attack others online based on limited information, and it could work towards humanizing victims in a way that could give bullies second thoughts. Watch with caution.
Rating: 2 and ½ out of 5 stars