by Coop Cooper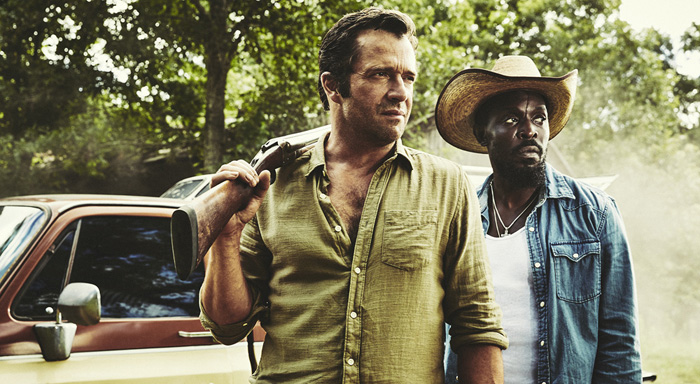 Set in 1988 in East Texas, caucasian cowboy Hap Collins (James Purefoy of "The Following") and his gay, African American best friend, Leonard Pine (Michael Kenneth Williams of "The Wire"), get laid off as day laborers at a rose bush farm. Struggling to make a buck, Hap receives a visit from his no-good ex-wife Trudy (Christina Hendricks of "Mad Men") who offers them a get-rich-quick mission to find a sunken car containing a million dollars in cash. Hap, being the only one who knows the location of the abandoned bridge the car is located under, reluctantly agrees as long as Leonard – who is an ex-marine and a diver – gets cut in on the deal. Trudy's current hippy husband (Bill Sage) and his misfit revolutionary group are fronting the job, but little do they know a nerdy psychopath (Jimmi Simpson) and his lethal punk rocker girlfriend (Pollyanna McIntosh) are on the hunt to grab the cash for themselves.
"Hap and Leonard" is adapted from a series of novels written by one of my favorite authors, Joe. R. Lansdale. A karate instructor from the small, East Texas town of Nacogdoches, Lansdale has been a cult crime and horror novelist for decades, but is only now appearing on the Hollywood radar. He had a brief flirtation with cinema back in 2002 when his short story "Bubba Ho-Tep", about an aging Elvis in-hiding and an African American man claiming to be JFK battling an ancient Egyptian mummy in an East Texas rest home, was adapted into a cult indie film.
Lansdale's next brush with feature film resulted in an adaptation of his dark crime novel "Cold in July" which released last year but is only available for sale on Amazon (DVD/Blu-ray/streaming) and on Netflix's dying DVD rental service. "Cold in July" is criminally underrated, and since it ranked sixth in my "Top 10 of 2014", it should be sought out by anyone who likes crime movies in the same ballpark as "No Country for Old Men".
While "Hap and Leonard" takes place in the same 1980's in East Texas universe as "July", it bends its gritty crime more towards the comedic side. With nine Hap and Leonard novels (and numerous short stories), it's safe to say the two colorful characters have quite an underground following and a large part of this is owed to Lansdale's expert characterization and sharp wit. In the show, Purefoy and Williams seem like an odd fit for a buddy duo but their undeniable chemistry become evident within the first ten minutes. Purefoy's chemistry with Hendricks works as well but her 'guest star' status indicates she might not be present for the entire season. The strong supporting cast help carry the rest of the story while the humor and the film noir plot does the rest.
Indie horror filmmaker Jim Mickle and his frequent collaborator Nick Damici must have made quite an impression on Lansdale if he turned over his flagship literary property to them. Their impressive work on "Cold in July" must've sealed the deal. Director Mickle has tried his hand at zombies ("Mulberry St." – 2006), vampires ("Stake Land" – 2010), cannibals ("We Are What We Are" – 2013) and it appears he may have found a new niche with this dark crime genre. The gruff and tough character actor Nick Damici is often Mickle's go-to leading man, but Damici seems to have reinvented himself as a writer and producer, which is a nice career turn but he is such a watchable actor, I hope he continues in that discipline as well. I also hope they are able to bring back the wisecracking, pig-farming detective character of Jim Bob Luke – played by Don Johnson in "Cold in July" – who makes occasional appearances in the "Hap and Leonard" novels.
"Hap and Leonard" airs Wednesdays at 9pm Central on SundanceTV, so it's not available to everyone, but AMC has at least aired the pilot episode, so it mind find other viewing platforms. There's not anything out there quite like it so it's definitely worth the extra effort to see.
Rating: 4 and ½ out of 5