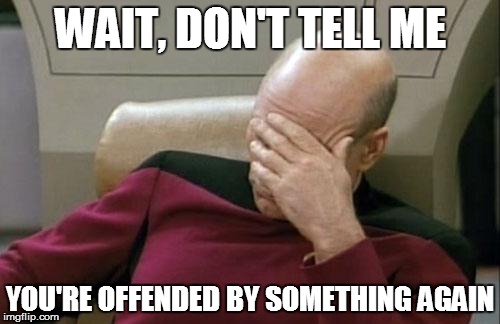 by Coop Cooper
I've never appreciated Super Bowl halftime shows very much. To me they always felt like pop-culture pandering to the masses, but it is quite clear a monumental amount of talent and organization goes into the production. When I saw Beyoncé perform with Coldplay and Bruno Mars, I didn't think much of it other than "That Mars guy knows how to dance" and "Coldplay looks out of place" and "Why is Beyoncé dressed like Michael Jackson during his military uniform phase?" Little did I know Beyoncé was setting off a political firestorm in which many felt her performance was disrespectful towards America's law enforcement officers by emulating the Black Panthers.
Nowadays, people seem to take offense to everything. Heck, every other post I read on Facebook involves one of my 'friends' trying to make an impassioned plea to point out everyone else's ignorance but their own, and when someone points out theirs… Well, you can imagine how they take it. The culture of offense seems to be in every facet of our society these days, but the entertainment industry is burdened by a disproportionate wealth of it. Here are some recent examples:
Comedians used to be more immune to 'political correctness' than other entertainers, as long as they were witty and thoughtful about their routine. Now comedians are declining to perform on college campuses due to what they deem as an oversensitive student body that has been trained to take offense at even the most harmless of zingers. Jerry Seinfeld talked about the hostility of college students toward comedians recently on an ESPN radio show, and was quickly and publicly lambasted in open letters to online publications like "The Huffington Post" by college students who took offense to his comments, easily proving his point. His former "Seinfeld" co-star Michael 'Kramer' Richards got into trouble by going on a racially insensitive rant during a stand-up performance in 2006, then handled the fallout poorly, and his career never recovered from the incident. I have a comedian friend who thinks stand up comedy may go the way of Vaudeville because of this new attitude towards comedy. It might seem hopeless for comedy if it weren't for the animated TV comedy "South Park" which is somehow immune to the PC push because it so effortlessly lampoons everyone and everything. Its detractors are always put in their place because if someone attacks "South Park" for any reason, the show's creators will make them the butt of the joke for an entire episode, or longer if necessary (just ask Kanye!).
"Star Wars" was not immune to controversy for a brief few weeks in 2015 when some diehard fans inexplicably raised some hostility to the thought of a black male as the lead in the new film trilogy. Some said it was a disingenuous attempt at political correctness and an assault on the canon of the original while others felt it promoted 'white genocide' (???). The animus disappeared once the film released but the strange outburst threatened to ruin the mood.
The Academy Awards aren't the Academy Awards if there isn't some kind of controversy, but this year's disagreement has rattled so many cages, that it prompted the Academy to eliminate and change their entire voting system. Voted on by thousands of members across many countries, the 2015 pool of nominees lacked 'people of color' in every major category. As a result, actress Jada Pinkett Smith (wife of Will Smith) and controversial film director Spike Lee threatened a boycott of the Oscars awards ceremony. Both had a personal stake in the 2015 nominations considering Pinkett Smith's husband was expected a nomination for 'Best Actor' for "Concussion" and Lee's film "Chiraq" was eligible for a nomination. Will Smith followed suit on the boycott along with many African American (and others of African descent) film professionals.
Sensing a public relations disaster, The Academy sprung into action and immediately changed their voting system in such a way that it eliminates voters who were lifetime Academy members but are retired from the business, presumably to give a younger generation of voters a bigger stake in the outcome. This enraged many long-standing and well known industry icons who suddenly found themselves kicked out of the club. It also bewildered many foreign actors, like Charlotte Rampling (who is nominated this year for 'Best Actress') and French actress Julie Delpy who obviously don't understand the sensitivity of racial relations in America well enough to share their opinion of it without offending the vast majority of their colleagues. Caucasian actor Mark Ruffalo (Nominated for 'Best Supporting Actor') considered joining the boycott until he suddenly realized had an obligation to support the "victims of clergy Sexual Abuse and good journalism" as portrayed in the film "Spotlight" for which he is nominated. Sylvester Stallone, who is up for 'Best Supporting Actor' as an aging Rocky Balboa in "Creed" was prepared to join the boycott, but he received the blessing to attend by his co-star Michael B. Jordan and director Ryan Coogler, who are both African American and were not nominated. Black comedian Chris Rock was scheduled to host the Academy Awards ceremony and was pressured to boycott as well, but decided to keep his hosting position so he could voice his opinion – hopefully in a funny way – from the inside.
Some industry pros did not agree with the boycott. One of which is Michael Caine who urged for patience, saying it took him decades to earn his Oscar. Another is rap artist and actor L.L. Cool J who gave this advice to his African American colleagues: "Don't get bitter, get better."
Perhaps it comes down to personality, whether we choose to be offended by what what we see on TV, at the movies, in the news, in music, etc… But are we going to let these things run the Super Bowl for us? The Oscars? How about "Star Wars"? As of now, I can get past it, but if it ever starts to really bug me, I'll just retreat into the one form of media that is strangely immune from controversy these days… Horror movies.