by Coop Cooper
Outrage pieces aimed at real-life institutions and events are compelling but like documentaries covering similar topics, they deserve skepticism and scrutiny in their presentation of the facts as well as their intentions, both political and personal. One thing that makes these films so polarizing is that they have an agenda and rarely present both sides of an argument, so they should be taken with a grain of salt even if they appear to be correct. Here are two Oscar-nominated films up for Best Picture that fall under this category.
"Spotlight" – This ensemble drama based on real-life events features Boston Globe reporters (played by Michael Keaton, Rachel McAdams, Mark Ruffalo and Brian d'Arcy James) trying to track down information on the Catholic Church covering up child abuse cases in order to avoid public scandal. As they conduct more interviews and collect more evidence, they realize the misconduct may reach further than they once thought. It starts with a small lead that turns into a pattern that involves not only the church, but lawyers for the church and the victims on both sides making clandestine arrangements to keep it quiet and profit from the scandal. The investigation expands into uncovering a culture of abuse in which involves cover-ups by the archdiocese, the clergy, law enforcement, the judicial system, the school system and the community. Soon the investigative team realizes that someone in their own ranks may have inadvertently buried this story years ago when they could have exposed it sooner.
There are a few profound moments in the film, the first of which happens when the Spotlight team gets a visit from a surviving victim who delivers a box full of proof to them and points out that he has sent all of this proof to the Globe five years ago, but it was ignored. Seeing the look on their faces when then realize they had unintentionally been turning a blind eye this story for many years already, was a fine moment. These types of 'wow' moments are scattered throughout the film, which keeps it moving at a brisk pace. There are other interesting touches, like how the events of 9-11-01 put the investigation on hold and nearly sank the story.
As most investigative journalism movies go, this one goes by the formula. There are also a lot of dubious facts and statistics floated about (like that 50% of the Catholic clergy does not practice celibacy with 6% of that group preying upon minors). Numbers pulled out of the air like that don't help with the story's credibility but it does deliver an emotional gut-punch, which is how Hollywood brings the heat in this type of film.
I wouldn't say it seemed like a hit-piece on the Catholic Church or the faults of organized religion in general, but many people are going to take it that way. Regardless, it's a compelling film and understandable why it was nominated by the Academy for Best Picture, but as a talk-heavy investigative drama it simply doesn't compare against the spectacle, technical achievements and the emotional highs of its Oscar competitors.
Rating: 3 and ½ out of 5 stars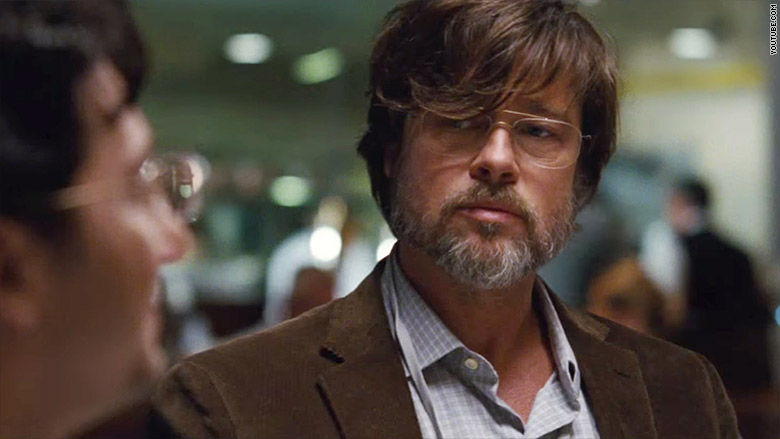 "The Big Short" – This film is a somewhat comedic take on the 2007-2008 housing market crash and those who predicted and profited off of it. You have Michael Burry (Christian Bale), the socially awkward macro economics savant who discovered the inevitability of the crash and began investing against it. Jared Vennett (Ryan Gosling), the bank exec who takes a cue from Burry and convinces fund manager Mark Baum to make a similar investment. Soon others catch wind of the possibility and follow suit, including retired hippie banker Ben Rickert (Brad Pitt). Little do they know the scope of the financial apocalypse looming over them and the world.
All of the characters are over-the-top in comedic ways. Bale only brings his weirdo character down to earth until the end, preferring to make him as crazed as possible in the beginning. Ditto for Steve Carrell who decides to take the severe narcissistic and bipolar route for his. Margo Robbie appears as herself for some reason… a bubble bath, explaining risky mortgages while sipping champagne and breaking the fourth wall. They use celebrity chef Anthony Bourdain to do the same thing and it's a very condescending and gimmicky device for a movie about the bursting of Wall Street's bubble.
The film is kind of a mess with random fourth-wall breakage, illustrations drawn in the air and visual aids such as a Jenga set used as a model to show how mortgages can collapse, plus endless pop-culture references from the era. But this is mostly at the beginning to keep your interest while they explain some heady stuff. Once it gets deep into the meat of the narrative, the actors straighten up and so does the story. It gets more entertaining and interesting as it goes along and the actors throw in nice touches that seem like clever ad-lib comedic moments.
Are these guys heroes or villains because they took advantage of system that took advantage of others? They are betting against the American Economy. Their only outrage seems to happen when they encounter the stupidity of the banks and those who run them, then at some point they grow a conscience when it starts happening and speak out against it? It's ambiguous until the end when it gets a little too high-handed, but it's an interesting story, much more so than "The Wolf of Wall Street", but not quite as much as "Wall Street" (1987).
Rating: 3 and ½ out of 5 stars