by Coop Cooper
The end of the year is upon us and I have compiled a list of the best films I've seen so far in 2015. Granted, this list will undoubtably change as more Oscar-qualifying, year-ending films (like "The Revenant" and "The Hateful Eight") become available. For now, here is the current list…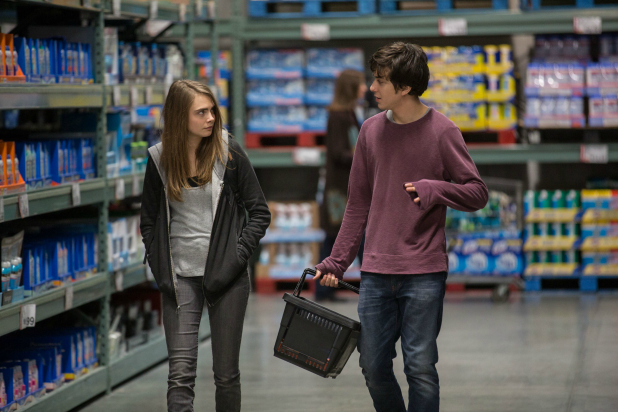 10. "Paper Towns" – Probably the least likely film on the list, "Towns" is an adaptation of a novel by John Green, the writer of "The Fault in Our Stars", about a goody-two-shoes teen who follows a series to clues left behind by his mysterious and beautiful neighbor who has disappeared into thin air. On the way, he forces himself to be more like her, breaking the rules and taking risks in order to find this girl with whom he fell in love with as a kid. This is the only meaningful coming-of-age story I have run across this year and it was woefully under-looked.
9. "Krampus" – Being the spiritual successor to "Gremlins" (1983), "Krampus" gets major points for creating a new holiday classic that surpassed all expectations. It may not have 'classic' status yet, but once people discover it on DVD and cable, it will find a well-deserved audience.
8. "Sicario" – Easily the best crime thriller of the year, "Sicario" takes the touchy subject of drug crime on the U.S. southern border and crafts a tight narrative with memorable characters and A+ acting. Emily Blunt could get some award nominations for her performance and Benicio Del Toro has created a potential franchise starter with his dangerously cool character known only as Alejandro.
7. "Ant-Man" – The best comic book movie of the year, Marvel takes one of its lesser-known Avengers and somehow pulls off one of its most creative superhero films yet. Paul Rudd is perfectly cast as the title character and is poised to appear in future Marvel films.
6. "Creed" – After 2006"s "Rocky Balboa", I never guessed I would ever see Stallone's most beloved character on screen again. "Creed" takes a different approach by having the aging Balboa train the illegitimate son of his greatest rival/friend, Apollo Creed. It didn't sound promising, but a boxing movie done right is a beautiful thing and "Creed" may be the greatest "Rocky" movie since the 1976. It might also be Stallone's greatest performance of all time.
5. "It Follows" – Easily the best horror film of the year, "It Follows" takes a frightening concept and turns it into memorable classic reminiscent of the original "Halloween". It is already ending up on many 'top 10' lists and has a premise that is so simple, yet fascinating, it has sparked lively discussions among critics and horror fans.
4. "Room" – Possibly the least known movie on the list, "Room" takes a horrific premise and turns it into one of the most honest and inspiring movies of the year. A boy raised in captivity in a one-room prison, having never seen the outside world, must adjust to life when he and his abused mother escape their deranged captor. Brie Larson, who plays the mother, gives an award-worthy performance, but hopefully her achievement won't fly under the radar.
3. "The Martian" – Matt Damon's solo performance as an astronaut stranded on Mars, struggling to survive hit all the right notes. Much like 2013's "Gravity", audiences may have been skeptical about a single actor carrying the weight of the film, but the competent pacing and crowd-pleasing resolution were plenty satisfying enough to declare it a winner.
2. "Beasts of No Nation" – A powerful story about a young boy forced into an African warlord's army, "Beasts" is the most socially aware movie in the list. Netflix has made a bold move forward in producing this film and putting it into competition with other, big-studio prestige pictures.
1. "Mad Max: Fury Road" – A perfect storm of story, production design, characterization, acting and action, "Fury Road" not only resurrected a franchise, but it raised the bar for cinematography and action films.