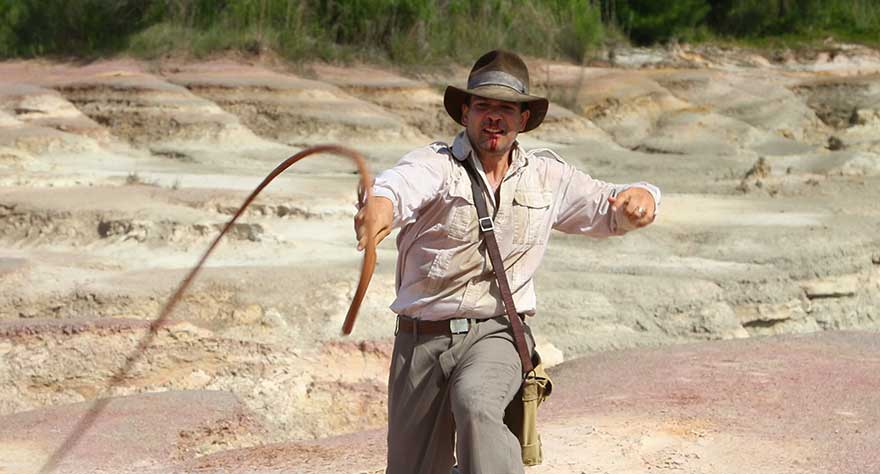 by Coop Cooper
A few years ago at the Clarksdale Film Festival, attendees were treated to a very special screening of a Mississippi film project that had been in the works since 1981. Ocean Springs natives Eric Zala and Chris Strompolos were in attendance to show "Raiders of the Lost Ark: The Adaptation", a shot-for-shot remake of "Raiders" done by Zala, Strompolos and their friends, filmed over seven years during the summers of their childhood. The film sat on the shelf until some well-known filmmakers viewed a bootleg copy and tracked down Zala and Strompolos, suddenly thrusting the two (now) adults into limelight. With their exceptionally creative adaptation screening at film festivals all over the world, the old collaborators found themselves haunted by the one scene in "Raiders" they were never able to shoot. Last year, they raised enough money to finally complete the scene back in their home town of Ocean Springs… and all did not go exactly according to plan.
The documentary "Raiders!: The Story of the Greatest Fan Film Ever Made", which screened at the Indie Memphis Film Festival this past weekend, chronicles Zala and Strompolos's effort to shoot this difficult missing scene. The scene in question is the infamous fight between Indiana Jones and the bald Nazi strongman soldier as Indy and Marion attempt to steal a German plane in order to escape Egypt with the Ark of the Covenant. This sequence required a scale model of a Nazi warplane along with dangerous stunts and massive explosions. Zala and Strompolos were predictably unperturbed by potentially dangerous situations during filmmaking. While making the adaptation as teens, they jumped from moving vehicles, destroyed property and set themselves on fire much to the shock of their parents. However, this undertaking would be an entirely new level of danger with the amount of pyrotechnics involved… not to mention the seasonal rains which threatened to extend their schedule, break their budget and jeopardize Zala's day job.
This documentary illustrates the power of the creative spirit but it is also a reminder at how often 'Murphy's Law" plays a part in film production. As the old adage goes, "Anything that can go wrong, will go wrong." For Zala and Strompolos – if the documentary is an accurate indication – the law held true during the filming of this scene. They made the original adaptation look so effortless (although I'm sure it wasn't), it is almost frustrating to see them suffer so many setbacks in order to complete one scene.
**Spoiler alert** – They do finish the scene, but not without sacrifices. According to the Q&A session after the film, Strompolos hinted that he and his partner had to finance some of the project out of pocket in order to finish it and they are in debt as a result. Zala may still be on shaky ground with his superiors at work and possibly his wife as a result of the extended shoot. Additionally, their pyrotechnics coordinator was injured during the final explosion and had to be rushed by ambulance to the hospital. He has since recovered, but Strompolos never elaborated on whether there were financial or legal consequences as a result of that incident. Furthermore, Zala and Strompolos's relationship is still strained after all of these years and neither seem to have a consistent association with long-time collaborator and eccentric A/V wizard Jayson Lamb who worked so hard to achieve nearly impossible special effects for the original adaptation so many years ago. They allowed Lamb to be present for the filming but much to his disappointment, he wasn't offered more than an honorary assistant position on the set, most likely because he had very little experience on a professional film shoot.
Do they feel the effort was worth it? Strompolos seems to think so. They plan to market the documentary to as many outlets as possible, as well as promote the new version of their adaptation, complete with new scene attached. If nothing else, these efforts have provided the widespread attention to attract new opportunities for future filmmaking projects. "Raiders!: The Story of the Greatest Fan Film Ever Made" is a love-letter to film and those who aspire to pursue it. It's an inspiration to filmmakers everywhere and a testament to the films of our childhood which sparked our imaginations (for the record, mine was "Star Wars" and I have absolutely NO plans to attempt a remake of it).
The "Raiders!" documentary is currently making the rounds at film festivals but "Raiders of the Lost Ark: The Adaptation", can be viewed on www.raidersguys.com as a digital download (without the new scene) for $25, and a DVD with the new scene included can be purchased for $50.