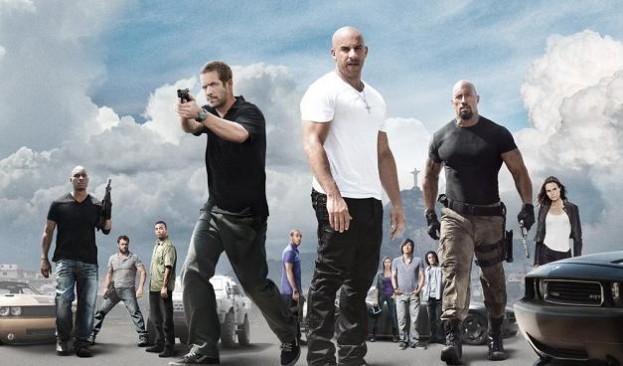 by Coop Cooper
Who needs another "Fast and Furious" movie? Apparently America does. "Furious 7" is already a box office blockbuster and has the sad distinction of being actor Paul Walker's final film appearance. Could this be the end of the series? I don't buy that for a second.
After defeating international terrorist Owen Shaw (Luke Evans) in the previous film, Dom Toretto (Vin Diesel) must reassemble his team of mercenary drivers when Shaw's vindictive brother, Deckard (Jason Statham) attempts to assassinate them all. Turns out a shadowy government agent calling himself 'Mr. Nobody' (Kurt Russell) also has it out for Deckard and makes a deal with Dom to take him down. The catch is that Dom and his crew must rescue a hacker (Nathalie Emmanuel) with the key to a dangerous cyber weapon called the 'God's Eye' in order to get Mr. Nobody's help. Apparently this mission involves parachuting muscle cars out of airplanes.
The film goes like this… Dom and his crew must achieve an objective that is always dangerously high-risk and always involves conspicuous, ultra-fast cars. Just when it looks like their Mission-Impossible plan is going to work, Jason Statham – and to a lesser degree, Tony Jaa and Djimon Hounsou – suddenly appear and, like Terminators, go on a rampage that makes the crew lose the initiative and nearly kills them. The formula works because it's watchable but you can't expect it to win any awards.
If you'll remember, around 2003, Vin Diesel was getting a bit too big for his britches and opted out of the series for the second and third film, then returned to the series after a stream of box office bombs lowered his bankability. Not only is Vin back but so is everyone else who was ever in a "Fast and Furious" movie.
The film is full of cameos and previous stars returning to pay lip service to the profitable franchise. In this installment, you get: Dwayne Johnson, Lucas Black, Ludacris, Michelle Rodriquez, Tyrese Gibson, and they even add some new blood to the franchise with Kurt Russell, Djimon Hounsou,Tony Jaa and MMA champion Ronda Rousey. Honestly, the amount of stars in this film are ridiculous and many only get a few minutes of screen time. They even manage to squeeze in Iggy Azalea for no good reason.
The special effects department also did an especially good job completing the late Paul Walker's scenes after he died in a tragic, yet separate car accident before production was completed. As they did with Brandon Lee after his death while making "The Crow", a double (Walker's own brother, Cody) was used as a model to superimpose the actor's face upon. This was almost seamless and I barely noticed when they used the digital coverup. The film ends with a fitting an emotional goodbye to the star who helped carry the "Furious" franchise to its (supposed) conclusion.
Never mind the plot makes no sense. Never mind the cars they drive and wreck probably cost more than the reward they make from the jobs they pull. Never mind the stunts are beyond impossible. Never mind that it promotes illegal street racing. Never mind this is the seventh one and probably not the last. It's "Fast and Furious" and this one throws everything in including the kitchen sink, so you already know whether you are going to like it or not.
One interesting thing to note is "Furious 7" performed very well at the box office this past weekend, making 145 million and according to CNN, 49% of its audience was female while 75% of its audience was made up of minorities. If Hollywood needed a model for tapping into a more diverse market, this is the franchise they should be studying.
3 out of 5 stars