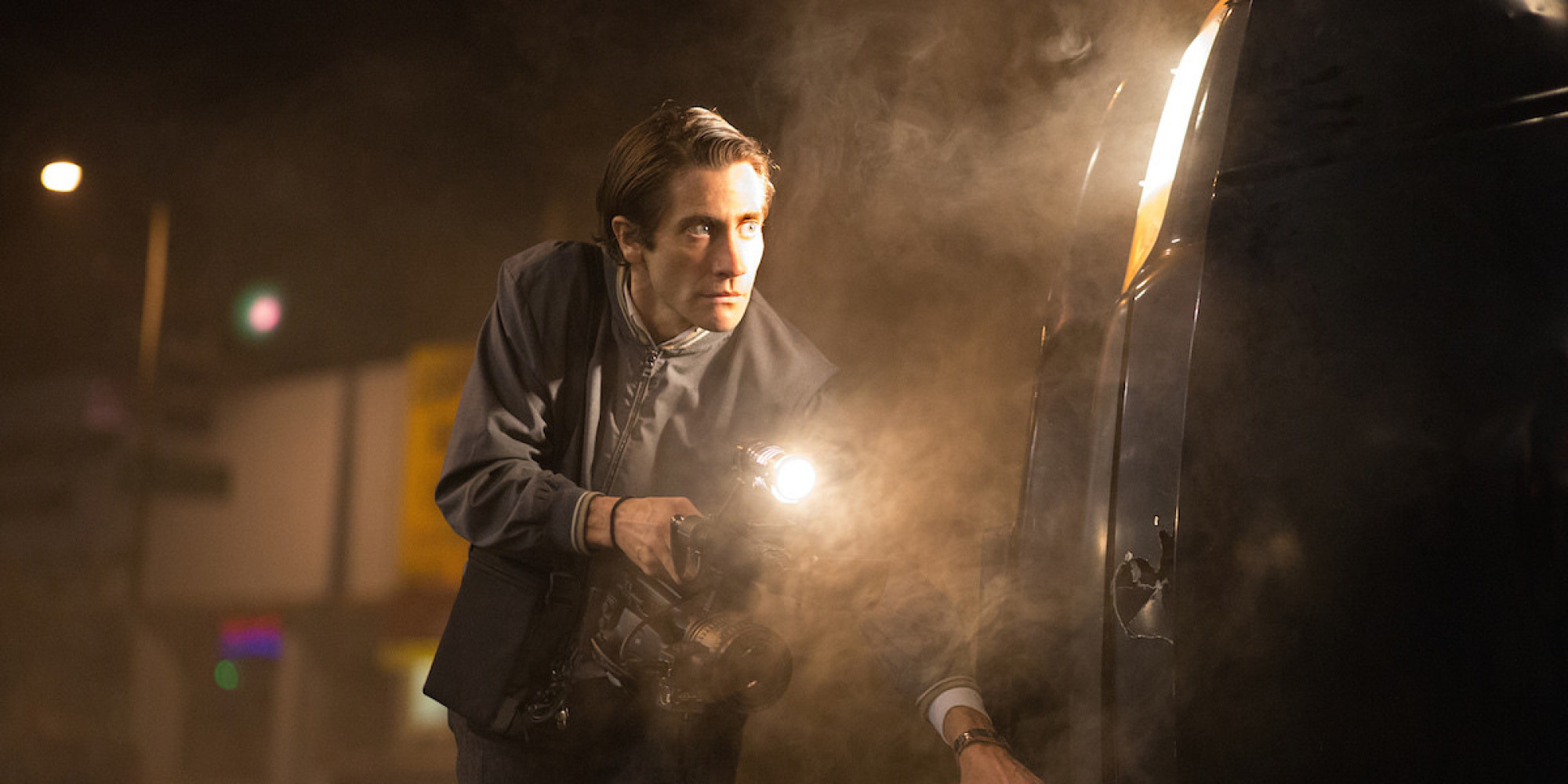 by Coop Cooper
In urban Los Angeles, petty scrap metal thief Lou Bloom (Jake Gyllenhaal) happens upon a fiery car wreck and becomes fascinated with the freelance cameramen who appear to cover the incident. Determined to break into the business, he buys a cheap camera, a police scanner and prowls the streets. His intrusive nature draws the ire of cops and competitors, but his work catches the eye of late night TV news producer Nina Romina (Rene Russo) who admires Lou's aggression and his attention to the bloodiest of details. His minor successes compel Lou to hire the clueless and homeless Rick (Riz Ahmed) as his assistant whom he continuously puts into dangerous situations. Under relentless pressure from Nina and his own ambitious ego, Lou spirals into increasingly felonious behavior after he beats the police to the scene of a brutal shotgun massacre in a ritzy LA neighborhood.
Reminiscent of the real-life urban photographer Arthur 'Weegee' Fellig who often photographed grisly New York City crime scenes before the police arrived, Lou represents a new generation of mercenary freelancing that is rearing its head in controversy hotbeds like Washington D.C. and Ferguson, Missouri. Self-proclaimed journalists with cameras (but no press credentials) show up to areas/events where violence or scandal is brewing. When the moment presents itself, they jockey for position to get the best shot and film the best footage to sell to local and national news outlets for an inflated price and to use as part of their resume to break into the business. All they need is transportation, a camera and the nerve to put themselves in a position to use it. They are the paparazzi of mainstream news who have been known to engage in underhanded and even illegal activities to get their shots. Recently, some have been accused of instigating conflicts, provoking police and attempting to incite riots in Ferguson, MO. For these reasons, "Nightcrawler" is timely and fascinating and subject matter.
Gyllenhaal delivers his most groundbreaking performance to date, completely disappearing into a character who is not only devoid of morals, but is fearless and laser-focused in purpose. I would even go so far as to say his character is so socially awkward and behaves so inappropriately around others, he seems to have a touch of autism or Asperger's Syndrome. His intellect and self-taught education arm him with the tools he needs to succeed, he only needed to find passion for a career that complimented his sociopathic nature. Lou is a lizard, a soulless predator and yet we root for him because he is so darned determined to be the best and has the guts to do anything in order to win. Gyllenhaal's performance is so strong, he should receive an Oscar nomination for this role.
Although solid, gripping and one of the best films of the year, "Nightcrawler" could have gone bigger. Lou spends all of his time trying to succeed in local news when everyone knows the big bucks is in national news. Lou could have propelled the story even further by trying to sell some footage to CNN, Fox News or one of the other national/international outlets. Perhaps that would be an organic next step for a potential sequel but it felt like a missed opportunity. Also, the music of the film doesn't adequately represent the tone. Often it was too light and carefree to belong in such a twisted thriller, but it changed enough during the most intense scenes.
There is also a bit of irony in this production since many recognizable Los Angeles TV news anchors lend their faces and talents throughout the film. While it is highly common for LA anchors to play themselves in Hollywood films, this instance is strange since "Nightcrawler" is actually a scathing critique on their business, revealing how they can manipulate the news into blatant sensationalism. Perhaps the film inadvertently reveals the unscrupulous, mercenary natures of these real-life TV personalities as well.
Although it's not the best movie of the year so far ("Gone Girl" is), "Nightcrawler" is just as fascinating due to Gyllenhaal's mesmerizing performance and the statement it makes about a media that caters to an audience who craves the catharsis of a 'breaking news' bloodbath. Like "Gone Girl" and "Network" before it, "Nightcrawler" holds a harsh mirror up to the media but ultimately holds us accountable as the viewer/accomplice. That makes it one of the most important movies of the year and potential Oscar contender.
Rating: 4 and 1/2 out of 5