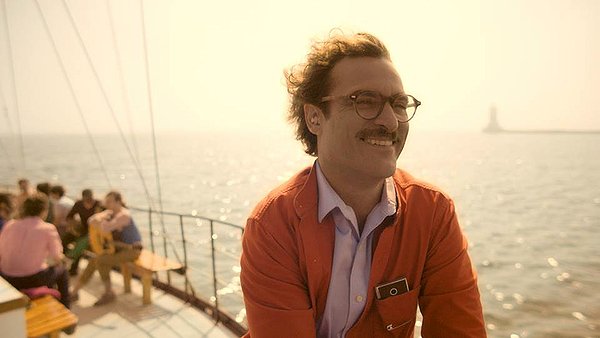 by Coop Cooper
It's easy for critics to miss even the most important films during their theatrical runs. Now that the Oscars are fast approaching, here are a couple of 2013 films I have recently seen and are worth mentioning….
"Her" – Taking place in the near future, Theodore (Joaquin Phoenix) upgrades his new all-in-one operating system (voiced by Scarlett Johansson) that is so human-like, it is indistinguishable from the personality of a real human. As Theodore interacts with the A.I. (artificial intelligence) it enriches his life as both a personal assistant and friend. As their relationship grows it turns into something romantic, but a sudden evolution in the operating system could put a stop to it.
This film is very difficult to talk about as it is basically two people having a long phone conversation. The conversation is a charming one and both Phoenix and Johansson give fine performances, but I felt the film went completely the wrong direction at the end. There are so many issues and questions the story sidesteps, such as: Would an A.I. ever be allowed civil rights? Could there be marriage and why difficulties would arise from that? How would a breakup be handled if one person has ownership of the other? How would physical affection be dealt with? Could child A.I.s be created by merging the personalities of the two parents? Etc…
Unfortunately the film decides to avoid these questions in favor of an easier, more familiar (and potentially sinister) way out. I understand what writer/director Spike Jonze was trying to go for but I see this film as a huge missed-opportunity to explore some deeper questions. The 1984 film "Electric Dreams", although a comedy, mined similar territory with a bit more edge and the 1999 film "Bicentennial Man" tackled some of the deeper philosophical issues. "Her" was a charming film and a nice diversion but it could've been a bit more challenging.
Rating: 3 out of 5 stars
"Blue Jasmine" – The story starts out with Jasmine(Cate Blanchett) haranguing a nice old lade with too much information about her love life on a San Francisco-bound plane. Apparently Jasmine had a whirlwind marriage with a rich Bernie Madoff-type (Alec Baldwin) who gets incarcerated, leaving her penniless and homeless. She arrives at her blue-collar sister Ginger's (Sally Hawkins) house and immediately becomes an insufferable burden, bragging about her expensive possessions/luxuries she won't give up, even though she is in miserable debt. The story often flashes back to Jasmine's lush, former life where she fits into high-society despite being aggressively self-centered and snobbishly rude, even in a socialite setting. Her sister's, her rough-around-the edges friends constantly remind her of her hardships. As bad luck and poor decisions exasperate the situation, Jasmine inches closer to massive nervous breakdown.
If any of this sounds familiar, it's because this is a very obvious remake of "A Streetcar Named Desire", but with flashbacks and expanded scenes where Jasmine meets and develops a relationship with a government official (Peter Sarsgaard) and deals with pill addiction. This actually fleshes out the character of Jasmine more so than Blanch and gives Blanchett a lot of juicy scenes to chew on. Likewise with Sally Hawkins – the 'Stella' character – who gets no less than three men (Andrew Dice Clay, Bobby Cannavale and Louis C.K.) to have relationships over the course of the story, although Cannavale's 'Stanley'-like character isn't interesting enough to pull it off and he's completely toothless compared to Tennessee Williams' version of the character. Maybe he was written that way for "Blue Jasmine" because there's no Brando's around the fill the part.
This movie really is Blanchett's triumph and the Oscar for Best Actress is hers to lose. Jasmine is just as haunting of a character as Blanch and while Cate Blanchett probably has many Oscar-worthy performances in her future, she should remain very proud of this one.
Sally Hawkins may not have done enough to deserve a Best Supporting Actress nomination, but she's fine in the part. I liked her better in other roles, especially "Happy-Go-Lucky", but she's paid her dues so anything is possible. Andrew Dice Clay gives a surprising performance, including a particularly heartfelt one near the end that is shocking in its sincerity and poise.
This is a Woody Allen movie. Although he is not usually to my tastes, he created a very interesting expanded-universe version of a classic that somehow does the original justice.
Rating: 4 out of 5 stars