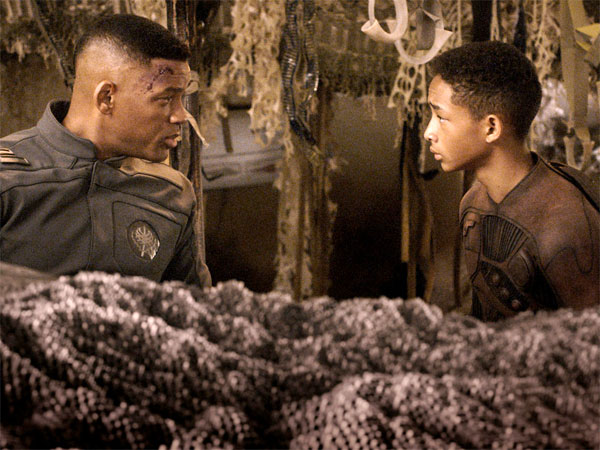 by Coop Cooper
M. Night Shyamalan has been one of the most celebrated and reviled filmmakers in the last 15 years. While his first three Hollywood-caliber films ("The Sixth Sense," "Unbreakable" and "Signs") gained high critical and popular praise, his last four have been disastrous box-office flops. If the box office returns from the past weekend are any indication, you can add "After Earth" to his growing list of flops. However, while Shyamalan bears the brunt of the burden of these failures, I believe he is still a misunderstood, if not highly flawed cinematic savant.
"After Earth" takes place 1000 years in the future where humans have colonized space after ecologically ruining and abandoning Earth. Soon after resettling on new worlds, they are marked for extermination by a race of aliens who use oversized, blind monsters as biological weapons. These lethal beasts can only detect its prey through sensing the pheromones humans release when they feel fear. The greatest human warriors called 'rangers' can best these monsters by eliminating all fear from their minds, a technique called 'ghosting' which render the monsters blind. The stern, emotionless General Cypher Raige (Will Smith) is the greatest ranger alive, but his teen son Kitai (Jaden Smith) cannot master his hysteria-prone fear and therefore is disqualified as a ranger. Cypher takes Kitai on a minor mission to toughen him up, but they crash land on Earth which has evolved into a death-trap planet filled with dangerous organisms. Kitai must master his fear in order to keep him and his gravely injured father alive long enough to signal for a rescue.
There are a few aspects of this movie that don't work… The name of Will Smith's character is one of the silliest sci-fi names every conceived.  The characters all speak in stilted, indeterminable accents, a nuance that doesn't make sense in the context of the movie. The rangers don't use any practical weapons like guns, just a weird sword-like device that doesn't seem all that useful. Action sequences rely a lot on stupid luck to move the story forward. All the plot points are telegraphed and there are no real surprises. Also, the monster's weakness is pretty dumb (but nowhere NEAR as dumb as the aliens' weakness in "Signs"). Finally, there are Shyamalan's trademark logic flaws which can only stem from lazy plotting and a lack of taking good advice during his rewriting process.
I can name all of the sci-fi films Shyamalan obviously cherry-picked from to create the concept and the world for this film, which in itself is unremarkable. What is remarkable is how adept Shyamalan is at creating characters and writing the human side of his stories. If only they weren't all so similar from movie to movie. His heroes suffer past tragedies which make them weak until they finally find the strength to overcome their flaws, be it in outer space or in present-day Philadelphia where a ghost is learning how to move on from a gifted little kid. Shyamalan almost always follows this formula. When he doesn't (like in "The Happening"), it can be abysmal, but where he truly fails to connect with the audience is on the level of expectations. People expect a shocking twist from him like in "The Sixth Sense" or, in this case of "After Earth," an edgy space opera. Nope, it's an intimate story about loss and redemption, it just happens to take place in space. Heck it could've happened in the African or Australian wilderness and the same story could have been told.
It has also been argued that "After Earth" is a thinly-veiled parable that touts the virtues and beliefs of Scientology, a 'religion' that Will Smith is quietly a member of. Shyamalan's associations Scientology are unconfirmed, but Smith has a story credit for the film and was a producer so arguably, it could all be his influence. If this is true, it couldn't be blamed for making the film worse, it's simply a creepy side-note that this film might actually be Scientology propaganda… Much like the stinkbomb that was "Battlefield Earth."
Flop or not, I still believe Shyamalan's most cinematically rich and original story is "The Village" which I think is worthy of study for film students. One of his other bombs, "The Lady in the Water" was a emotionally satisfying fairytale, even though there was absolutely no easy audience demographic for it to appeal to. I didn't hate "After Earth." It was watchable and interesting but it still ranks pretty low. This is probably the last studio picture for Shyamalan until he gets his groove back (if ever) but I actually see this as a positive for the writer/director. I'd rather he got back to his independent roots and work under a limited budget because ultimately, I believe that's where his brand of storytelling belongs. That might focus him well enough to write and direct a small and meaningful film instead of wasteful multi-million dollar wannabe blockbusters that don't appeal to a large audience.
Rating: 2 and 1/2 out of 5 stars