by Coop Cooper
There are many great horror films out there but very few actually take place during or around Halloween. Here are six of the best…
6. "Ginger Snaps" (2000) – Ginger and her sister, Brigitte are two high school Goth outcasts… Until Ginger gets bit by a werewolf. The infection gives Ginger the confidence she's never had… and an appetite for human flesh. The climax occurs during a Halloween party where Ginger doesn't need a fake costume to look scary. One of the great underrated werewolf films, "Ginger Snaps" is a sly, grim allegory to the pains of female puberty. It spawned two bizarre and substandard sequels but the original has a large fan following.
5. "Donnie Darko" (2001) – His friends and family think teenaged Donnie (Jake Gyllenhaal) is a disturbed schizophrenic. Little do they know that Donnie has powers and is only now learning how to control his precognition and time travel ability, taught to him by a demonic-looking apparition named Frank. When Frank tells Donnie the world will end at midnight on Halloween, Donnie must figure out a way to use his powers to keep it from happening. This cult classic is more of a melancholy, cerebral thriller than a horror film but many consider it among their top films of all time.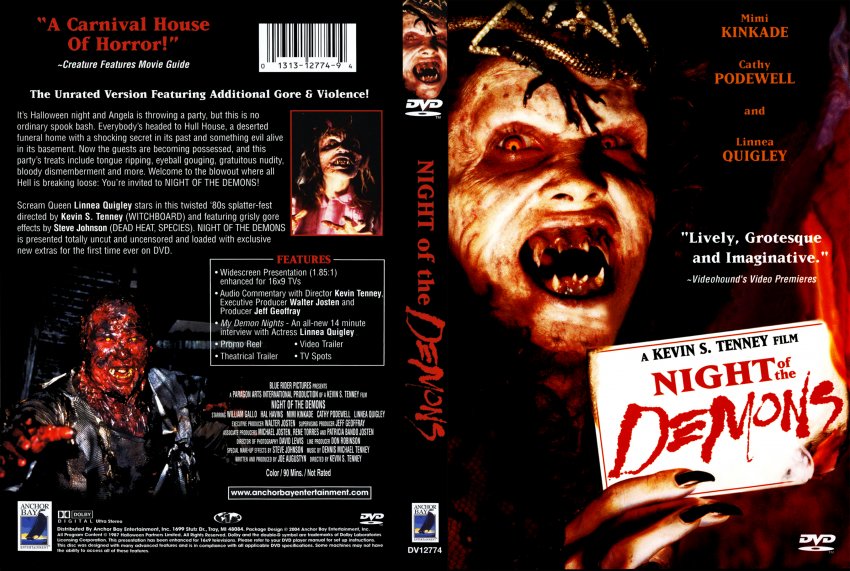 4. "Night of the Demons" (1988) – Angela throws a Halloween party for her friends at an abandoned haunted house and holds a seance. Bad idea. When she and several other partygoers become possessed, they start snacking on the others. Another gory 80's cult classic followed by a string of cheesy sequels. Avoid the 2010 direct-to-video remake which was directed/written by Adam Gierasch and Jace Anderson, two of the worst filmmakers currently working in horror.
3. "Halloween III: Season of the Witch" (1982) – One of the most unfairly maligned horror films of all time, this film took a departure from the Michael Myers films to explore director John Carpenter's original idea of making Halloween film with a completely different story every year. The result was a critical and box office disaster, but this film does have many loyal supporters. It features a wild story about an alcoholic doctor who stumbles upon a plan by America's largest novelty toymaker to booby-trap millions of Halloween masks in order to offer up a massive seasonal sacrifice to the pagan god Samhain. Definitely one of the most original concepts ever devised for a horror film.
2. "Trick 'r Treat" (2007) – Warner Bros. dropped the ball in releasing "Trick 'R Treat" for two years in a row because the studio was afraid it would not compete well with the "Saw" films which were saturating theaters at that time of year. This movie sat on a shelf, only appearing at film festivals, even after getting unanimous raves from fans and critics. It takes place in a town in Ohio that revels in the Halloween festivities, attracting ghouls and ghosts who strictly enforce the traditions of the holiday. It follows multiple, converging story lines of people running afoul of these holiday laws over the course of the evening. "Trick 'r Treat" finally received a direct-to-video release in 2010, but is still amongst the best Halloween films ever made and writer/director Michael Dougherty claims sequels are on the way.
1. "Halloween" (1978) – Surely the most iconic of all Halloween villains, Michael Myers ranks as one of the top slashers of all time. His first rampage through Haddonfield, Illinois created a franchise sensation that ruined John Carpenter's plans to make a completely different "Halloween" story every year. To achieve the creepy "shape" mask of Michael, costumer designers took a poorly-made "Star Trek" Captain Kirk mask and spray painted it white. So next time when you hear William Shatner brag about how he "is" Michael Myers, you'll know what he's talking about.