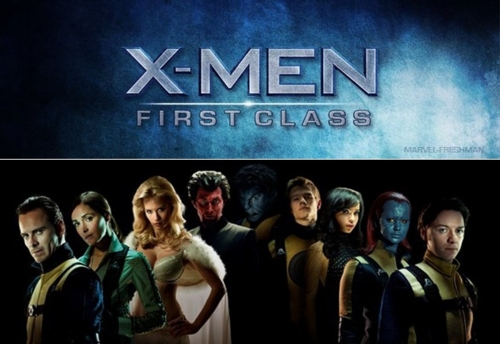 Review by: Coop Cooper
I had almost given up on the "X-Men" franchise after the misfire that was "X-Men 3: Last Stand" and the abysmal "Wolverine" spinoff. "Black Swan" director Darren Aronofsky recently teased comic book fans with a promise to make a higher-quality "Wolverine" film set in Japan (one of the most famous story lines in the character's history) only to kill the project without adequate explanation. That news sunk my hopes even lower. At this point, a classic "X-Men" story taking place in the 1960's didn't make much sense to me. They had already modernized the original team members for the 2000's and made them all youngsters. Thankfully with a bit of creative canon-bending, the gamble worked and audiences finally have another decent "X-Men" movie to enjoy.
The story starts with origins of Magneto, Professor X and Mystique. Magneto (Michael Fassbender) grows up hunting and exacting revenge on the Nazis who murdered his family and experimented on him to exploit his powers. The well-off Professor X (James McAvoy) adopts the homeless Mystique (Jennifer Lawrence) as a sister, lives the good life and eventually earns his PhD in genetics. Fast forward to 1962… CIA agent Moria McTaggert (Rose Byrne) discovers a plot by the evil mutant Sebastian Shaw (Kevin Bacon) to start WWIII by orchestrating the Cuban Missile Crisis. The CIA hires Professor X for his expertise, but soon the Professor determines he must seek out and recruit other mutants, like Magneto, to stop Shaw from wiping out the human race.
The convoluted plot can be forgiven due to competent acting and exceptional character development. Instead of an evil mastermind, Magneto is more like Batman, a dark avenger giving fugitive war criminals their comeuppance. Professor X isn't simply a leader with high morals, he's a boozer and a womanizer who arrogantly uses his power and his smarts to pick up women. Mystique isn't a soulless shape-shifting killing machine, she's a insecure girl with a crush on her adopted brother. It shows a side of these characters never before witnessed in the previous films.
I suppose we have the TV show "Mad Men" to thank for making the early 60's hip again. "First Class" attempts to capture some of the look and feel of "Mad Men" and may not have happened if the show weren't such a success. This also allowed up and coming actors like Fassbender and McAvoy to take a stab at younger, more energetic versions of the venerable mutant leaders. Fassbender swashbuckles through the film, leaving spectacular scenes of destruction and death when he unleashes his power. Occasionally I'll peg an actor/actress as having the qualities of an Oscar-winner and Fassbender fits the bill. McAvoy has proved his worth over the past few years, but this is the first time since the "Children of Dune" miniseries that he has proven he can play a believable hero… his whiny performance in "Wanted" doesn't count.
I firmly believe Jennifer Lawrence (who was nominated for Best Actress in "Winter's Bone" this year) will one day win an Oscar but for now, she is taking supporting roles in blockbuster films to prove her worth. As Mystique, she gets more time in human form than Rebecca Romjin did in the first three movies. She finds a few scenes in which to shine, but often gets drowned out by the large cast. I'm looking forward to seeing her handle a lead role in a major franchise when she stars in the first installment of "The Hunger Games" next year.
The other positives include some interesting fringe comic heroes and villains taking the place of classic characters who were adapted to the present-day story lines and therefore would not yet be born in the 60's. In an attempt to be politically correct, two unrelated minority heroes were also included but neither added to the story. In fact, the whole intention falls flat considering where these characters eventually end up. What was the point of inserting them into the story if the filmmakers don't give them anything important to do?
Kevin Bacon is horribly miscast as the villain. Although suitably slimy, he is not physically imposing. I would even go so far as to say he looked feeble. I suppose Bacon is finally showing his age after all these years. Pay him no mind, because the surprise inclusion of a superhero cameo and the large number of recognizable character actors in the supporting cast should soothe the sore spots.
Despite the better-than-average quality of the film, it often reaches moderate levels of hokum. If the studio allows for another "Classic X-Men" tale, I hope they can keep the cheesy lines and silly posturing to a minimum. Hopefully the film succeeds because I think another try at a 1960's superhero tale is worth taking.
"X-Men: First Class" rating: 3½ out of 5 stars