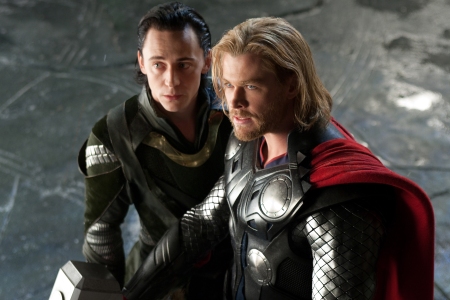 Review by: Coop Cooper
I had many favorite superheroes as a kid but Thor ranked among the highest. He had the power of flight and strength of Superman, he commanded the elements, he wielded a magic weapon and he ruled an entire kingdom. I held out little hope anyone would adapt him into feature film without making him look as silly as Batman in the 1960s TV show. Finally, "Thor" has arrived and although some of the silliness persists, it holds up well enough to usher the God of Thunder into the "Avengers" superhero team movie next year.
As Norse god Thor (Chris Hemsworth) impatiently waits for his father Odin (Anthony Hopkins) to name him King, his recklessness prompts him to launch a preemptive attack on the enemies of Asgard, the Ice Giants. Thor's actions put the realm at risk, angering Odin who banishes Thor to Earth as a lesson in humility. On Earth, Thor is found by scientist Jane Foster (Natalie Portman) who studies the strange portals used by Asgardians to travel to the mortal realm. While Thor struggles to adapt to human life, his adopted brother Loki (Tom Hiddleston) seizes power and threatens: 1. to hand over Asgard to the Ice Giants, and 2. to lay waste to Earth using the living mechanical weapon known as The Destroyer. Thor must prove his worth in order to regain possession of his magic hammer to prevent the destruction of both worlds.
One thing "Thor" managed to do right was to pay service to the fans of the comic. The script included every minor character, every mythological detail and still tosses in plenty of extra stuff to keep the franchise interconnected and the cannon pure. That was also part of the problem. We essentially have two movies here, plus everything and the kitchen sink thrown in. This lead to an overcomplicated plot, burdened by too many characters who barely get enough development for an audience to care about who they are, much less what they are doing.
There is also the matter of trying to balance a fantasy world along with the world of humans AND the world of superheroes that Thor will eventually crossover/into next year. Director Kenneth Branagh and nearly half a dozen screenwriters who worked on this project had a lot to mix in but the end result is surprisingly solid and satisfying. It nearly strayed into "He-Man and The Masters of the Universe" territory, but the inherent silliness of colliding fantasy with reality was handled as well as can be expected.
The tie-in to the world of superheroes nearly failed to generate excitement due to poor handling. S.H.I.E.L.D. Agent Coulson (Clark Gregg) had a sizable part as the authority in charge of investigating the arrival of Thor's immovable hammer but the brief cameo by superhero Hawkeye (Jeremy Renner) was horribly botched. Those unfamiliar with the character might have figured out he was special when he chose a bow and quiver of arrows instead of a sniper rifle during his only scene, but he never got the opportunity to show off his special ability, nor did he get a proper introduction. Pretty lame when his sole reason for being in the film was to tie the character of Thor into the "Avengers" film.
Hemsworth proved he could carry the weight of the difficult role. His straightforward acting and well-earned physicality kept the film from lapsing into high camp. With the largest emotional arc in the story, Hiddleston might make a career out of his role as the evil, three-dimnesional Loki. Hopkins is predictably good, but many other characters, including those played by Kat Dennings (playing Portman's assistant) and Natalie Portman are wasted due to time constraints. The love story between Thor and Jane Foster was rushed, but begrudgingly forgiven due to the nature of the film.
In all honesty, I don't think "Thor" could have been done any better because I had doubts a film adaptation could be done at all. I didn't stand up and cheer but I felt my comic book fandom was vindicated, plus I got to see some of the most iconic God of Thunder moments in action. It was all handled competently and I figure that is the best I could have hoped for. The 3-D presentation, while technically unnecessary, should expose this lesser-known comic character to a larger crowd.
I still assert that "Captain America: The First Avenger" is the superhero movie to get excited over this summer. It will tie all of the other recent Marvel Comics films together ("Iron Man," "Hulk," and "Thor") for the "Avengers" film next year. Most of the silliness of "Thor" will be forgotten the second Cap brains a Nazi with his star-spangled shield… but I could be wrong.
"Thor" rating: 3 out of 5 stars