Wow, shooting even a short film takes a lot out of you.  Especially if you're handling the writing, producing, directing, etc…  It distracts you from things, such as the website you've been building for the past few years.
No, the Small Town Critic site is not defunct, just transitioning to encompass all of my projects, including movie reviews, short films, festival screenings, screenwriting seminars and whatever else I've got going on.
To get things on track for the New Year (2011? When did that happen?), here are my top 10 movie picks of the last year…
10.  THE KING'S SPEECH
What appeared to be the most boring, stuffy British film of the year turned out to be one of the most entertaining and uplifting.  "The King's Speech" single-handedly got me interested in the inner-workings of the British monarchy, a subject I've always hated despite having a family tree which includes many of the Medieval ones.  Also, after many years of hating him for being uninteresting and plain, Colin Firth has finally won me over.  He should win BEST ACTOR for this.
9.  THE TOWN
It's funny how people have made fun of Ben Affleck, mercilessly panning him as a terrible actor who stars in terrible movies.  Then he directs "Gone Baby Gone" and "The Town" and everyone pretends such horrible things were never spoken.  I've never disliked him, but "The Town" gives me a new found respect for him.  In what is essentially a Boston-based remake of "Heat", Affleck knocks it out of the park and Jeremy Renner proves that another Oscar nomination is around the corner.  Let's not forget the versatile Rebecca Hall who is sure to become a major leading lady in the next year or two.
8.  THE HUMAN CENTIPEDE: FIRST SEQUENCE
You read that right.  This one gets a spot on my top 10 for several reasons…  The concept is one of the most inventive horror ideas of the decade.  Dieter Laser is the best horror film villain in years.  It surpassed all of my expectations and leaves some incredibly interesting threads dangling that will no doubt be explored in the inevitable sequel.  I had to throw a wild card in here.  Silence, it's MY list.
7.  THE SOCIAL NETWORK
If the "too soon" nature of this story and Aaron Sorkin's style didn't irk me so much, this might be #1.  How soon did we need a story about the founding of Facebook?  Right away?  I never bought the urgency to tell this story as I don't believe it's near done being told.  Despite that, the film is masterful in all aspects, especially in performances and dialogue.  Now maybe Sorkin will try his hand at something more interesting than pretentious, talky TV shows and semi-nonfiction.
6.  HOW TO TRAIN YOUR DRAGON
Dreamworks Animation has finally caught up with Disney's Pixar in terms of quality and star power and "Dragon" proves it.  This film delivered a great story, a positive message and even exciting action sequences that "Avatar" failed to accomplish on several levels.  It would appear that "Toy Story 3" (surely a terrific series of films that I have absolutely no interest in whatsoever) will overwhelmingly defeat it come awards season.  It's a shame because I believe "Dragon" is the best animated film to come along since "The Incredibles".
5.  A PROPHET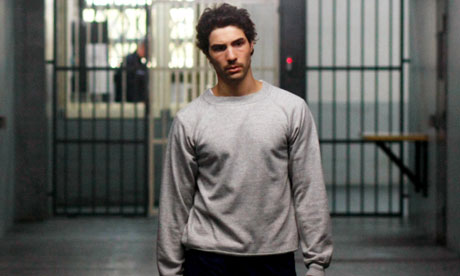 It should get a top spot in the Best Foreign Film category, but I think it deserves a Best Picture nomination.  It combines a lot of elements that I strongly dislike, somehow resulting in an epic crime saga that I prefer way more than "The Departed" or "Goodfellas".  For those unfamiliar with the plot, it's about a 19 year-old illiterate Arab kid named Malik who goes into prison a frightened kid and emerges a few years later as a powerful crime kingpin.  His journey to that point results in one of the smartest and most satisfying crime stories in recent memory.
4.  TRUE GRIT
Think of the original film and add a bit of darkness and art house flair to it and you end up with this powerful remake.  While the original punctuates a few moments more skillfully, the remake is superior.  Newcomer Haliee Steinfeld has some awards and A-list offers coming her way.  Jeff Bridges continues to sweep the best roles in his age range.
3.  WINTER'S BONE
A desperate 17 year-old girl in the Ozarks must track down her bail-jumping, meth-cooking scumbag of a father before the law confiscates her family's trailer, leaving her catatonic mother and two younger siblings out in the cold.  If it sounds dark and depressing, it is, but includes some thrilling performances and a scary, dirty world so real that you'll crave a hot shower afterwards.  Jennifer Lawrence plays the lead so maturely, you can bet on a nomination or two.
2.  BLACK SWAN
Natalie Portman delivers the performance of her career and Darren Aronofsky has once again topped himself as one of the best young directors in the world.  Both frightening and compelling, "Black Swan" combines the psychotramatic films of Polanski and David Lynch into a more straightforward story that reveals all but keeps you guessing until the end.  Some of the imagery is horrifyingly haunting, especially the big "transformation scene" at the end.  My advice to Portman…  retire for a couple of years.  You simply can't top yourself at this point and you need to choose your next films carefully.  Rom Coms and weepy family dramas simply won't cut it.
Nobody has ever seen anything like it.  No, not even "The Matrix" pulled off the acrobatic storytelling that Christopher Nolan nailed with "Inception".  I've lost respect for the critics who did a poor job explaining why they disliked it, usually either due to thinly-veiled confusion or nitpicking imagined or inconsequential flubs.  I've expressed my enthusiasm for this film in my review and I firmly rest my case.
HONORABLE MENTIONS…
– HARRY POTTER AND THE DEATHLY HALLOWS Part 1:  Best one yet, but show me "Part 2" and we will have a complete movie.
– THE KILLER INSIDE ME:  The bravest film of the year.  Nearly as repellent and twisted as "The Human Centipede" but without the gruesome stigma it deserved.  This movie is as dark as it gets.  Even the star, Casey Affleck, walked out of the premiere because he was profoundly disturbed by his own performance as the psychopathic Texas lawman Lou Ford.  Not for wimps.
– KICK ASS:  Anything that revises a genre is interesting in my book.  This one revised the superhero genre perfectly.
– SCOTT PILGRIM VS. THE WORLD:  Instant cult classic.  Let's see if the awards mongers give it any due.
– MOTHER:  Outstanding Korean thriller about an impoverished mum who goes through severe lengths to prove her brain damaged son innocent of murder.  I desperately hope it gets into the Best Foreign Film category.
– THE WHITE RIBBON:  Interesting allegorical film from Michael Haneke which shows how the rise of Nazi brutality may have begun, using a small German village as a microcosm of early 20th Century German society.  A disturbing thinker from a master of the disturbing.
–  TRON LEGACY:  Yeah, it had serious logic problems but hey it was the first "Tron" movie since 1982!  Did you SEE those freakin' special effects???
PROBABLY GOOD BUT I DIDN'T SEE IT…
– 127 HOURS:  Love Danny Boyle.  Have come to respect James Franco.  Can't get excited about this one.  Sounds very static and boring.  What am I missing here?
– THE GHOST WRITER:  Polanski's personal life is causing me to avoid his films.  Whichever side of the fence you fall on, it's still irritating.  I don't like to be irritated.
DOUBT I WILL SEE EVEN IF IT GETS NOMINATED…
– TOY STORY 3:  Never saw the 1st or 2nd so I have no built in biases or nostalgia.  Uninterested in the concept despite the rumored metaphysical issues it brings up.
– THE KIDS ARE ALRIGHT:  Sounds pretentious in an icky way.  Is this a sequel to "Momma Mia"?
– GREENBERG:  I'm way over the "lovable losers" genre.  Especially when Ben Stiller is involved.
– RABBIT HOLE:  Nicole Kidman plays a grieving mother who…  Zzzzzzzzzzzzzzzzzzzzzzz…
-Coop
More great articles…