Many people don't realize the beginning of spring coincides with the launch of the summer movie season. While that might sound a bit early, and it is, you may have already noticed the 3-D remake blockbuster "Clash of the Titans" has already set a few records… despite severe critical backlash. It has already begun. Here are the summer (starting in spring) movies you might decide to spend your hard-earned summer (spring) cash on. Some have me cautiously optimistic. Others, not so much. Some I'm going to preemptively encourage you to keep your money in you wallet…
April 9th's goofy-looking "Date Night" helps to kick off the season with slapstick hijinks from stars Steve Carell and Tina Fey. While that film looks more like a bland attempt to cash in on comedy star-power, April 16 promises another attempt at cashing in with the insta-remake "Death at a Funeral" based on a 2007 independent movie revamped with an A-list African-American cast. While I like Chris Rock and Tracy Morgan as much as the next guy, it depresses me when a critically acclaimed movie gets remade within three years of the original release. I hope the decent cast does it justice.
Luckily, April 16 features a more original concept with the big-screen adaptation of the critically-acclaimed and somewhat controversial comic book "Kick-Ass". Although it is being marketed as a light, fun-filled superhero spoof, audiences might find themselves shocked when they discover the film is actually a vulgar, violent, darkly comedic deconstruction of the superhero genre. With such deceptive mainstream marketing, I believe "Kick-Ass" will succeed or fail based on its ability to exceed expectations. If early critical reviews are any indication, it may succeed.
April 23 brings another comic book adaptation, "The Losers". Reminiscent of the old "A-Team" storyline, "The Losers" follows a team of soldier/spies double-crossed by their superiors and forced to go rogue so they can fight back against the system. Coincidentally (or maybe not), the film adaptation of the 80's TV show "The A-Team" hits theaters June 11, giving "The Losers" a chance to steal thunder from the venerable franchise. Both look like the same mindless fun so only box office receipts will determine who will emerge victorious from this "Battle of Identical Concepts: 2010 Edition".
Strictly for the kids, "Furry Vengeance" arrives on April 30 pitting a greedy real estate developer (Brendan Fraser) against a forest full of angry critters bent on stopping him. If you can't stomach bears and skunks engaged in potty humor, the much-anticipated remake of "A Nightmare on Elm Street" opens the same day. Once again, spectral boogerman Freddy Krueger (this time played by Oscar-winning creep Jackie Earl Haley) returns to kill teenagers in their dreams in what promises to be a more serious and gritty approach to the original franchise material. While I question the freshness of the new version, I am heartened by the casting of Jackie Earl since he stole the show as the sociopathic superhero Rorschach in last year's "Watchmen".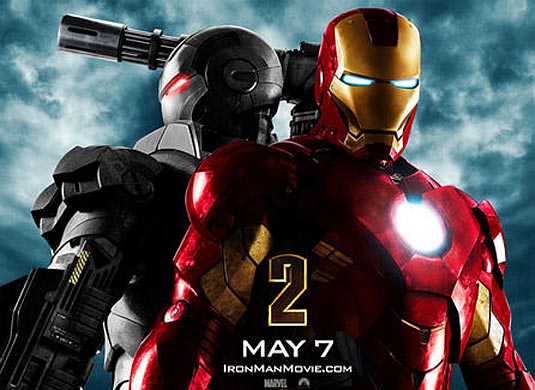 The first full weekend of May usually hosts the first of the biggest summer blockbusters and this year is no exception with the return of Tony Stark (Robert Downey Jr.) in "Iron Man 2" on May 7. With the story details still under wraps, the marketing for this comic book sequel heralds the introduction of the heroic, yet militarized version of Iron Man known as War Machine. The sequel co-stars Don Cheadle (taking the place of Terrance Howard), Gwyneth Paltrow, Scarlett Johansson as Russian superspy Black Widow, and Samuel L. Jackson as S.H.I.E.L.D. Agent Nick Fury. The story introduces super-thug Whiplash (Mickey Rourke) and evil technology tycoon Justin Hammer (Sam Rockwell) as the villains. Since the original blew me away and Iron Man has always been my favorite comic book hero, I personally consider "Iron Man 2" the most anticipated movie of the summer.
May 14 re-teams director Ridley Scott with actor Russell Crowe for a new adaptation of "Robin Hood". Although this pairing is responsible for the now classic action film "Gladiator", I am already disappointed with circumstances in which this "Robin Hood" was developed. Originally, the idea was to retell the classic story by showing it from the Sheriff of Nottingham's perspective, making him the hero and Robin Hood the villain with BOTH characters played by Crowe himself. For cowardly reasons, the studio eventually jettisoned this idea and opted for another rote rehashing of the same, frequently-adapted tale. The trailers make it look like "Gladiator 2" shot in the same 1990's style with predictable acting and action movies cliches. Regardless, the pairing of Scott and Crowe will probably deliver a quality film despite my potentially premature objections.
May 21 goes for the yuk-yuks with yet another "Shrek" sequel titled "Shrek Forever After" and an adaptation of the "Saturday Night Live" skit "MacGruber". Desperate to cash in on a lucrative animated franchise, Dreamworks continues to beat the dead "Shrek" franchise until it loses all dignity and critical acclaim. Not a big concern when film's primary demographic is 2-10 years old. Equally desperate to cash in on a (minor) sensation, "MacGruber" spoofs the 80's TV show "MacGyver". I can't remember the last time an SNL movie was worth the ticket price and this one looks dumber than any of those. I shudder at the inevitable SNL movie version of the "Gilly" sketch.
"Sex and the City 2" on May 27? It's happening and the already built-in audiences will be there. "Prince of Persia: The Sands of Time", based off of the popular action video game franchise, premieres on May 28. This Jake Gyllenhaal vehicle is supposed to turn him into an action star before he tackles bigger fish like a starring role in the long-rumored "Spiderman 4". However, with Iran falling even further out of favor with the international community, does anyone in the Western World care to see a romanticized, fantasy version of Persian culture?
June 4 delivers a promising, raunchy comedy titled "Get Him to the Greek" about a beleaguered intern (Jonah Hill) trying to get a wild rock star (Russell Brand) to an important gig. Likewise delivering potential laughs is the comedy "Killers" where an ex-assassin (Aston Kutcher) must protect his clueless wife (Katherine Heigl) from an entire neighborhood full of zany "sleeper cell" assassins. "Splice" is the only horror movie release of the month and is sure to bomb due to the overwhelmingly dark and serious story about a scientist couple who defy the laws of nature to birth an abominable human/monster hybrid. Unfortunately it's the only movie I'm looking forward to that week. Oh yeah, and there's a "Marmaduke" movie also set to release that same day for some odd reason.
June 11 not only premieres "The A-Team" movie, but another franchise remake… "The Karate Kid" is a classic amongst my generation and it still defies being labeled as "dated" due to its fantastic performances (Pat Morita got an Oscar nomination as "Mr. Miyagi") and the fact that its 1984 soundtrack is still considered hip. Now Columbia Pictures and producer Will Smith have remade it, starring Jackie Chan as "Mr. Han" and Will Smith's son Jaden as the young and wimpy "Dre". Since the remake takes place in China, here is the problem: 'Karate' originates from Japan. The Chinese martial art is called 'Kung Fu' yet the studio insists on keeping "The Karate Kid" as the title. Kind of drains all the credibility out of the remake doesn't it?
Alright, so not all of those sound great. In fact, all but five of them are remakes or sequels. Besides "Iron Man 2", the rest of the summer should deliver the goods, right? Find out in Part 2 of the Small Town Critic's "Summer Movie Preview", coming soon.
-Coop
More great articles and reviews…