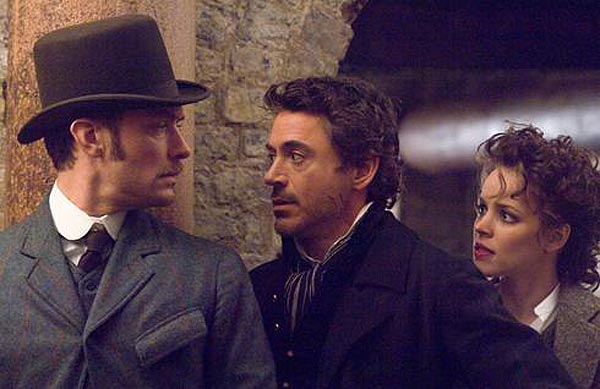 Like any other venerable, once-popular property, Arthur Conan Doyle's Sherlock Holmes was bound to get a Hollywood redo sooner or later.  Since I never much cared for the stuffy, British "Sherlock" films of the past, I welcomed the idea of a more stylized, updated version of the eccentric detective.  Despite my usual dislike of the overrated English director, Guy Ritchie (better known as Madonna's ex-husband), I felt his modern panache would mix well with the Victorian Era mystery genre.  While all the right ingredients seemed present, the end result didn't fully live up to expectations.
Holmes (Robert Downey Jr.) and his partner Dr. Watson (Jude Law) arrive just in time to thwart a pagan human sacrifice at the hand of the nefarious Lord Blackwood (Mark Strong) and his minions.  With Blackwood in prison, Holmes lapses into his between-cases depression as Watson prepares for his upcoming wedding to Mary (Kelly Reilly).  As a last request before execution, Blackwood summons Holmes and gives him a dire warning that hints at the imminent destruction of the British Empire.  As Blackwood's predictions begin to come true.  Holmes convinces the reluctant Watson to aid him in one last case before the two friends go their separate ways.  Meanwhile, a shadowy figure employs Irene Adler (Rachel McAdams), a notorious thief, to seduce Holmes and send him in misleading directions. 

This film has three major drawbacks that lessen the enjoyment of what could have been an overwhelming success.  The pacing was so poorly coordinated that the film slowed down or came to a screeching halt several times during the film.  I become aware of these moments by the sudden urge to check my watch.  I counted several stretches where this urge cropped up and if it happens more than once in a movie, it's a tell-tale sign that the movie needs to be re-edited and shortened. 
Another problem was the mumbling.  It's hard enough for an American audience to understand mumbling in their own native accent, but in an English one, it almost requires subtitles.  The dry, fast and low-toned speaking mannerisms of Holmes and many of the characters may force you to strain your ears for familiar words and context clues so you don't miss any important plot points.
Finally, the ending…  Rumors had swirled around the internet in months past that Ritchie was scrambling to cast a major Hollywood star to film one quick shot at the end to reveal the film's surprise villain.  He must have failed to secure one in time because "Sherlock Holmes" ends so abruptly that the audience waited around through most of the credits to make sure they didn't miss anything.  Unfortunately, they didn't.  If the rumor had been 100% correct, they would've seen Brad Pitt as the "big bad" in the final seconds of the film.  Too bad that didn't happen because it resulted in a disappointingly awkward cut before the credits.
Besides these shortcomings, "Sherlock Holmes" has crowd-pleasing action and worthy performances that result in an enjoyable experience.  I do see potential for future sequels based on the star power and the likeability of the characters.  I also appreciated how the film portrayed Holmes as a mentally unstable, obsessive compulsive misfit who thrives only when presented with a true challenge. 
Likewise, instead of Watson being a dim-witted sounding board for Holmes's intellect, here he is portrayed as the muscle.  Watson can match wits with Holmes and both can fight, but Watson's size and war experience make him a formidable brawler and bodyguard to the much smaller detective.  I enjoyed this dichotomy much more than the old stereotypes of the characters from past films. 
Add to that a fine cast, worthy performances, great production design and flashy camerawork and you've got a passable Hollywood popcorn flick.  My advice to Ritchie for a sequel:  1. Better editing… don't give the film the opportunity to sag and drag.  2. Ditch Rachel McAdams and resist the temptation to put any more American characters into an entirely British film.  It's distracting and unnecessary.  3. Have actors speak up instead of mumbling dry British humor under their breath.  4. Tone down the homoerotic subtext between Holmes and Watson.  This might be news to some viewers (or completely obvious to others), but Ritchie intentionally made the personal relationship between Holmes and Watson akin to a bickering gay couple in the midst of breaking up.  This subtext was so overt that I saw audience members squirming uncomfortably during the intimate interactions between these two characters.  It was a bold move, but it also runs the risk of alienating the blockbuster crowds and traditional fans of the characters. 
Rating:  3 out of 5 stars
Silly, British-humored trailer below…

-Coop
More great articles and reviews…