While many moviegoers enjoyed the inspiring, true-life story of Michael Oher in "The Blind Side" over the past few weekends, many skipped the similarly-themed "Precious."  Perhaps they thought it would be a bit of a downer…  and they would be right.  "Precious" is a melancholy tale in which the main character seems doomed from beginning to end, but this compelling tearjerker delivers some of the most moving performances of the year and is a surefire Oscar contender.
In 1987 Harlem, 16 year-old Clareece 'Precious' Jones (Gabourey Sidibe) lives the most hellish urban nightmare imaginable.  The morbidly obese, illiterate African American teen is pregnant with her second child by her own absent father.  Her despicable, abusive mother (Mo'Nique) constantly beats and berates her, keeping her overweight and ignorant in order to ensure her obedience when the welfare social workers drop by.  The school system sees her as a lost cause so they dump her into an alternative education program for troubled female teens.  Lead by the caring, hard-nosed teacher Ms. Rain (Paula Patton), the class becomes a beacon of hope for the unloved Precious whose newfound desire to break out of her horrific situation might threaten her very survival. 
"Precious: Based on the Novel 'Push' by Sapphire" is essentially a contemporary, urban remake of "The Color Purple."  Like Celie from "Purple," Precious lives a near hopeless existence.  Only the remote possibility of being reunited with her mentally handicapped toddler keeps her from total despair.  In order to cope, she daydreams that her mother is benevolent, her bullies are boyfriends and she is a famous celebrity in charge of her own destiny… and she sometimes fantasizes she's white.  At first, the alternative school merely seems like a temporary safe haven from her world of abuse, but it eventually empowers her with knowledge and confidence.  We soon learn that Precious is not the pitiful simpleton her demeanor suggests.  She's a kind, deep-thinking, good-hearted soul with a gift for mathematics and written expression.  Without a doubt, Precious is the most interesting cinematic character of the year.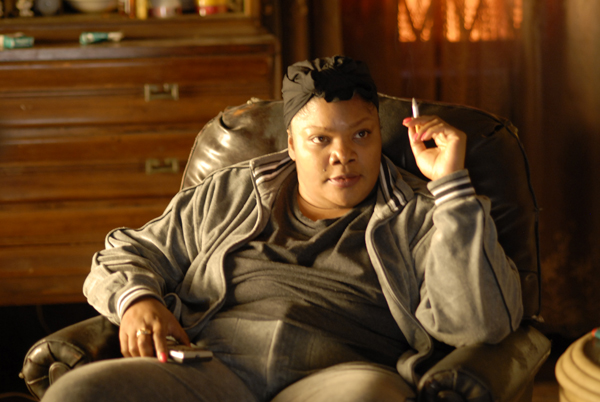 The performances in this film are poised to receive numerous award nominations.  Mo'Nique, well known for her clownish comedic roles, is absolutely terrifying as Precious's wicked mother.  Her character's vileness is so believable, I found it impossible to fathom Mo'Nique's warm and bubbly personality after witnessing her in this role. For this reason, I expect her to score numerous nominations.  The gorgeous and talented Paula Patton excels at playing both stern and caring as Ms. Rain.  While it's not a breakout performance, I suspect it's a warm-up to what we can expect of her in the future.  Mariah Carey gets a few brief but exceptional scenes as Precious's frumpy, no nonsense welfare officer.  So does rocker Lenny Kravitz as the obstetrics nurse who becomes Precious's new crush.  However, the movie belongs to Gabourey 'Gabby' Sidibe whose riveting performance left me shaken and touched.  The devastating twist her character reveals in the last act of the film that finally reduces her to tears convinced me that she is more than worthy for an Oscar nomination.  It's exciting to see a new actress surprise you with an Academy Award-caliber performance right out of the gate. 
Whereas Michael Oher's story in "The Blind Side" shied away from some of the darker elements of his situation in order to tell a more uplifting story, "Precious" dives directly into those dark realities and remains there for the entirety of the film.  It only manages a few uplifting notes when Precious finds those small glimmers of hope in her desperate life.  I've been told by friends that they weren't sure they could stomach watching this film if Precious didn't get a happy ending.  In Precious's world, happy endings are relative.  While the ending may not strike us as happy, we can certainly feel happy for Precious and her personal victories despite her imminent hardships, a quality that gives the film both power and meaning. 
The sad revelation of this film is the fact that there are girls like Precious all over the world.  The tagline: "For precious girls everywhere" before the ending credits is somewhat inspiring, but mostly a gut-punch to the audience as it reminds us of this fact.  We might pass these unfortunate souls on the street, never to know of their predicament or their ultimate fate.  Many will never get the chance, as Precious did, to rise above their horrific circumstances.  Teachers, social workers and those who provide care to the impoverished get glimpses of these tragic situations, but are rarely afforded the opportunity to make a real difference in the lives of these children.  These sad realities will linger in your mind long after the credits roll. 
This film, instead of being an escape from reality, accentuates just how terrible reality can be.  And despite all of that nastiness, the main character somehow finds a reason to live.  If you're not prepared to witness heart wrenching bravery amidst the ugliest of human conditions, you're not ready for this film.  If you can accept the fact that you're going to be upset by what you see, you'll find "Precious" to be one of the most rewarding film experiences of the year. 
Rating:  5 out of 5 stars
Exceptional trailer below…

-C
More great articles…