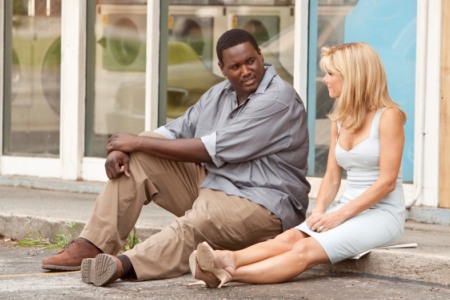 I'll wager movie theaters in Mississippi and parts of Tennessee are selling out screenings of this movie all opening weekend.  Ole Miss fans and South Eastern Conference followers have watched the exceptional football career of Michael Oher and have been touched by his inspiring life story.  Those same fans (myself included) have eagerly awaited the release of this film.  I had a feeling I'd enjoy the movie regardless of its merits.  To my shock, I was completely blown away.  "The Blind Side" is indeed THE feel-good movie of the year.
Based on a true-life story, large and good-hearted African American teen Michael Oher (Quinton Aaron) lives a solitary life of poverty and hopelessness on the streets of Memphis.  A twist of fate gets him into a private Christian school despite his poor scores and lack of parental guidance.  A young S.J. Tuohy (Jae Head) befriends the gentle giant, bringing him to the attention of S.J.'s father, Sean (Tim McGraw) and headstrong mother Leigh Anne (Sandra Bullock).  Leigh Anne takes a special interest in Michael and invites him into their home and eventually, her family.  With the help of a loving tutor (Kathy Bates) and the support of his new family, Michael defies the odds to become a college graduate, an All American football star and an inspiration to others. 


Director John Lee Hancock holds the uplifting tone from beginning to end, shying away from the more uncomfortable elements of the story in order to keep it from turning into a heavy-handed moral lecture.  Some could argue that makes it manipulative, but this story deserves all of the positivity Hancock can muster. He manages to sustain that positive feel throughout without diving headfirst into sappy melodrama like so many similar films.  In fact, it's as funny as it is uplifting thanks to some clever writing and top notch performances. 
And the performances make the film.  Bullock delivers a career-defining turn as the willful and stubborn Leigh Anne.  Depending on the competition this year, I do believe we will be hearing her name when Academy Awards season kicks off.  Country music star Tim McGraw once again proves his acting talent with his portrayal of good-guy Sean.  Kathy Bates gets a short but very memorable role as Miss Sue, Michael's wacky tutor.  Her sneaky way of convincing Michael to go to Ole Miss had to be one of the funniest comedic scenes of the film.  Quinton Aaron does Oher justice with his emotionally stirring performance.  He can turn on the "sad eyes" look so convincingly that it warms your heart when he manages a slight smile. 
For University of Mississippi (or even SEC) fans, there's added bonuses and in-jokes that give "The Blind Side" extra appeal.  Everything from watching the real-life SEC football coaches act their own parts to jokes about U of Tennessee's school colors will satisfy even the most cynical Ole Miss Rebel. 
Southerners (especially Mississippians) usually cringe when they hear about a movie that takes place in our fair state.  Before the 1990's, they often harped on negative race relations, usually painting the state in the worst light imaginable.  I find it encouraging that Hollywood has found it more productive to show a less stereotypical version – and in this case, factual – example of Southern humanity and values.  While the 50 year-old stigma of "Mississippi Burning" is far from gone, the current cinematic examples suggest a far more constructive direction.
The film does address the ugly insinuation by critics that the Tuohys took advantage of Michael to further the interests of their alma mater, but the film handles the matter with obvious logic.  The family would not have made the decisions they ultimately made to bring him into the family if they had not loved the kid, which they unquestionably did…  Something not even a cynical NCAA investigator could deny. 
Warts and all, the film nails sports films in a way most don't.  The heart in "The Blind Side" rings true and it gets an admirable boost from the acting, humor and attention to detail that most "sports films" can't or won't bother with.   
Put this high on your list of holiday viewing, be you a fair-weather football fan or an average Joe/Jane looking for a box office time waster.  You can't go wrong with this one, and I suspect many sports films will take cues from all the details this modest film got right.
Take the family and see it more than once.  "The Blind Side" has what you're looking for and then some. 
Rating:  5 out of 5 stars
Tear-jerking trailer below..

-C
More great articles…