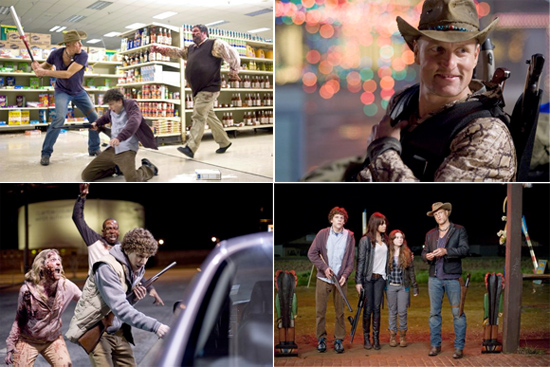 "Zombieland" is an R-rated "Ghostbusters" for the new millennium.  This crowd-pleasing film has won over jaded audiences and critics from coast to coast, taking most of its inspiration from a source I did not anticipate…  blockbuster comedies from the 1980's.  It has elements that put it in the same category as "Vacation" and "Planes, Trains and Automobiles," resurrecting a tone and atmosphere I thought was long gone from the films of today.  For this reason, I'm giving it my highest recommendation, not only to horror fans, but to those who miss the heyday of actors like Chevy Chase and Bill Murray.
Set months after the destruction of the world, neurotic college student Columbus (Jessie Eisenberg) has survived the zombie apocalypse by following his own set of obsessive/compulsive rules.  He runs into the lean, mean, zombie-killing machine Tallahassee (Woody Harrelson) and they reluctantly agree to travel together for mutual protection and companionship.  When the odd couple runs into con artist sisters Wichita (Emma Stone) and Little Rock (Abigail Breslin), their travel plans get sidetracked when the seemingly harmless girls rob them of all their weapons and supplies.  Thus sets off a series of misadventures as the four survivors head for an amusement park in Los Angeles, a rumored safe haven from the zombie plague. 
Unlike many horror-comedies like "Shaun of the Dead" and "An American Werewolf in London," "Zombieland" opts for a straight-up comedy approach, forgoing the stark horror that usually accompanies a fictional zombie apocalypse.  While the marketing attempted to promote just how funny (as opposed to scary) this film can be, it ultimately failed because I didn't bother to see it until later… and funny zombies movies are my thing.  Positive word of mouth will put this film over the top because I haven't seen an audience this thoroughly entertained since "Superbad." 


It doesn't dwell on gore, tragedy, terror or any of the aspects associated with horror films.  Instead, "Zombieland" keeps it light, focusing on survival, family and the importance of optimism in a bleak world.  To these characters, zombies are a mere nuisance.  They've long since figured out how to survive in this situation and now they're looking for the next step in their existence.  Should they team up?  Split up?  Betray each other to stay alive? 
Much like the tough survivor-type characters from other zombie movies, Harrelson's character sets himself apart as a wisecracking roughneck who credits his survival and sanity to his "enjoying the little things."  That means he destroys zombies with a gleeful flair, destroys vehicles and retail stores for the heck of it and eats every Twinkie he comes across as if it were his last.  Expect Tallahassee to become a favorite pop culture icon for years to come. 
Jesse Eisenberg and comedy actor Michael Cera could be twins.  They look alike, often play exactly the same parts and both have outstanding acting and comedic timing.  Something tells me that the part of Columbus was written for Cera, but since he wasn't available, Eisenberg got the part and I think the film is better for it.  Cera needs to broaden his range and get away from the "lovable doofus" parts.  Eisenberg has already paid his melodramatic dues and is ready to rise into Hollywood's comedic A-list. 
Speaking of A-list, Abigail Breslin seems to get every role a girl her age could possibly try out for.  Good for her career because after mature roles like this one, it appears Breslin will graduate to adult parts very early.  The actress I can't figure out is Emma Stone.  She's so good at playing both goofy and pretty, it's impossible to tell if she has range beyond that.  I'm looking forward to see if she shows more versatility in the future.
Only six human characters exist in the story.  Two are star cameos, one of which is such an unexpected surprise, I couldn't possibly ruin it.  Sufficed to say, it's probably the single greatest cameo ever in a Hollywood comedy.  There are also some terrific gags:  Columbus's ever-present list of rules, Tallahassee's Twinkies, the one-liners, the fact that nobody wants to uses their real names in order to avoid emotional attachment.  It's all gold, even the rockin' soundtrack. 
It doesn't matter if you've never seen a zombie movie, you'll find a lot to enjoy in "Zombieland."  Cursing and moderate blood (for a zombie movie) are the only thing keeping this from a PG-13 rated "Ghostbusters"-style film.  It's not exactly a family film but in a world overrun by the living dead… why not?  Two parting shots:  1. This one's best seen with a rowdy crowd so catch it in the theater before it's gone.  2.  The sequel has been announced.  Be ready for seconds. 
5 out of 5 stars
Underwhelming trailer!…


Yep, that was me in the movie.
-Dark Side
More great articles…