Bless the Oxford Film Freak.  After monitoring screening news about Paranormal Activity: Evidence of a Haunting like a hawk, I thought I had the lowdown on when it might show near me, like say in Memphis, TN.  The projections:  Not likely.  Apparently Memphis doesn't have the cinematic pull as Lincoln, Nebraska or Cleveland, Ohio (bollocks, I say) and wouldn't be getting a midnight screening.  Then I got word of a last minute screening in Memphis at the Indie Memphis Film Festival at the fantastic Studio on the Square Theater.  The kicker… Craig Brewer (Memphis native/director of Hustle and Flow and Black Snake Moan) would be introducing the film. 
Jackpot!
Thanks again to the Oxford Film Freakfor giving me the heads up on the screening.  I would've thrown a rampaging hissy if I ended up missing that one. 
The irony:  Once I got there I learned Paramount had decided to give PA a wide release. before H'ween.  That deflated my excitement for the screening a bit, but I was relieved that the film would get the true Blair Witch-style treatment.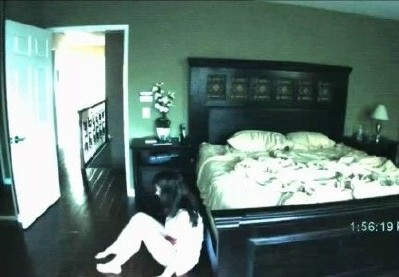 As for the film, Blair Witch it is.  Anyone disappointed by their theater experience while watching TBWP will probably relive that sentiment if they walk into Paranormal Activity unprepared.  I remember seeing angry general audiences demanding their money back from the theater manager after seeing TBWP who were expecting a slick Hollywood production.  I remember the puddles of vomit in the aisles from the queasy viewers that couldn't handle the shaky camerawork. 
The good news is that if the shakey-cam and lack of eventfulness were your only gripes about TBWP, then Paranormal Activity is your flick.  Since it takes place in a house, PA relies a lot on tripods and stationary cams.  Also, the story structure is set up in such a way that something eventful happens at the end of nearly every scene. 
Craig Brewer stood up in front and set up the film for us.  He was brief, said he was a big fan of the film and that he hoped we would enjoy it.  After a long night of hanging out, partying and wearing myself out, I wasn't too jumpy.  I was able to sit back and relax, but the rest of the audience (mostly intellectual film fans) sat in subdued, yet nervous silence.  One girl two seats down from me tried to mask her fear by talking nonstop to her date throughout the film which strangely amused everyone because her comments and timing were genuinely funny. 
Here's the setup:  Young couple Katie and Micah moveinto their new San Diego home and start experiencing some spooky happenings.  Micah, exhilarated by this opportunity, buys an expensive digital cam and some other equipment to record the creepiness, especially while they sleep.  As the incidents escalate, Katie reveals that hauntings used to follow her as a child.  She's afraid it's returned and building up to something explosively nefarious.  Ah, I love that phrase…  "explosively nefarious." 
The most frightening moments happen at night while the couple sleeps.  With the camera focused on their bed and their bedroom door (which they inexplicably leave unlocked/open every night), we witness things that make shows like the Ghost Hunters look like a sad joke. 
Why don't they get the hell out of there?  A psychic told them it wouldn't help.  The phenomenon would follow them wherever they go.  Furthermore, the psychic tells them it's not a ghost, it's far worse.  He then freaks out and refuses to go back, letting the couple fend for themselves.   Unfortunately for them (but convenient for the filmmakers), all of this keeps them inside the house and in the bed with the door open. 
Unlike the family in Poltergeist, this family has no motivation to stay – except for a limited filming budget – so it's really frustrating when they don't skedaddle.  And then there's the bickering.  Yes, the film does fall into some annoying Blair Witch-style bickering by the second half that drags the film down a bit.  It's understandable and possibly necessary for the story, but man…  I really hate it. 
But that's all that really bothered me here.  The rest had me riveted and squirming in my seat all the way up to the "Spielberg" ending.  That's right, Steven Spielberg caught a screener of the original cut of this flick and suggested an alternate ending which filmmaker Oren Peli shot and added to the print.  I've seen this ending and read a description of the original.  I've concluded that the Spielberg ending is a punchier, Hollywood "Boo!" ending, but not necessarily better than the original.  I'll look forward to seeing both in the inevitable DVD release. 
What's really unprecedented about the theater screenings of this film, is its use of the "Demand it" system for market research and to build hype to eventually lead up to its nationwide release.  This system basically takes a census of who would like to see the film in which cities.  For the first time, the system hit over 1 million demands by fans who want to see PAin their hometowns, thus proving to Paramount that a wide release is feasible.  It's a doozy of a landmark accomplishment, worthy of  praise for its Blair Witch-caliber ingenuity in viral marketing. 
However, I predict DVD is where this film will find it's audience and monetary success.  As a rental, this one is going to freak people out as they sit alone or in pairs watching the comfort of their bed or couch.  Sure, they might laugh it off but when they tuck in for the night, that's when the fear will set in.  They'll wince and jump at every little noise and bump.  The next day, that's all they'll be able to talk about at the water cooler.  Their colleagues and friends will see it, and the cycle will begin again. 
It's going to happen this way.  Mark my words.  When you see the commercials on TV with testimonials from freaked-out viewers, you'll know I was right. 
Everyone seemed to leave the theater satisfied and smiling, but no one was shaking or crying like the hype from previous screenings would suggest.  Did the film itself live up to the hype?  Not really, but they never do, do they?  I still had a blast but honestly, after watching the near-perfect Zombieland just hours earlier, I was a hard to please. 
See it in the theater if you're a Blair Witch fan.  You'll get a comparable experience.  For the full effect, wait for video and watch it at home, but be prepared for a sleepless night. 
3  1/2 out of 5 stars
As for its portrayal of hauntings, I gotta say…  from my own personal experience, it's accurate.  I'm a big skeptic, but I witnessed similar events at a summer camp in 1988 with a cabin mate who apparently had something follow him from his home in Atlanta.  Real, imagined or otherwise, I wasn't the only witness and many things happened that cannot be explained.  Those events had a hand in shaping me into the person I am today and watching PA brought back a lot of those chill-inducing memories. 
Brrrr…
I recommend you not watch the new "official" trailer for Paranormal Activity.  I saw it in front of Zombieland and it literally spoiled the ending shot, once again proving that Hollywood studios don't have a problem ruining the best parts of a film as long as it attracts people to the theater.  Therefore, I will only post the original, festival trailer…


I ain't 'fraid of no ghosts!  I hear it likes the girls… (yep, those are the actual "Ghostbusters" lyrics.  I didn't make that up)
-Dark Side
More great articles…