I'm giving this one 4 and 1/2 out of 5 stars.  Now you know how I feel about it right off the bat.  Why the urgency?  Because like many others, I waffled in seeing it.  For this reason, it's tanking like Ishtar which isn't fair at all because it's a great sci-fi film that deserves a dedicated following of fans, and it may not be in the theaters much longer.
It's one of the oldest pitches in the book:  "A guy wakes up in a ______ with amnesia, so he must solve the mystery of who he is, how he got there and why someone (or something) is after him."  I've seen 100 movies like it, even where this one takes place…  on a spaceship.  However, this one builds upon itself to a completely satisfying conclusion with more twists than you can shake a phaser at.
Bower (rising A-lister, Ben Foster) awakes from an unusually long hypersleep inside a damaged and decaying ship.  A more senior member of the crew, Payton (Dennis Quaid) wakes up soon after and the two, while remembering nothing but their technical training, try to fix the ship's damaged systems before it overloads and explodes.  Bower explores the bowels of the massive ship and finds near-feral survivors fighting and hiding from a tribe of cannibalistic creatures.  The further he explores, the more is revealed about their mission and what went wrong.  Meanwhile, Payton must deal with a most unwelcome visitor. 
Pandorum borrows liberally from so many films, yet constantly shocks and surprises the viewer by revealing a new secret every few minutes.  It hides its true intentions so well, you won't see most of it coming.  Watching it is like walking through a spookhouse, you never know what horrors or revelations of awe await for you around the corner. 
I disagree with those who dismiss this film as a "moster film" which simply reboots the Alien franchise.  Sure, it's got some terrifying monsters but it takes only two reveals to explain their existence and motivations.  What's left is a complex tapestry of plot points which borrow from dozens of great Outer Limits episodes and sci-fi/horror films.  It's pleasing visual style does evoke the Alien films but it also borrows nicely from the underrated Event Horizon and the Battlestar Galactica reboot (heck, even the video game Dead Space might qualify).  I could list about 20 films that it takes ideas from off the top of my head but that would reveal far too much.  I'm sure not gonna be responsible for revealing the spoilers for this one. 
The only other plot point I feel comfortable explaining is an illness integral to the plot.  "Pandorum," as it is called, is an irreversible "space madness" that turns rational human beings into suicidal psychotics.  I shall explain NO MORE.
Ben Foster makes a great leading man in a crisis.  Whether he plays a good or bad guy I usually find him the most watchable member of the cast.  Quaid plays such goofy, wannabe serious roles now (did anyone see that terrible Horsemen movie?) that I can't endorse him anymore.  I'd rather he just performed in comedies now since he's usually either funny or unintentionally funny.  The only other cast member I care to mention is famed UFC fighter Cung Le playing some sort of non-English speaking agriculture tech who also happens to be handy with edged weapons and tribal warfare.  You don't need to understand what he's saying, just stand back and watch him kick tail. 
It's probably the dirtiest, gooiest most claustrophobic horror film I've seen since The Descent but with sci-fi elements worthy of a cerebral film like Cube or Star Trek (the original). 
It's also got some of the most disturbing posters ever…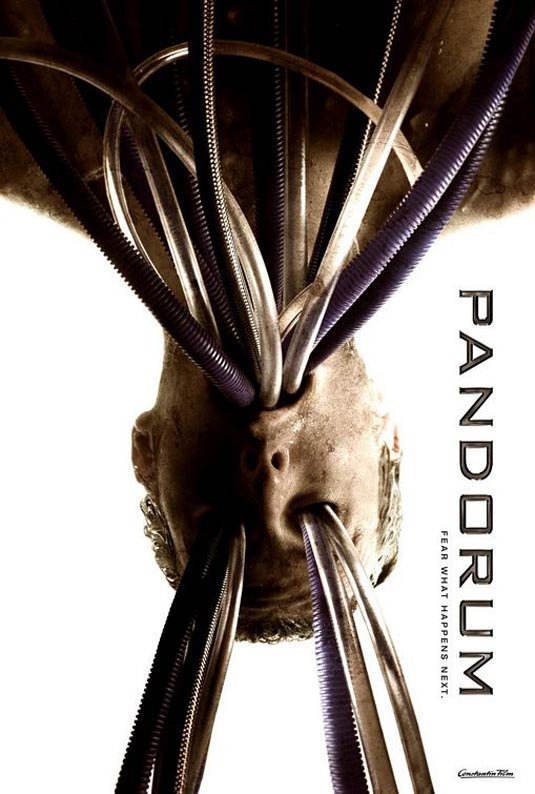 Yikes!  I've gotta give this one of my highest recommendations.  If you've been on the fence about this one.  See it.  Now.   It's a 40 million dollar movie that's not going to make it's money back at the theater, but hopefully it will find a cult following on video.
Here's a mostly non-spoilerish trailer…

And here The Ren and Stimpy Show episode, "Space Madness" for an example of just how hilarious having "Pandorum" can be!…
I hope I don't succumb to SPACE MADNESS!!!!!!
-Dark Side
More great articles…