(NOTE: I'm delaying the next installment of HAIR METAL MOVIE MADNESS #11 for another week. Partially due to this week's technical difficulties but also so I can save up some of the good horror ones for the month of October.  Plus, this news was too juicy and I had to jump on it ASAP…)
My love for Boondock Saints(5 out of 5 stars!) has no bounds.  Which is why with a heavy heart I still feel that a sequel should've never been made.  Why?  Because writer/director Troy Duffy didn't deserve one.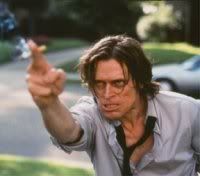 For those of you unfamiliar with the story, Saints involve a pair of illegal immigrant Irish twins, the McManus brothers (Sean Patrick Flannery and Norman Reedus) who get in a scrap with some local Russian mobsters in a Boston slum.  After killing the mobsters in self defense, the brothers simultaneously get a divine vision instructing them to become angels of death and wipe out the Boston underworld.  Armed with guns, a talent for killing and an uncanny ability to learn foreign languages, the "Saints" go on a righteous killing spree that rocks the Boston community to its very core.  All the while, the genius – and very gay – FBI agent Smecker (Willem Dafoe) and his team of Boston flatfoots can't decide whether to capture or join the talented vigilantes. 
Crackerjack writing, above average directing and fine performances make this a thrilling and hilarious action/comedy which suddenly takes a deadly serious and thought-provoking tone in the third act. Check out this trailer for the original Saints to get a flavor for what I'm talking about…

Let me back up and explain the weird and wacky saga of the original Boondock Saints film as shown in the revealing documentary about its rise and fall, Overnight.  Troy Duffy indeed became an overnight Hollywood sensation when Miramax's Harvey Weinstein got a hold of his Saints script and publicly declared it the greatest thing since sliced bread and Pulp Fiction.  The documentary begins as Duffy basks in the love of Weinstein and various A-list actors (like Mark Walberg) who seem to be fighting for parts in the film. 
As the documentary progresses we start to see the dark side of Duffy who is prone to dishing out severe verbal abuse and who also shows a near complete lack of constructive social skills.  It quickly becomes evident that Duffy is either extremely mentally ill with a bi-polar personality disorder or even worse…  a complete and utter A-hole.  Duffy's behavior worsens when actors like Kenneth Branagh stop returning his calls and even Weinstein begins to distance himself from the unstable auteur. 
Duffy sinks to an all-time low when the desperate director of the Overnight documentary film crew reveals to Duffy that they have run out of money (due to Duffy's foul personality delaying the production of Saints) and would appreciate a little cash to finish the project.  Duffy goes on one of the most hateful, selfish tirades I've ever seen a human being muster.  It's a shameful example of humanity at its worse (no matter how it's edited, Troy).  By the end, Saintsgets a less prominent cast and goes directly to video, sabotaged by Duffy's callous behavior and also possibly by Weinstein out of spite for him.  Nevertheless, Boondock Saints turned out to be a terrific film and gained a massive cult following to make it the most successful direct-to-video release of all time.
The film was so influential, you can still find t-shirts, posters and tattoos on the bodies of people who worship the film.  To this day I still cherish it as a personal favorite of mine. 
Indeed Duffy's talent won out despite his overwhelming flaws, but after that fiasco, a sequel seemed like a pie in the sky.  Who would want to work with one of the most hated upstarts in the business? 
Apparently somebody did because not only has the long rumored Boondock Saints IIhappened, it releases (limited) in October!  Duffy managed to win back nearly all of the original cast (minus Willem Dafoe) and get the thing off the ground despite all odds.  I wanna see THAT documentary because frankly, I'd like to know how he did it. 
About a year ago, I ran into Sean Patrick Flannery (who stars as Saints' Connor McManus) at a bar
in Los Angeles.  I chatted him up about his involvement in Brazilian Ju Jitsu and his martial arts studio but I didn't get a chance to ask him about Saints IIbefore fans started descending on him, prompting his hasty exit. 
I have mixed feelings about a sequel even existing.  On one hand I long to see the story continue and to see if Duffy can catch lightning in a bottle while making a flying, double-twist leap into the endzone like he did last time.  On the other hand, I dislike him so much I almost don't want him to succeed.  Add to that, the trailer has some cheap and digital video-looking moments that lowers my confidence only slightly. 
But damn if I don't want to see it.  I'm actually thrilled to discover that the story has continued and I crave to see how it turns out. 
Enough talk, judge for yourself.  If you haven't seen the original Boondock Saints, it's a must-queue-move-to-position-#1 on your Netflix account.  Once you do, this trailer might fill you with a bit of anticipation…

-Coop
More great articles…