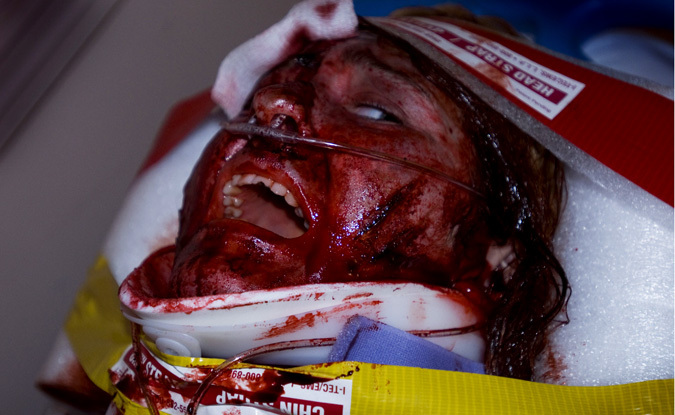 It's a sad weekend when your best new release choice is another lousy horror remake.  I strongly disliked director Rob Zombie's first "Halloween" remake in execution and in principle.  It made a mint, but was so poorly received by critics and fans of the original classic, the indignant Zombie swore to not do a sequel.  Two years later he broke that promise with a sequel even poorer than his first.  Methinks dollar signs and ego played a part in his decision to beat a dead horse and I sincerely doubt after this stinker, anyone would want to see a third.
Laurie Strode (Scout Taylor-Compton) survives her first encounter with masked killer Michael Myers (Tyler Mane), but has suffered terrible psychological trauma.  Her disturbing nightmares start to bleed into her waking life as she suspects her stalker has somehow survived despite the insistence of the mercenary psychiatrist Dr. Loomis (Malcolm McDowell) that Myers is dead.  In fact, Myers did survive and has been living in the woods like a hobo/wild man.  When the next Halloween rolls around, Myers puts on his mask and strolls into town to finish what he started.  
Pointless.  Boring.  Slow.  Zombie (aka Robert Cummings) wasted further time churning out this poor excuse for a film and now he's setting his sights on another remake…  "The Blob."  Notorious for not taking criticism well, Zombie must have gone completely deaf to it this time because no one but he and indie movie mogul Harvey Weinstein want him to follow through with it.  A waste of talent as far as I'm concerned after showing promise with "House of 1000 Corpses" and "The Devil's Rejects," not to mention his ultra-successful music career.  I'm sure he realizes he will lose fans for this but it doesn't look like he's going to tear himself away from his vanity remakes anytime soon. 
Which brings us to remakes in general.  I'm sure all of you have noticed the sharp increase in the recycling of older films (and recent foreign films).  The industry has increased this pattern for four reasons:  1. These stories already have a successful track record.  2. The younger demographic is generally uninterested in older/foreign films and would rather see a shiny new version.  3. The industry has become increasingly averse to taking risks on original material.  4. Actors and directors love getting a shot at reimagining the classic material that inspired their respective career choices. 
Unfortunately for film lovers, the remake rarely lives up to the original and often outright offends our memories of the better version.  Many exceptions exist but "Halloween II" falls into the lowest dregs of this trend.  Let's forget this is a remake for a moment and focus on what else is wrong with this film…  Sloppy writing, bad acting (especially Taylor-Compton), lack of pace or focus.  Nothing works here.  Too bad for Zombie.  I'm sure he meant to compliment the franchise but marred its reputation in the process.
Now for the part of this review I like…  Talking about the original.  John Carpenter caused a sensation when he and the late producer Debra Hill released an independent horror film called "Halloween" back in 1978.  It launched the "slasher" movies of the 80's and gave birth to one of the most recognizable screen villains of all time.  Originally intended as an anthology franchise that would release a completely different Halloween-themed tale every year, the first film was so successful, Hill felt compelled to finish the first story in 1981 with "Halloween II."  Hill tried to return to the original anthology concept with the vastly different "Halloween III: Season of the Witch" but without Michael Myers, audiences weren't interested.  1988's "Halloween IV" brought Myers back for the last of the good films, but his legacy endured for an additional 4 more sequels. 
A note to the kids:  Just because it's new and shiny doesn't mean it's worth a darn.  If you have a hankering to see the quality originals, I recommend a Halloween I, II and IV DVD marathon around, say…  October 31st. 
Fun fact:  Michael Myers' iconic "boogyman" mask was made from a spray-painted "Captain Kirk" mask from the original "Star Trek" TV series.  You heard me right, it's actually William Shatner's face that's been scaring us all these years.   
1 out of 5 stars
Here's a great trailer for 1988's "Halloween IV"


Beam me up, Scotty!
-Dark Side
More great articles…