Count yourself lucky if you've ever seen this movie prior to today.  It's a rare find on DVD and appears sporadically on the Independent Film Channel.  It Came Without Warning aka Without Warning aka Alien Warning aka The Warning aka Alien Encounter aka Alien Shock scared the heck out of me in 1980 with its shocking televised promo spots.  The normally tame programming would interrupt to show humans being attacked by frisbee monsters thrown by a giant alien with an over-sized noggin.  At 4 (or possibly 5) years old, I was horrified at seeing those images. 
Years later, I had completely forgotten the name of the movie, but I never forgot the visuals.  Providence would reconnect me with the movie on IFC around October of 2005.  Along with The Boogens, I found myself overstimulated with nostalgia and discovery after finally viewing Without Warning for the first time. 
A very young David Caruso anda handful of generic teenagers go to the lake for a weekend of debauchery that would make Jason's machete salivate.  Suddenly a shadowy alien appears and starts taking out the teenagers (and other assorted locals) with his disgusting frisbee-monster weapons.  The film is chock-full of wonderful cliches of the the time period, including a crazy old man who warns the kids.  However this film isn't limited to just one crazy-old backwoods man.  Two REALLY crazy old coots played by Academy Award winners Jack Palance and Martin Landau both gun for the alien. Palance hams it up as a crazy trapper who seems unsure as to whether to protect people or use them as bait for the alien, Landau plays an evil war veteran who wants to wage war with the alien, believing it to be just another incarnation of the Vietcong.  2 nuts for the price of one.  Pure genius.


The film follows a traditional monster movie formula but with the grit and grime of a late 70's-early 80's slasher/gore flick.  You only get glimpses and shadows of the alien as it skulks about, stalking its victims.  The thick atmosphere, the creepy organ music and intense scares lead up to a great final reveal of the alien in the final showdown.  
Forget the alien, the frisbee monsters are what people remember most about this film.  Even one of Jack Handy's "Deep Thought" skits on Saturday Night Live back in the 80's seems to allude to it:
"Anytime I see something screech across a room and latch onto someone's neck, and the guy screams and tries to get it off, I have to laugh, because what is that thing?"  – Jack Handy
They go down as one of the most hilariously disgusting alien weapons of all time and if anyone has even seen the film, all you have to say is "frisbee monsters" and they will have no doubt as to which film you speak of.  I was in a bar a few weeks ago and was talking about it with a friend.  A bouncer walked by as I said "frisbee monster" and he immediately jumped into the conversation saying, "Oh my God, what is that movie?  I saw it as a kid and I've been looking for it forever!"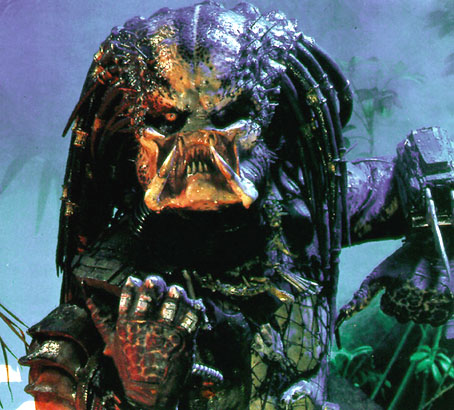 Most people consider Predator an outstanding original sci-fi film, but Without Warning invented the concept first.  The true nature of the alien is revealed when Palance figures out that the monster hunts humans, collects them as trophies… and eats others.  Coincidentally, the same actor (the late, great giant Kevin Peter Hall) who played the alien in Without Warning also played the original Predator.
The Without Warning trailer features prominently on the trailer compilation DVD 42nd Street Forever Part 3 (and on the DVD cover artwork).  You can view this memorable trailer below…

OR YOU CAN WATCH THE WHOLE DANGED THING on YouTube! Trust me, if you're a sci-fi/horror fan you owe it to yourself to see on DVD, but if none is available, this is the next best thing…



I have deadly frisbees.  They're called "flying saucers.'
-Dark Side
More great articles…