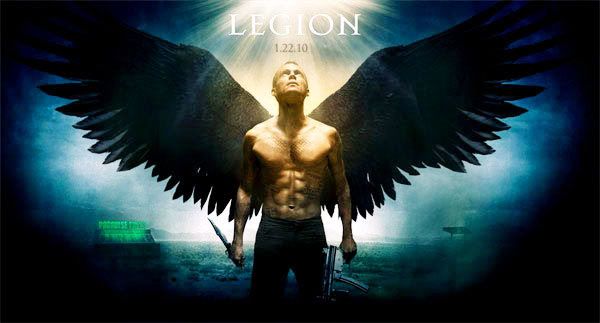 Holy crap!!!
I was sooooo not prepared for the unbridled intensity and kick-assery of the new trailer for Legion. I don't know if this is supposed to be some big-budgeted remake of The Prophecy or if it's something new entirely.  Whatever the case, you can see from the trailer that it is at least an homage to that film, plus several others by utilizing the Sam Raimi "Spook-a-blast" style with Terminator-style action. 
This looks like it's going to be BIG.  I love the cast, the visuals and the crazy tone of it. 
Here's a synopsis:  When God loses faith in Mankind, he sends his legion of angels to bring on the Apocalypse. Humanity's only hope lies in a group of strangers trapped in a desert diner and the Archangel Michael (Paul Bettany).
Also starring:  Dennis Quaid!  Lucas Black!  Kate Walsh!  Charles S. Dutton!  Tyrese Gibson!  Adrianne Palicki!  Kevin Durand as Archangel Gabriel!  and Doug Jones as "The Ice Cream Man"!  (great cast!)
You gotta see it to believe it.
R-rated, red band trailer below…



The Apocalypse is coming…  Time to choose a side.
-Dark Side
More great articles…