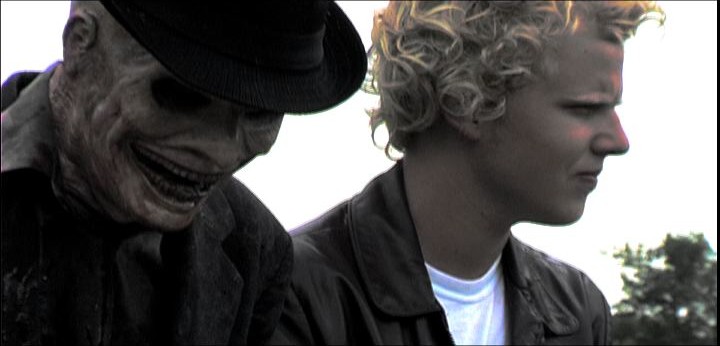 Ever finish a movie thinking "What the hell was that?" only to have it slowly eat at you the rest of the day? What if after an entire weekend, you couldn't shake that feeling? That's only happened to me twice this year. The first happened after watching the outstanding French horror film Martyrs. The second after watching the short film Heart of Karl.  
Made by the Astron-6 Video crew who specialize in weird fake trailers to non-existent 1980's horror and sci-fi films, Heart of Karl is a surreal horror short (directed by Steven Kostanski) that is far from perfect but it digs under your skin to a point where it may actually induce a nightmare or two.  Pinning down the plot of Karl becomes a sport in its own right.  A normal guy named Max (Conor Sweeney) and his mentally challenged, telekinetic, monster-like brother Karl (Matthew Kennedy) live in a world conceived by night terrors.  Apparently Karl's been very naughty in the use of his powers and Max can't take it anymore.  He has Karl committed to some sort of bizarre institution, and keeps Karl's heart (for safe keeping?).  Max has a change of heart and goes to the institution to return Karl's ticker and bust him out of the dank hellhole.  Turns out that this "hellhole" literally fits the description of the word and Karl must use his terrible power to get he and his brother out alive. 
There's something deeper going on under the surface of Karl.  A sort of hallucinogenic storytelling style that puts you at unease throughout as you attempt to piece the parts together.  I have no idea what inspired this tale, but it's dark, disturbing and 100% original.  The gore and makeup effects are advanced and unsettling.  Well-executed stop motion camera work bring some class and skill into the mix.  Even the music gave me the heebie jeebies.  The closest thing I can compare it to is the music video for Tool's Sober (which has similarities both conceptually and visually to Karl) showcasing stop motion animation to tell a story suspiciously similar to The Tell-Tale Heart. Here's that video for comparison purposes…

Karl himself is something of a cinematic oddity.  You can't take your eyes off of him because you don't know what to make of him or what he's going to do next.  Is he simply a special needs kid in a monster's body?  Is he more than that?  Impossible to say.  It's difficult to decide whether you should be afraid of him or rooting for him, a quality that makes him all the more interesting.  Regardless, he comes across as scary and the nonsense he talks hides a subtle layer of emotion under it.
Past the cool effects and the pitch-perfect dark tone of the short, I didn't think much of Karl first.  After a couple of days I'm still thinking about it and I've come around to really appreciate its vision and ingenuity.  I'd even encourage a more coherent, feature-length version of the film.  I'd like to see Kostanski explore more of this world that Max and Karl live in.  I think it's got a lot of potential. 
You should go over to the Astron-6 Video website and give these guys a look-see.  I didn't find any of their spoof trailers (besides the oddly inspired Lazer Ghosts 2: Return to Laser Cove trailer) very entertaining, but I appreciate the spirit of what these nuts are doing. 
Click here to watch the Heart of Karl short film.  I saw a lot of movies this weekend and Karl was the only thing worth remembering.  It gets even more interesting upon repeated viewings.  Give it a look.
Apparently the next project for these guys titled "Manborg" delves into gory Nazi horror/sci-fi territory.  Looking forward to learning more about that one.

Ich bin ein berliner!
-Dark Side
More great articles…