Some literary properties, no mater how great, are near impossible to adapt.  Some of these properties are so greatly loved that some filmmakers feel the need to at least give it the old college try.  These two films didn't quite rise to the occasion, but they had the potential to reach the same status of ultra-greatness as their source materials.  Both are worth a look for fans of the works that inspired them…
CTHULHU (2007) **1/2


Does this Cthulhu guy need any introduction?  The mad inspiration of H.P. Lovecraft's short stories has become synonymous with chaos, insanity and destruction since the early 1900's.  This abominable squid-god supposedly lives at the bottom of the Pacific Ocean, sleeping and awaiting the apocalypse so it can rise up and devour the Earth.  Those who worship him will be spared, only to transform into the most hideous creatures ever to roam the planes of existence. 
Yep, that's the Cthulhu I'm talking about.  For decades filmmakers have tried to create acceptably surreal horror films that take place in the Cthulhu Mythos universe and most have failed miserably.  Only Stuart Gordon (Re-Animator, From Beyond, Dagon) has succeeded more than he failed at this task.  Why?  Because it's so damned hard to get the tone right, plus the nature of the stories usually requires large amounts of gore and obsceninties, something not present in bigger-budgeted flicks that can finance the ambitious special effects needed to bring these monsters to life.
A writer named Grant Cogswell and a director named Dan Gildark have made an attempt at a classy, art-house Cthulhu movie aptly named "Cthulhu."  Strangely enough, its plot resembles Stuart Gordon's "Dagon" so closely that you could almost call it a remake.  A guy returns to his small, coastal hometown in Oregon to attend his mother's funeral.  There he witnesses surreal horrors that propel him towards his destiny within the ocean.
Here's where the story diverges from "Dagon"…
It's also a gay love story.  Unfortunately this risky plot device, plus the stereotypical indie trademarks within the film sink it below the waves (an upbeat acoustic folk song for the end credits?  Gimme a break).  Poor editing, uneven plot construction and glaring little bits of cheapness ruined what could've been one of the classiest mythos films of all time. 
Also it seemed ridiculous that a guy whose father is an openly famous cult priest for Cthulhu would seem so shocked or ignorant to their horrors, but I digress into nitpicking.
What worked:  Atmosphere.  This movie did it right.  The darkness and dread lingers throughout despite some ridiculous hipster-indie elements, but the scare scenes are so well constructed, they alone are worth the price of admission.  I counted at least one nice homage to John Carpenter's "In the Mouth of Madness."  Plus there was a "Shoggoth running across the road" scene that had me about as panicked as the actress who screamed "PLEASE, LET'S GO!!!"  The sewer scene with the "Deep Ones" babies elicited a similar reaction and the final scene…  will haunt me.  A helicopter shot of Deep Ones coming out of the ocean **SHUDDER** while the rest of the world disintegrates got me right in the spine.  Alas, this is another movie that didn't have either the gall or the budget to actually show us Cthulhu or any lengthy special effects…  sigh…  but hey, that's what films like "Cloverfield" are for.
Some above par acting nearly outshines the mostly bad, but not quite good performances.  I was surprised to see recognizable actresses like Cara Buono and GASP… Tori Spelling playing small parts in the film.  How'd they pull that off?  No matter.  Every aspect of this film could be classified as a near-miss so I only recommend it to diehard Cthulhu Mythos and H.P. Lovecraft fans. 
The "Great Mythos Film" is still elusive. I guess we will have to wait for Guillermo Del Toro to get off his big duff and finally make "In the Mountains of Madness."
2 and 1/2 stars out of 5.
Trailer…



I voted for him.
DOLAN'S CADILLAC (2009) ***


Stephen King's greatest crime story since "Rita Hayworth and the Shawshank Redemption" deserved a bit more than this low budget production.  For awhile this project was slated to star Sylvester Stallone as Dolanand Kevin Bacon as the protagonist, Robinson.  I suspect problems with the script or a funding fallout led to the casting of Christian Slater as Dolan and Wes Bentley as Robinson. 
The short story itself is structured in such a way that a half-hour (or possibly even hour) adaptation of it could've made the greatest episode of "Alfred Hitchcock Presents" ever.  To accommodate the story structure, I imagine adapting it to a feature-length script must've been a daunting challenge.  The final film adaptation of "Dolan's Cadillac" almost succeeded as both an outstanding script and a worthy film…  almost. 
High school teacher Robinson and wife Elizabeth (Emanuelle Vaugier) live a white-picket fence existence in a LasVegas suburb.  When Elizabeth witnesses the ruthless gangster Jimmy Dolan executing illegal immigrant coyotes, she becomes his next target.  Enlisting in an Federal protection program, Robinson and Elizabeth can't outrun the long reach of Dolan who terrorizes, then finally eliminates Elizabeth in a car bomb.  Insane with grief, Robinson sets his sights on revenge.  The obstacle:  Dolan's indestructible, bulletproof Caddy.  In order to get to Dolan, Robinson works himself to the point of punishment and madness in order to execute his ingenious plan to make Dolan pay for Elizabeth's murder.
The script, which needed another couple of drafts in order to perfect, fixed and updated many of the problems that would deny it a feature-length adaptation.  Unfortunately it didn't fix enough, nor did it lay out the plot properly enough to do the story justice.  Bentley got some great scenes to chew on, but once again proved he's not the A-quality actor that "American Beauty" suggested.  Likewise, Christian Slater hammed his role up to the point of parody.  The one conflicted scene near the end where his human-trafficking business takes a horrifying turn gives him only a few seconds of ambiguity to allow his character to develop.  It'll be too soon before I see the generic Emmanuel Vaugier in another film.  Her predilection for starring in really bad direct to video sci-fi/horror movies and TV made her a poor choice for this effort. 
What worked:  The payoff.  The ultimate revenge is so satisfying and finite that even a no-name 5th-tier director like Jeff Beesley couldn't screw it up.  Kudos to everyone involved for making it work and finally letting me see this unfold onscreen.  A few key scenes involving Bentley where he mourned and disintegrated, coupled with some really effective music worked to establish some much-needed emotion.  Adding the hallucination of Robinson's dead wife as a motivator also created a heightened chill to Robinson's arc. 
See it if you love the short story and if you want to feel the rush of a satisfying revenge fantasy.  Otherwise, it's another mediocre movie which deserves a massive edit to turn it into a tighter-paced 30 minute short.
3 out of 5 stars.
Thankfully I found an excellent short trailer that doesn't give away spoilers.  The others showed WAY too much, so avoid 'em…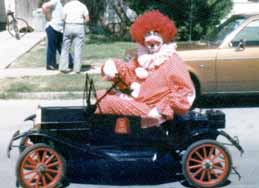 Dolan ain't got nothin' on my armored car.
-Dark Side
More great articles…