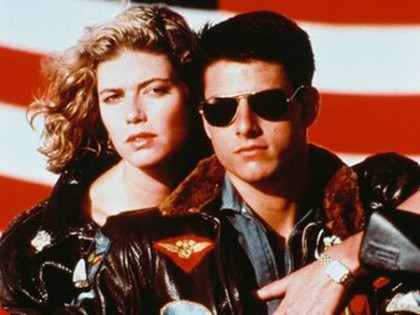 Many of us grew up in the 80's watching the movies and listening to music.  One song from that era can bring back so many great memories.  Sometimes…  songs remind us of movies (or vice-versa).  HAIR METAL MOVIE MADNESS brings back those memories by connecting the songs we loved from the 80's to the movie(s) they were attached to.  Visit
The Small Town Critic
every Saturday to rock out with us to the songs and movies that shaped a generation…
Ah, the summer of '86.
I remember very clearly choosing to go see "Short Circuit" over "Top Gun" on opening weekend. In hindsight, that's ridiculous but it happened. About a month later I finally saw Tom Cruise blow up Russians in his F-14 Tomcat and it blew me away. Even better was how entranced everyone was with the soundtrack. It was one of those tapes where every song was listenable (at the time) and people played it ad nauseum. That summer, I went to Florida with a friend and his family for vacation and we listen to the entire "Top Gun" soundtrack all the way down there and all the way back. After hearing "You've Lost that Lovin' Feelin'" by The Righteous Brothers for the 200th time, I wanted to stab somebody.
Flash forward to present day, only a few songs off that album still hold up. Kenny Loggins' "Danger Zone" sounds effin' lame. "Heaven in Your Eyes" by Loverboy still has it (please, no Loverboy jokes). "Take my Breath Away" by Berlin puts me to sleep.  Kenny Loggins' other song "Playing with the Boys" has never sounded so homoerotic.


The only tune that really holds up for me is the awesome Cheap Trick song, "Mighty Wings."  Prepare to rock out while prentending to fly an F-14…
-Coop