Yes, I know they are called "Thai" now, but Siamese had such a great ring to it in the title. No offense intended.
Now that I got any potential angry comments out of the way, I've said many times before that the French corner the market in good horror at present. Thailand is looking to dethrone them and although they are not as polished, I'd say they have a chance to do it if they play their cards right.
Why Thailand, you ask? Why not, says I? How dare you. It is true that sometimes an interesting byproduct of civil unrest in a country can inspire filmmakers there to create some fairly powerful horror films. It to us after the conflagration that was Vietnam. It's been happening to the French (with the young immigrant riots). It's happening to Thailand as well with their government difficulties (maybe Iran is next?… eh, maybe not). No one was as surprised as I when Thailand suddenly started producing some amazing action flicks ("Ong Bak," "The Protector," etc….) and some startling horror films ("The Art of the Devil" series).
The fantastic "13: Game of Death" was a near masterpiece and just begging for a slick, big-budgeted Hollywood remake. Lately with American horror really lagging, I've been hurting for some good current material and I decided to check out another Thai film. Here's what I came up with….
SICK NURSES (2007) ***1/2


A doctor with questionable morals sells bodies on the black market with the aid of his 7 sexy nurses. One of his nurses is brutally murdered by the others while the doctor watches.  Through a series of flashbacks we learned why this horrible event happened while during the present timeline, each of the murderous nurses are picked off one at a time by the vengeful spirit of the deceased nurse. 
At first I thought this was ripping off Japanese horror until I kind of realized that the two go hand in hand.  During the J-horror boom of the early 00's, the Thai were making a lot of the same thing.  In fact, two regarded movies of that era I thought were Japanese ("The Eye 2" and "Shutter") were actually Thai films but I didn't know because I didn't see either of them.  "Sick Nurses" has a few of the J-horror elements such as a long-haired spectre that hides all but her piercing eyes and the whole vengeful "ghost stalker" thing. 
What differentiates "Sick Nurses" from the usual J-horror is that it plays out like a "Nightmare on Elm Street" slasher film.  The ghost stalks her prey, possesses their body parts or makes them hallucinate in order to make them attack themselves or others.  This results in some particularly brutal scenes in which one nurse thinks she's helping another when actually she's simply sawing the girl's head off. 
Another differentiation is that the devoutly religious Thai people inject their own unique superstitions to create their horror mythology.  In this instance, one of the villain nurses mentions that the dead always come back to visit the living on the 7 day after their death.  This not only sets up a mythological framework, but it also gives the ghost a tight deadline to complete her revenges. 
Also, J-horror is meant to scare through chaos.  In their horror world, evil is a disease that spreads, making anyone a fair target by following no moral code.  Thai horror is a little older-fashioned because the revenge is contained to the perpetrators, but it's sometimes very ambivalent about who's to blame…  so EVERYONE within the story gets theirs and in the worst way possible. 
Finally, the gore. Thai films are more likely to pour on the blood than the traditional J-horror films. While Japan has unfortunately gone from dark, atmospheric scares, they've now de-evolved into juvenile ultra-gory, live-action manga films. Thai films bridge the gap by sticking with the original J-horror formula while simply upping the gore ante on the kills and adding a bit more shock value (looking forward to seeing how they handle the gore in the new Thai horror film "Meat Grinder as shown in the poster at the top).
It's primitive, it's rough, it's without polish or gloss, but the best thing Thai horror has going for it is the creativity it showcases when it gets something right.  All of the kills were on-par with J-horror, but here they took a few in some interesting directions.  I can tell most of it is supposed to be tongue and cheek but even those parts were pretty effective.  Best of all, it completely sticks the ending by not only delivering 2 shocking twists in a row, but a final shot that had me wincing and cringing away from the screen.  Only the best endings do that.  The original "Ju-on" comes to mind.  So did Takashi Shimizu's "Reincarnation." 
Oh, and I've got something to say about "Reincarnation," so hang tight and let me sum up "Sick Nurses" and my opinion of Thai horror really quick…
It's not their yet.  It's good and I like what I'm seeing but it won't have the same impact as J-horror if they don't put some more art and atmosphere into it.  "13:  Game of Death" was pretty amazing, but I'm not sold on their supernatural stuff.  Keep working on it.
I kinda like the groovy trailer for "Sick Nurses." Watch it…

3 and 1/2 out of 5 stars
Now…  about REINCARNATION (2006) ****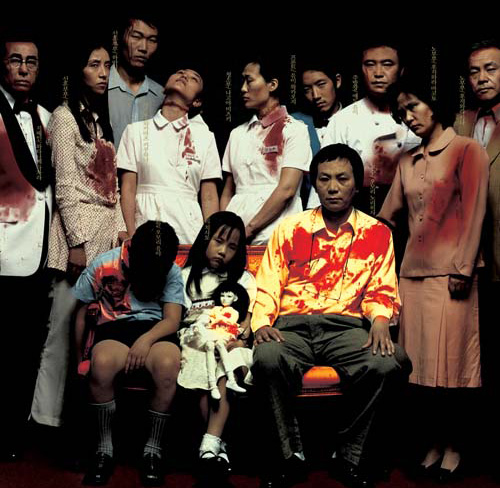 I saw it on video not long after it appeared as one of the first After Dark "8 Films to Die For."  I remember it creeping me out a little but I must've been distracted and doing something else while I watched it because it didn't have a lasting impact.  Lately, Direct TV's Chiller station has been playing it late at night.  I caught it a couple of weeks ago and low and behold I could barely sleep for two days. 
It's about a film crew that's about to tackle a film version of one of Japan's most notorious murder spree's.  Some guy obsessed with reincarnation had slaughtered his family, most of the employees of a hotel, and filmmed the whole thing before killing himself.  Pretty soon, the cast starts experiencing hallucinations and strange occurances, first by visiting the original murder site, then while filming on the scale-sized hotel set.  Especially the lead actress who seems to have a rather strong connection to the original killings.
It doesn't blow you out of your seat with jump scares.  It slow burns you with creepy music, surreal visuals, a terrifying story, dread of what's to come next and that doll…  that DOLL was the scariest doll I've ever seen.  That scene at the end where it's coming down the hall.  BURNED IN MY BRAIN!!!  and I can't get it out.  Chucky never scared me even as a kid, but I'm a grown man and the doll in "Reincarnation" actually gave me nightmares.  I swear I'm jumping at every little noise as I type this.  I may not sleep tonight.  Fancy that, an evil clown scared of a doll.  I can't help it!  IT WAS FREAKY!!!


4 out of 5 stars!
J-horror might be dead, people might talk smack about it now, but I promise you it will be revisited and revered sometime within the next 20 years.  I better quit this article before I have nightmares for the rest of the week. 
Trailer for "Reincarnation"…


Mommy!
-Dark Side