I once had a roommate/friend in college who flat-out refused to come to visit me and my family in Mississippi. He thought the south had such a bad reputation that he was bound to experience something so offensive to his beliefs that he would not be able to keep a civil tongue. We were in Dallas, Texas, at the time, mind you. I suddenly became self conscious when I learned that people from parts of Texas or even other parts of the South regarded Mississippi as backwards, unfriendly to outsiders, racist and dangerous.
Was my home state that bad? Sure, history played a part in the image of the state with incidents of hate dating from the beginnings of slavery all the way into the 60's with the civil rights movement. Although highly publicized, Mississippi was only one of many states with incidents of resisting civil rights. In the past 30 years I've seen many incidences of racism in big cities like New York, Los Angeles, the Midwest and rural Northern areas where the KKK and Neo-Nazis operate out in the open and unchallenged. I couldn't wrap my head around why people singled out Mississippi when so many other places still practiced such behavior so brazenly, not just in America, but all over the world.
Then I considered the source of peoples' fears outside of the history books. Hollywood cinema has not been kind to the South. With Mississippi they've been downright harmful. I challenge anyone to find a movie set in Mississippi between 1960-1999 that does not involve racism and does not paint the state in a very negative light.


Let's face it, films like "Mississippi Burning" were based on true stories and depicted a very sad time in our history. But Hollywood doesn't just stop with the facts. They often use the South to stage any scene of intolerance and hate. After all, this is where Peter Fonda and Dennis Hopper met their demise at the hands of murderous hayseeds in the finale of "Easy Rider." Mississippi became the cinematic whipping boy of Hollywood for obvious reasons but what about now? Has Hollywood continued its smear campaign of the Magnolia state on into the 2000's? Thankfully, no. Things are starting to change.
Even the 1996 movie "Ghosts of Mississippi" (about the trial that brought the murderer of Medgar Evers to justice) suggests that the old reputation of Mississippi is on its way out, both through its subject matter and by title. In 1999 Mississippi got some favorable press as the state that took on Big Tobacco in the film "The Insider." Following that in 2000, the Coen Brothers released "O Brother, Where Art Thou?" which not only became a critical and popular hit, but it's the first film about the state that most Mississippians seemed to enjoy. That same year, the state got another positive boost from the excellent movie adaptation of Willie Morris's beloved novel "My Dog Skip" about a boy growing up with his dog in Yazoo City during WWII. These films not only had the distinction of portraying the state positively, they were also shot here.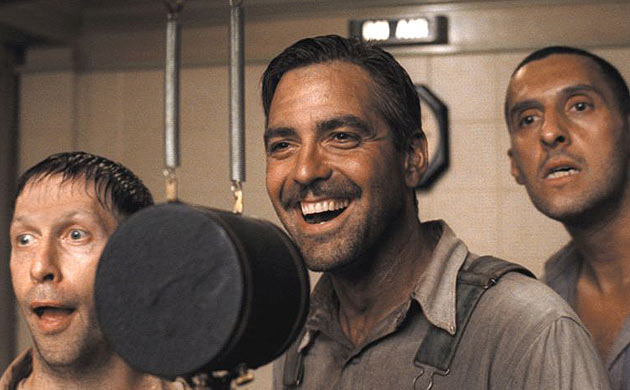 Recent tax incentives provided by the state to filmmakers have created something of a Hollywood boom in Mississippi, a tactic also used by countries like Canada and Bulgaria to attract film projects to places in need of economic growth. The directing/producing team of Joel and Ethan Coen have used locations such as Canton, Natchez and other parts of the state to take advantage of these incentives. Other filmmakers have followed suit, resulting in new opportunities for commerce and tourism throughout the state. One of the resulting byproducts is a growing interest in Mississippi culture, blues music and an increasingly positive reputation. Even "reality television" is getting in on the local action with shows like "Gene Simmons Family Jewels" and "Little People, Big World" making trips to Clarksdale to sample the rich blues culture the town has to offer. It's heartening to see these celebrities enjoying the atmosphere and listening in awe of the music responsible for shaping rock and roll into what it is today. It also doesn't hurt that these shows give our local artists some well-deserved exposure.
I often meet tourists from all over the world at Ground Zero Blues Club in Clarksdale and I always ask them what prompted them to come and visit. "I saw it on TV and it looked amazing," and "Are you kidding? This place is famous! I've been saving up for three years to come down here!" are my favorite responses so far. As someone who grew up here, I used to shrug and go about my business when someone mentioned blues music, but hearing comments like that really get my attention. In fact, it fills me with pride knowing that I'm from a place that others hold in such high regard. Unlike my poorly informed college friend, they weren't concerned about the antiquated reputation of the state. In fact, these tourists often mention how pleasantly surprised they are by how many nice and friendly folks they meet down here, something that will surely reach the ears of others when they return home.


With this new attitude in Hollywood towards Mississippi, I can only see good changes on the horizon. Plans to build Hollywood-quality sound stages in Canton and an academy to train local Mississippians to operate cameras, lighting and other filming equipment to service incoming film productions will also increase the reputation and economy of the state. Film festivals have suddenly popped up all over Mississippi (and not just in the larger cities). I frequently see more and more documentary filmmakers strolling around the streets of Clarksdale with their cameras and crew and I even hear a new "Bonnie and Clyde" movie is filming in state this year.
Times are tough and Mississippi still has its problems, but we have a lot to be proud of. If Hollywood can recognize that, then anyone can. When I lived in Los Angeles and mentioned to someone that I was from Mississippi, they would often say: "I can't imagine living somewhere that dangerous… Isn't that place really racist?" After explaining to them that I've witnessed more racism and violence in Los Angeles than I ever experienced in my home state, I tell them like it is in plain (Southern) English: "Morgan Freeman, who could live anywhere in the world, chose Mississippi as a place to settle down." I can't think of a better endorsement for our state than that.

-C
More great articles…