Remember the scariest moment you've ever experienced while watching a movie?  Remember that viral video someone sent you that frightened you out of your seat?  Remember "Large Marge" from "Pee-Wee's Big Adventure?"  Chances are you'll find them all here.  This is where Dark Side shows you the scariest stuff he's found on the web, whether it's old and rotten, fresh and bloody or just freakin' scary…
Dark Side here.  I'm going to start out with one of my favorite film scares of all time in movie history.  While most ghouls are familiar with the head-spinning, spit pea soup-vomiting antics of a certain possessed little girl from the movie "The Exorcist," few fully appreciate the sequel that almost eclipses the original in terms of full-on terror. 
That's right, I'm talkin' about "Exorcist III:  Legion."  The tale takes place around 17 years after the original Exorcist when a long-dead slasher known as "The Gemini Killer" (no relation to the real-life Gemini Killer) suddenly begins killing again.  The detective who investigated the original case (George C. Scott) becomes distraught at these seemingly impossible circumstances as his friends and family are killed off one by one and their bodies religiously desecrated by what seems to be a ghost.  However, a lone psychiatric patient, locked away with no chance of escape holds the key to the mystery.  The patient has made a prediction that someone with a "K" in their name will die next in a particularly vile way.  A particularly nasty decapitating tool goes missing from the morgue. Flash forward to that night where a nurse named Amy Keating makes her rounds in the darkened hallways of that same hospital.  The scene goes on for nearly five minutes, but keep watching.  KEEP WATCHING…
Here's the full version for the complete experience. Watch it with the sound turned all the way UP. The scene begins at 5:05…

Here's the quicky version for the less patient…

This is what you look like right now ~~~>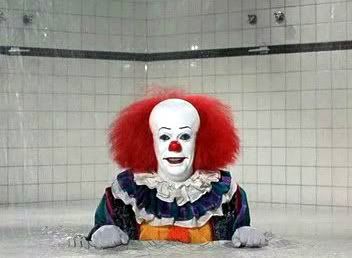 Hey kids, I live in your bathroom!
-Dark Side
Some great articles…