I've been waiting to see this one for months. If you've been reading my articles, you know how nuts I am over French horror films right now. "Inside" (À l'intérieur) has quickly become one of my favorite horror movies of all time. "Frontière(s)" was pretty wicked too and I really liked "Them" even more so once I learned "The Strangers"blatantly ripped it off. "Martyrs" is the newest French horror film which released on DVD this week. It's creator has been tapped to help the "Hellraiser" remake based on the strength of "Martyrs" if that tells you anything. No one will really tell me what the film is about. All I know is it has something to do with young girls getting kidnapped and tortured. I assume any more info would be spoilers.
I've heard stories… Stories about this movie being so brutal that it's caused mass vomiting in theaters. They say most people can't take it. Well, I've got it loaded up in the DVD player right now and my finger is one inch from the PLAY button. I can't possibly see how it could be more brutal than "Inside."
I guess I'm about to find out. Here I go…
……
…..
….
…
..
.
Unbelievable.
I was (and still am) deeply disturbed by "Martyrs" but totally on a different level than I was expecting. This isn't the same as the hack and slash, visceral experience of "Inside" or "Frontiere(s)." Granted, it starts out that way, then it turns into something far more fascinating.
Here's as much as I want to give you about the plot:
Lucie, an orphan, gets kidnapped as a child and tortured brutally for what seems like no reason. She escapes, but her unknown captor(s) elude the authorities. She returns to the orphanage where her best friend, Anna looks out for her. However, Lucie is haunted by a dark figure that constantly torments and mutilates her.
15 years later, a typical family eats their breakfast when an assailant suddenly storms in and massacres them all with a shotgun. It's Lucie (Mylène Jampanoï). She calls Anna (Morjana Alaoui) and tells her she's found her kidnapper/torturers and has gotten her revenge. Anna rushes to Lucie's location and is horrified by what her friend has done. Out of loyalty, she helps Lucie dispose of the evidence, but things get sidetracked when Lucie's phantom attacker appears and suddenly becomes homicidal. Things happen… Then Anna finds something in the house. Something that will lead to the explanation behind all of this. It's a twist so Earth-shatteringly profound that it may rattle a viewer's beliefs as it blurs the line between abomination and divinity.
So now you gotta see the movie, eh?
It's a film that plays with your expectations, then dashes them by revealing something far more interesting and disturbing. As I watched I tried to think of other films that have played with similar ideas.
It starts off like "Funny Games" or "Last House on the Left," something not too terribly interesting in itself. As I watched the first half, I was underwhelmed. Brutal, yes… But I had seen this kind of thing before. As it progressed I tried to guess where it was heading. For awhile I thought it was going to emulate "Inside." Then it lead me to believe it was going to turn into some sort of "The Grudge" remake. Then it took a turn that had a few similarities to "Frontière(s)."
Bear with me here…
When we get to the big twist halfway through, I was shocked and completely intrigued. It turns into a philosophical study that forces the viewer to watch something terrible happen, but at the same time you know on some level that it NEEDS to happen in order for a certain character to attain peace after all that suffering. Nope, if think you've figured it out, you're just as wrong as I was.
Here are films that reminded me of the 2nd half of "Martyrs" and these comparisons are NOT going to make sense until you see it: The third act twist in "Texas Chain Saw Massacre: The Next Generation" (yep, that one with Matthew McConaughey and Renee Zellweger that everyone forgets about), "Candyman" (more specifically his origins), "The DaVinci Code" (????), Dee Snider's "Strangeland" (specificially the line about what the shamans call a 'small death'), "The Passion of the Christ" (????), "Frailty," possibly some shades of "Rosemary's Baby" and finally"Hellraiser" (the motivations of the Cenobites).
If you can piece together what any of those have in common, I'll be impressed. It has something to do with the title of this film.
Needless to say, I'm convinced the writer/director of "Martyrs," Pascal Laugier is a perfect director to helm a remake of "Hellraiser." In fact, he has the potential to make it one of the greatest horror remakes ever if he can inject some of the relgious philosophy he explored in "Martyrs" into the world of the Cenobites.
While "Inside" was a straighforward tour de force of terror that pushed the limits of the genre, "Martyrs" pushed the limits of philosophy and faith… making it a far more interesting concept.
Thank you, Pascal Laugier. I was looking for a challenge and you gave me one of the best ones I've experienced in years. "Martyrs" is a masterpiece of film, horror and concept. Not recommended for those wanting a slasher flick or straight up 'torture porn' movie, but rather for a graphic study in religious zeal and the value of human life.
5 out of 5 stars
Trailer below (keep in mind that 99% of what you see here is in the 1st half of the movie)…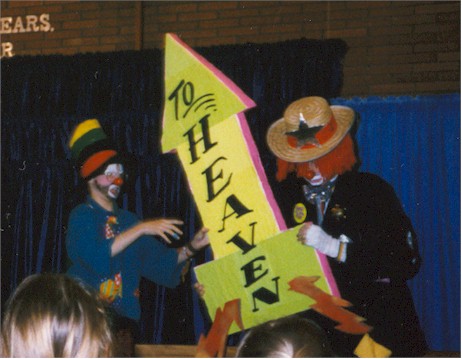 I am not worthy.
-Dark Side
Some great articles…