Yessir sporting activities, like crooked cops, malevolent extraterrestrials and nymphomaniacal teens, just lends itself to treatment on the silver screen. Yet apart from films centered on the big four – you heard me, four (football, basketball, baseball, golf) – few seem to have any knowledge or interest in cinematic depictions of the so-called lesser athletic endeavors. So let's take a look at some participatorily-challenged sports and the films which sought – with varying degrees of success – to bring them to the forefront of the public conscience…
(CONTINUED FROM PART 4)
21. Mountain Climbing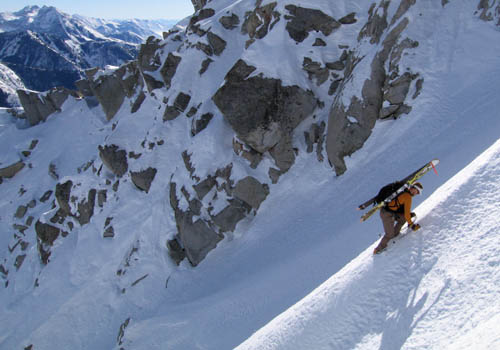 WINNER: "K2". (I want to state for the record that the best film about climbing, bar none, is "Touching the Void". But, it is dangerously close to documentarian so I left it off – but see it anyway!) This is another category that suffers from not having even one outstanding cinematic interpretation. But if you are looking for a realistic depiction of the sport from all angles (rock, ice, Alpine and Himalayan), then Franc Rodham's 1992 "K2" is as close as it gets. No I didn't forget about "Cliffhanger". If I were to stoop to include Renny Harlan's man-crush cine-valentine to Stallone as a viable film on climbing, then I might as well add "Space Jam" to the must-see basketball flicks. And if you know anything at all about mountaineering, run – don't walk – away from the comically implausible "Vertical Limit". It's just that bad.
For Honorable Mention, there are a few pretty cool climbing sequences in "Alive"; if you can get past the plane crash / cannibalism thing.
22. Polo


WINNER: Bupkis. There's Marco Polo and there's Teri Polo. But there are no films about cabana boys on horseback sweating it out for SoCal trophy wives. We can only hope.
23. Sailing


WINNER: "Wind". Oh there are more movies about sailing out there than you can shake a bowsprit at, BUT if we're speaking about the sport of racing sailboats then we're left with "Wind". It's good, not great. There are some cool sailing shots which is just enough to recommend it. And I believe this is the film debut of Jennifer Grey's new nose. I could be wrong.
24. Scuba


WINNER: "The Deep". Oh sure it's got Jacqueline Bisset in a wet t-shirt all right, but this adaptation of the Peter Benchley novel has so much more. The cleverly photographed underwater scenes with drug runners, giant eels and sunken treasure are what led me to get my PADI certification.
Honorable Mention: "The Abyss" (though technically it features hose-fed
Commercial Diving, not scuba.)
25. Ice Skating


WINNER: "The Cutting Edge". Skating movies unfailingly follow lemming-like along only two insipid plot lines. Either A) a talented but financially strapped teen is discovered by a Russian coach, or B) a skater is injured and must bounce back to show they are a true champion. "Cutting Edge" melds these two concepts – not kidding – but I give this film the top spot in the category anyway if for no other reason than the strength of the cast.
Honorable Mention: "Ice Castles" with Lyn-Holly Johnson.
-Jay
(Part 6 tomorrow!)
Part 1
Part 2
Part 3
Part 4
Part 6
Part 7
OTHER "LIST" ARTICLES…
#1:  BLEEDIN' WICKED GOOGLY… Films about 35 of those "Other" Sports (Parts 1 – 7) by JAY
#2: "Bard None: A Cinematic Guide to Really Bad Shakespeare" by JAY