Whenever the subject of films comes up, I am invariably asked "So what's your favorite?" I've always equated this overly-broad inquiry with "So what's your favorite liquid?" If you're talking beer, then it's Mac and Jacks. Wine, probably Louis Martini Napa Cabernet Sauvignon 2006 (NOT Sonoma). Tequila…
Therefore, "What's your favorite movie?" gets whittled down to "favorite comedy", "favorite drama" and eventually "favorite sports movie". And when it comes to one's taste in athletic competition, brutality truly is in the eye of the beholder. Some like it rough, some like it serene. Some are attuned to team sport; others are drawn to the embodiment of the soloist. But personal preferences aside when it comes to picking a best in show for sports films, most people tend to develop a case of ESPN-esque myopia; unable to see past the big four sports. It's either "Rudy" (football), "Hoosiers" (basketball), "The Natural"/"Bull Durham" (baseball) or "Caddyshack" (Golf).
While I personally see no intrinsic value in NASCAR – other than allowing Carolinians the excuse to knock back a few dozen Scahffers' at a bitchin' tailgater featuring the musical stylings of Lynyrd Skynyrd – I am forced to allow that it is at the very least "sporting", so you can have "Days of Thunder". Any lip and I make it "Talladega Nights". Yessir sporting activities, like crooked cops, malevolent extraterrestrials and nymphomaniacal teens, just lends itself to treatment on the silver screen. Yet apart from films centered on the big four – you heard me, four – few seem to have any knowledge or interest in cinematic depictions of the so-called lesser athletic endeavors. So let's take a look at some participatorily-challenged sports and the films which sought – with varying degrees of success – to bring them to the forefront of the public conscience.
1. ARCHERY


WINNER: "Robin Hood" (pick one). While I've been unable, or unwilling, to locate a movie centered on the competitive sport of archery, you can't have a screen adaptation of Robin Hood without egregious bow play. So if you want to see arrows splitting other arrows during the token tournament scene or throat and thorax wounds o'plenty, then a film about the Thief of Sherwood is for you; yes, that includes "Men in Tights".
Honorable Mention: "Lord of the Rings".
2. BILLIARDS


WINNER: "The Hustler". A young Paul Newman at the height of his game (so to speak) in a film noir classic. Even though he won the Oscar for his reprisal of Fast Eddie Felson in the belated sequel "The Color of Money", Tom Cruise's homo-erotic bouffant-osaurus garnered far too much
screen time; so "Color" get's the silver.
3. BOBSLEDDING


WINNER: "Cool Runnings". Many great sports movies are inspired by real events. But a scrappy bunch of Rastafarian's taking up bobsledding and competing in the Olympics? Who could make up stuff like that?
4. BOWLING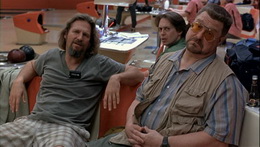 WINNER: "The Big Lebowski". The Dude listens to audio tapes of games he's bowled on his walkman for crying out loud. The Coen genius strikes again.
Dishonorable Mention: "Kingpin" (one of the three movies I actually walked out on)
5. BOXING


WINNER: "Raging Bull" / "Rocky". This toss-up is a toughy. The sport of kings is fodder for some of the best sports movies ever filmed. "Million Dollar Baby", "Cinderella Man", "The Hurricane", "Diggstown", "The Champ", "Ali", "The Great White Hope", and the list goes on and on. I guess there's just something about beating the crap out of somebody in satin shorts that lends itself to cinema.
Dishonorable Mention: "The Main Event" with Ryan O'Neil and Babs Streisand. Oy vey!
-Jay
Part 2
Part 3
Part 4
Part 5
Part 6
Part 7
OTHER "LIST" ARTICLES…
#1:  BLEEDIN' WICKED GOOGLY… Films about 35 of those "Other" Sports (Parts 1 – 7) by JAY
#2: "Bard None: A Cinematic Guide to Really Bad Shakespeare" by JAY