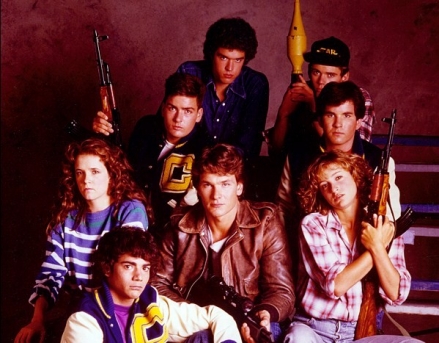 No, that someone isn't me… But, from what I'm hearing so far, I'm not too eager to read the thing.
As you might've guessed, this time the Chinese invade. This isn't so fun because it turns the whole thing into a war against races as well as countries (as you might remember, the cast of protagonists in the original "Red Dawn" were all pretty much all white). So the writer includes Asians (and other ethnic groups) into the new Wolverines in order to PC the issue and even the playing field. Not a bad thing, but the whole situation does make the film more political which was never the intention of "Red Dawn." It's supposed to be about revenge, survival and patriotism, not class struggle. It's goofy "lets go get 'em, Ronnie Raygun, go USA!" propaganda and if it doesn't fit very well into today's political climate (which it doesn't) then why bother?
Back in 1984, "Red Dawn" was considered a bit un-PC and cartoonish (I once heard Gorbachev thought it was hilarious). Even in a weakened state, no mass invasion of America could happen without softening it up with a (mutually destructive) nuclear attack. After that, if any Chinese/Russians/Cubans survived the holocaust, who would want a irreversibly scorched North America? Pshaw. Silliness.
Trying to make it serious and realistic with a "Cloverfield"-style shaky cam sounds like a huge mistake. And what about Powers Boothe's character? If a downed U.S. pilot named "Andy" isn't in the new script, I'm boycotting it outright. He was the best thing in the original movie.
Yet another uneeded, uncalled for remake that tarnishes the memory of the original.
Geez, Hollywood. Cut it out already.
Go to Latino Review to check out the review on a well-produced video clip.
Here's the kick-ass trailer for the 1984 original…

-Coop