Stevie King has a new book coming out.  Since 90% of his books are turned into films and miniseries and whatnot, I figured this was relevant.  This one's called Under the Domeand the official synopsis for it sounds a bit… familiar:
On an entirely normal, beautiful fall day in Chester's Mills, Maine, the town is inexplicably and suddenly sealed off from the rest of the world by an invisible force field. Planes crash into it and fall from the sky in flaming wreckage, a gardener's hand is severed as "the dome" comes down on it, people running errands in the neighboring town are divided from their families, and cars explode on impact. No one can fathom what this barrier is, where it came from, and when—or if—it will go away.
Dale Barbara, Iraq vet and now a short-order cook, finds himself teamed with a few intrepid citizens—town newspaper owner Julia Shumway, a physician's assistant at the hospital, a select-woman, and three brave kids. Against them stands Big Jim Rennie, a politician who will stop at nothing—even murder—to hold the reins of power, and his son, who is keeping a horrible secret in a dark pantry. But their main adversary is the Dome itself. Because time isn't just short. It's running out.


The first thing that might pop into your head is "The Simpson's Movie."  While that might be an inspiration for the idea, you wouldn't think King would be hurting that bad for ideas.  "Dark City" might also ring a another bell.  The closest similarity would be Joe R. Lansdale's The Drive-In.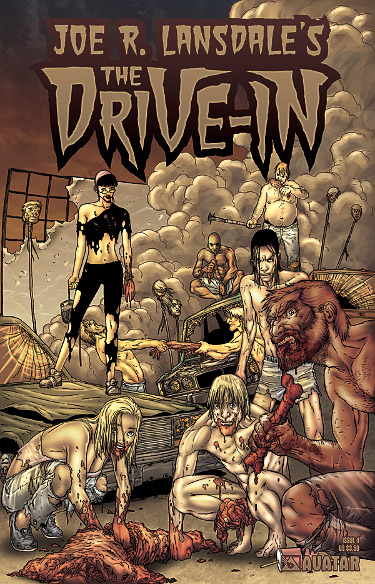 This book (and the limited comic book series from Avatar Press) concerns a bunch of people who get supernaturally trapped within the walls of a drive-in theater.  They quickly regress to tribes and resort to cannibalism until two of the characters magically fuse together, creating the tyrannical Popcorn King who demands sacrifices.  The Drive-In also shares some similarities to the Australian B-movie "The Dead End Drive-In"…  but I digress. 


The point is this idea isn't knew and it's possible that King, getting long in the tooth and out of touch, might have pulled a George Harrison and ripped off someone else's tune and didn't realize it. 
Or did he? 
If you wanna believe Wikipedia (and I know YOU do), King has been working on, and steadily abandoning this novel since the 1980's.  Apparently at one point, it was called The Cannibals if that gives you any hints.  It's going to be over well over 1000 pages with about 100 characters.  Looks like King has aspired to write a new epic like The Stand all along.  Why you been holdin' out on us, Stephen??? 
Whatever the case, it's sure to make him a mint and please the fans.  As for who's ripping off who, we'll let the lawyers sort it all out.


This wasn't part of the deal, King! You're supposed to write about me next! I'm still relevant! RELEVANT, I say!!!
-Dark Side