These are the heroes that just won't go down no matter what you throw at them. The best of the best.  The Greatest.  Here's the criteria I used while making the list…
a. The heroes must survive to the end of their film/franchise.
b. No superheroes with superpowers.
c. Pick heroes who represent cult phenom films.  These are my results:
10. BUTCH COOLIDGE from PULP FICTION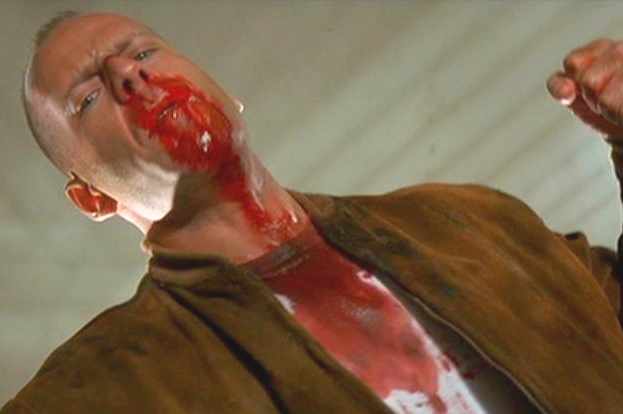 Sure, Bruce Willis is known for some of the toughest screen characters of all time, but don't forget his performances as a boxer who can kill opponents with his bare hands. He survives a car wreck, hillbilly rape and saves his enemy from becoming the next "Gimp." Let's also not forget that he wasted Travolta while waiting for his Pop Tarts. Here he is choosing his weapon to kick some hillbilly tail…

 
9. CHARLY BALTIMORE from THE LONG KISS GOODNIGHT


In "Long Kiss," Charly (Gina Davis) survives a bullet to the brain, a car crash ejection, a grenade blast, repeated submersion in a frozen water, multiple bullet wounds, and an exploding bridge. All that and she kills every one of her enemies while saving Samuel L. Jackson. Not bad.
 
8. TIE:  PETER and KENNETH from DAWN OF THE DEAD (1978 and 2004)


Both Peter (Ken Foree) and Kenneth (Ving Rhames) emerge victorious (sort of) from their respective "Dawn of the Dead" films. Their prospects for the future don't look so great, but at least they're not the walking undead…

7. SNAKE PLISSKEN from ESCAPE FROM NEW YORK and ESCAPE FROM L.A


Everyone is 100% positive he's already dead. But you know what?… He ain't. Snake (Kurt Russell) survived the bloodiest battles of WWIII. He saved the President from the NY Penal Colony which encompasses the entire island of Manhattan. He then saved the President's daughter, and had the chance to save the world or send it back to the Dark Ages. He chose the Dark Ages.

6. RIDDICK from PITCH BLACK and THE CHRONICLES OF RIDDICK


The character of Riddick made Vin Diesel's career in the movie "Pitch Black." I wouldn't consider his night vision to be a super power (and the powers he gained in the directors cut of "Chronicles" don't count). The guy is mean and unstoppable. I want to see him come back for another sequel and not just in video games.

5. THE BRIDE (a.k.a. "Black Mamba", a.k.a. "Beatrix Kiddo" a.k.a. "Mommy") from KILL BILL VOL. 1 & 2


Fueled by revenge, the Bride (Uma Thurman) goes through about every hellish trial and torture to find Bill and kill him. Beware her "five finger palm exploding heart technique." Now wiggle your big toe.

4. KHAM from TOM YUM GOONG (A.K.A. THE PROTECTOR)


This continuous fight scene shows how skilled Tony Jaa is. The actor may be just as tough as the character. This film has the best choreographed fight scenes of all time and each one proves that Kham is a bonafide badass.

3. RIPLEY from ALIEN I-IV


The only survivor of the first three "Alien" movies, Ripley (Sigourney Weaver) is Earth's last line of defense against the nasty beasts. I know she died in "Alien 3," but she's resurrected in IV so it counts. Here's why you don't mess with her…

2. HARMONICA from ONCE UPON A TIME IN THE WEST


One of Charles Bronson's coolest roles, Harmonica waits an ENTIRE LIFETIME to get revenge on the evil gunslinger Frank (Henry Fonda). Announcing his presence with a haunting tune on a harmonica, he waits until Frank's dying breath to reveal his true motive. Harmonica's the fastest draw in the film and not afraid to have the odds stacked against him…

1. TIE:  ASH from EVIL DEAD I, II, and ARMY OF DARKNESS


Let's be honest, Ash (Bruce Campbell) is a jerk… With lines like "Gimme some sugar, baby," he's not gonna woo the Women's Lib movement. Luckily for him, he's the toughest jerk on the planet. He survives demon attacks, possession (multiple times), he cuts his own possessed hand off with a chain saw, he fights his doppleganger and manages to keep on breathing. Sometimes he's downright heroic…

and SGT. JEFF "TEQUILA" YUEN from HARD BOILED


Although "Hard Boiled" never got an official sequel, Chow Yun Fat's portrayal of supercop Tequila inspired the recent video game "Stranglehold" which once again includes the character voiced by Chow. The death toll in this film is uncountable with much of it accredited to Tequila himself. Watch him take out a whole warehouse full of Hong Kong Triad gangsters…

Ok, I guess it was 12.  So sue me.
-Coop
More great articles…