I miss the wacky, grim comedies from the 80's. Movies like "Beetle Juice," "The 'Burbs" and "Gremlins," had a spooky, Halloween-like undertone mixed with jokes and laughter. They pushed the limits of their PG ratings, yet maintained enough heart and soul to counterbalance the scary images and grisly subject matter. "Coraline" on the other hand leaves its heart and soul buried firmly in the graveyard. While it's a brilliant technical achievement in animation, this adaptation of Neil Gaiman's book is simply too morbid for children and too off-putting for accompanying adults.
Exiled from Pontiac, Michigan to gloomy Oregon, the precocious Coraline (voiced by Dakota Fanning) finds herself searching for adventure around her new boarding house while her neglectful parents spend every waking moment writing a gardening catalogue. Her explorations allow her to meet her fellow boarders: Two elderly women, once famous actresses and a nutty ex-circus performer who trains kangaroo mice. A local misfit kid, Wybie, lives nearby but the rude Coraline spurns his friendship, dismissing him as a stalker. While snooping through the house, she finds a magic door that leads to an alternate reality. In this world, Coraline's mother cooks outstanding meals, her father plays piano, Wybie doesn't talk and her neighbors are a hundred times more interesting than their original versions. Fearless Coraline is delighted by this odd, phantasmagoric world, but one thing gives her pause… Everyone has coat buttons sewn in place of their eyes. Before long, Coraline realizes that she must escape this nightmare before she permanently becomes a part of it.
Shot in an advanced form of stop-motion animation and presented in 3-D, "Coraline" is a visual and technical masterpiece. It will no doubt receive dozens of awards and possibly even an Oscar nomination for Best Animated Film. Such an effort takes years to produce and the animators can take pride in knowing they accomplished something amazing in this difficult craft. I appreciated the stylized design of the characters and marveled at the spectacle of the scenery.
That's where my praise ends. "Coraline" is the entertainment equivalent of waking up in the middle of the night and finding that animatronic gorilla from "Showbiz Pizza" staring down at you while saying, "Don't worry, I'm not gonna hurt you."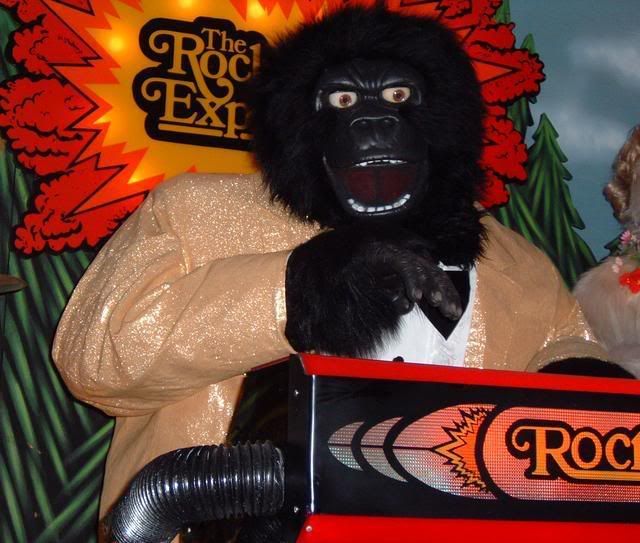 It's unpleasantly creepy, even for a horror fan. There were terror elements at work in this film that seemed highly inappropriate for something aimed at kids. In 3-D, some of the scares were more frightening and disturbing than anything I saw in "My Bloody Valentine 3-D." It made for an uncomfortable viewing experience, especially when there were absolutely no upbeat moments to ease the tension. It's like "Alice in Wonderland" with the psychological, nightmare-like horror of David Lynch and the depressing hopelessness of David Cronenberg, all rolled into one. The story has a lifeless quality to it which almost gives you the impression these characters were already dead and in hell, long before entering Coraline's nightmare netherworld.
I can see this film finding a cult following with pre-teen Goths-in-training. Director Henry Selick and the rest of "Coraline's" creative team mined similar territory with "The Nightmare Before Christmas" back in 1993. That film scored a hit with fans starving for something lightly eerie from Selick and gothic master Tim Burton. "Coraline" follows suit, but lacks "Nightmare's" fun sense of spirit. Even "Coraline's" musical score strikes chords so grim, it prevents any form of joy from entering the story.
There's no way in good conscience I can recommend this movie to even moderately squeamish kids under 13. There's even a bafflingly bizarre nude scene (granted, it's claymation nudity) by one of the elderly actresses that clenched my opinion that the filmmakers threw appropriateness to the wind in favor of an attempt at high art. That may be par for the course in Europe, but I can't imagine American parents approving of it.
I'll let everyone else "Oooo!" and "Ahhh!" at the animation; I'm calling "Coraline" out on its hollow, ugly attempt at a fairy tale when so many other films have done it better. Art-schmart… Imaginative visuals and an interesting concept can't make up for lack of skilled storytelling. As an antidote, I recommend the underrated "Lemony Snicket's A Series of Unfortunate Events." Where "Coraline" fails, it succeeds in handling the grim, fairy tale tone.
Rating: 2 out of 5 stars
Most of the trailers are misleading but I managed to find this "creepier" trailer that still manages to understate the creepiness of the actual film…

Here's one for the superior "Lemony Snicket"…

-Coop

Vote it up!